ThinKom Solutions says it's in the home stretch to receiving linefit offerability for its ThinAir Ka2517 VICTS antenna as buyer furnished equipment (BFE) at Boeing in the third quarter of this year. The hardware is already available as supplier furnished equipment (SFE) at Airbus under the European airframer's HBCplus high-bandwidth inflight connectivity programme as part of the Safran Passenger Innovations (SPI) terminal.
Boeing BFE
Its BFE linefit work with Boeing is, intriguingly, a direct approach. "In the linefit for Boeing, that's with us. We're paying the bills on that," ThinKom CTO Bill Milroy told Runway Girl Network at the Aircraft Interiors Expo (AIX) in Hamburg.
Consequently, whilst the agnostic kit will initially support Global Xpress Ka-band connectivity from Inmarsat (now Viasat) — facilitating high-speed Internet on the likes of Qatar Airways' Boeing 787s — it doesn't have to be just a Viasat/Inmarsat inflight connectivity solution, noted Milroy. "It could be other people."
"Other people" now include Hughes Network Systems, which is offering Ka2517 as part of its new Hughes Jupiter In-Flight Ka-band GEO-now (MEO/LEO later) solution — and which also revealed to RGN it is using Ka2517 in its new Hughes Jupiter Fusion hybrid Ka/Ku multi-band, multi-orbit terminal (with Hughes' electronically steerable antenna supporting OneWeb Ku service).
In short, industry stakeholders that adopt Ka2517 as their antenna hardware of choice, or indeed for specific applications, will be able to benefit when the antenna is part of Boeing's BFE catalogue.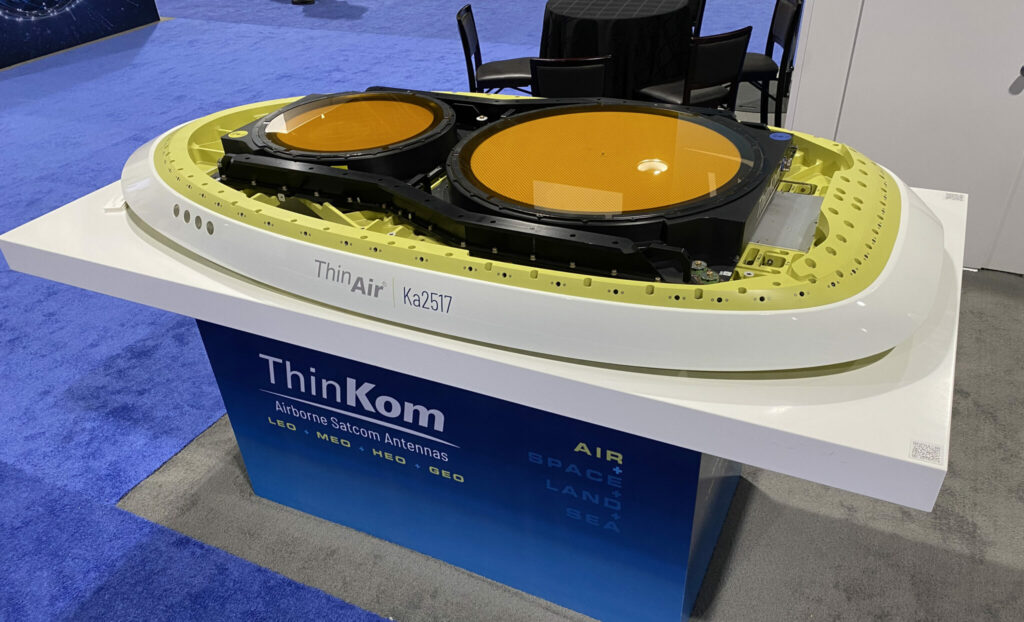 Admitting that ThinKom is "spending a lot of our own money" in obtaining linefit offerability at Boeing, Milroy noted that "it then allows you to amortize, if you will, your costs over more of a potential user base. So, it makes it a larger addressable market, and larger addressable markets are obviously a good thing."
In short, it's worth the big investment.
Airbus SFE
Airbus' supplier-furnished HBCplus programme for the Ka-band frequency enables airlines to select as their managed service provider (MSP) either Inmarsat GX (now Viasat GX) or SES multi-orbit GEO/MEO service. (For Ku-band transmissions, Airbus has named Intelsat and Panasonic Avionics as MSPs under MOUs announced at this year's AIX, and SPI as the terminal provider but with an ESA instead of VICTS.)
Under HBCplus, Airbus provides the broadband connectivity kit — and related services — as linefit SFE meaning that Airbus will not only factory-fit the hardware to A320, A330 and A350 twinjets, but will have overall responsibility to airline customers.
Announcing the programme last year, the European airframer selected SPI as the terminal provider and hardware integrator, using ThinKom's Ka2517 for the Ka-band. And airlines are now lining up as customers.
"So, I think it's just about what the customers [want]; some folks [adopting HBCplus] are big players. Emirates would probably be the best example," said Milroy after Emirates was formally confirmed as the launch customer for HBCplus at AIX, followed late in the show by Ethiopian]
"Big players really love the HBCplus idea. We love having them as a launch customer for that. But I don't think all the airlines [will go in that direction]. And the retrofit market isn't going away, and in fact, the retrofit market … affectionately the rip and replace market, that's a real thing."
Boeing, said Milroy, has not yet shown signs that it's moving into anything like a "Boeing Plus" supplier-furnished offering yet.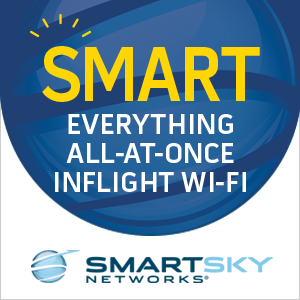 To be clear, dear reader, we are specifically talking about the Ka2517, not ThinKom's Ku-band satellite-supported Ku3030, which was white labeled by Gogo, now Intelsat, as 2Ku, and for which Intelsat separately works with Boeing on linefit (it is linefit on the 737 MAX).
"[A]nd of course they [Intelsat] have lots and lots of STCs. They have STCs on almost everything," said Milroy. "We don't own the STCs, Intelsat does [for 2Ku]. It wasn't always the case, but we can sell the Ku3030 … but probably what we are going to end up doing is more of a Ku2525." Ku2525 is the smaller, new Ku VICTS + Ku ESA product which ThinKom had hoped would be adopted for the Ku-band side of Airbus' HBCplus…and is, among other things, an answer to the problem of OneWeb not wanting to play with VICTS….and of course the ESA could be provided by Hughes or indeed others.
ThinKom will also focus on the ThinAir Plus mix-and-match approach, as seen on its stand at AIX with Ka2517 and Hughes' ESA tucked alongside it (but with the capability of slapping other ESAs there as well.) "Now you're multi-band …multi-beam, we're just trying to be whatever folks want to be." It also positions ThinKom to be able to support different satellite services," said Milroy.
"We already are O3b compatible. We'll be mPOWER compatible. We've already been public with Telesat, when Telesat comes online, we will be [able to support] Telesat. We are engaged with Kuiper. So, talk is cheap and so … I always try to discriminate between what we're doing like now and what we could do in the future and I want to be distinct on that."
When ThinKom secures direct linefit offerability at Boeing for the Ka2517, will that grease the skids with Boeing for the hybrid ThinAir Plus mix-and-match VICTS/ESA approach, RGN asked?
"So this approach on the Ka side, in other words the Ka2517 plus the….ESA, that will probably be available late next year, in terms of first STC with that capability," answered Milroy.
RJ take-up for the smaller Ka1717
Separately, on the regional jet front, ThinKom offers its smaller Ka1717 package, representing a partnership with CarlisleIT (incidentally, for RJs, Hughes said it will use Ka1717 for its Hughes Jupiter In-Flight GEO-now focused solution for North America).
A big airline announcement involving Ka1717 is in the offing.
Milory revealed that ThinKom has large Ka1717 work packages in the works. "We're ramping up so we'll be doing 50 shipsets a month by second quarter next year. Now we'll be STC'd on a particular regional jet by the end of this year, so within the next three to six months, and we'll be STC'd on several other RJ types early next year. So we're building stuff."
He added: "I think people will be impressed with it when they hear. It will be an airline that everyone knows."
Related Articles: