Eighteen months after Viasat entered into a definitive agreement to acquire Inmarsat, and a week after receiving the European Commission's formal blessing, Carlsbad, California-based Viasat has completed its multi-billion dollar purchase of the London-headquartered satellite operator.
The combined company is nothing short of an international communications behemoth, with a broad portfolio of spectrum licenses across the Ka-, L- and S-bands, 19 satellites in space, and an extensive array of customers spanning governments, militaries, aid agencies, businesses, residential users, and, in the satellite mobility sector, ships, airlines and business aircraft operators among others.
In commercial cabin connectivity alone, the combined company boasts a 'who's who' of airline customers including but not limited to American, Delta, JetBlue, Southwest, United, Finnair, SAS, Qantas, Etihad, Emirates, IAG Group, AirAsia, Lufthansa, Singapore Airlines, and Qatar Airways.
But the move also catapults Viasat into brand new territory. With Inmarsat's L-band satellite assets under its belt, Viasat has become an international provider of safety services to both the maritime industry and in aircraft cockpits, competing with Iridium in this space. And because Inmarsat has long been a close partner to Airbus — both its cockpit and cabin connectivity products are linefit offerable across Airbus jets — today's acquisition gives Viasat enviable catalog placement at the airframer including as part of its HBCplus supplier-furnished program.
Notably, the deal could be seen as plugging some gaps in Viasat's current offering, giving it the ability to serve Asia-Pacific with Inmarsat's satellite assets even before its own ViaSat-3 constellation is built out.
There is complex work ahead for Viasat, as the firm intends to integrate the spectrum, satellite and terrestrial assets of both companies into a global high-capacity hybrid space and terrestrial network. The 2,230-plus aircraft now carrying Viasat's Ka-band satellite-powered cabin connectivity can't presently talk to Inmarsat's near global fleet of Ka-band satellites, known as Global Xpress (GX), and indeed GX-fitted birds can't connect to Viasat's proprietary network of Ka-band satellites serving North America, the North Atlantic corridor, and Europe.
Additionally, while Viasat largely serves the commercial aviation market directly, Inmarsat has pursued a sort of hybrid approach, first building out a GX value added reseller (VAR) ecosystem with partners SITA, Thales, Honeywell and Collins Aerospace, and later going more direct (to the consternation of certain partners).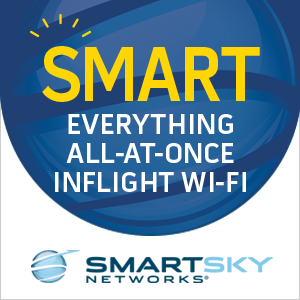 Even before Viasat has announced a clear path forward for the Inmarsat GX VAR program, change is afoot. GX partner SITA recently confirmed to RGN that it will exit the cabin connectivity business on 31 January 2025, citing a changing and highly competitive market "ultimately leaving too little space for an independent IFC service provider like SITA". Inmarsat has been assisting airlines as they transition from SITA's services.
In addition to Viasat, the commercial IFC market features multiple heavy-hitters including satellite operator and aero ISP Intelsat, which operates a fleet of over 50 satellites and is building out a unified global 5G network strategy; Panasonic Avionics, which has executed 3,400 aircraft IFC installations since its market entry; and Anuvu, a provider to Southwest, Norwegian, Turkish and others, plus new-on-the-scene SpaceX.
In recent months, RGN also asked Thales, Honeywell and Collins if they intend to transition out of being GX value added resellers. Somewhat vaguely, Thales said it has no plans to exit global connectivity, but noted that "the landscape of potential offerings are certainly changing. And we want to offer the best solutions tailored to our airline customers and their passengers."
A Honeywell spokesman told RGN at the end of March: "Unfortunately at this moment, we are unable to comment on this but will reach out if things change." Collins, meanwhile, did not respond to repeated requests for comment about its GX plans.
In the near-term, it will be fascinating to see if Viasat goes fully direct when securing inflight connectivity business with airlines. But, while a material part of its portfolio, IFC is just one facet of the Viasat business.
"Our goal is to be the undisputed leader in satellite communications with a sharp focus on providing the best products and services for our customers," said Viasat president Guru Gowrappan in a statement today.
"We are more than the sum of our parts. This combination broadens the global fixed and mobile services available to customers in an industry-defining moment. We intend to move quickly to bring the best from each company together in a way that creates much deeper value for our stakeholders and ensures we deliver on our synergy commitments."
With its international business headquarters in London, and corporate headquarters in Carlsbad, the combined company will continue to be led by Mark Dankberg as chairman and CEO, and Gowrappan as president. Inmarsat CEO Rajeev Suri and company chairman Andy Sukawaty will be joining the Viasat Board of Directors as representatives of the prior Inmarsat private equity ownership consortium.
"Further decisions regarding organizational structure and leadership will be determined as part of the ongoing integration process," says Viasat.
At the closing of the transaction, Inmarsat's shareholders received an aggregate of $551 million in cash, subject to adjustments, and approximately 46.36 million shares of common stock. The cash portion of the purchase price was reduced from $850 million to $551 million after Inmarsat paid a $299 million special dividend to its shareholders in April 2022.
Related Articles:
Featured image credited to Inmarsat