As the buildout of non-geostationary satellite networks continues apace and airlines consider their options for exploiting these low-latency aero services, antenna-maker ThinKom Solutions has teamed with cable and wiring specialist Carlisle Interconnect Technologies to bring to market a new broadband inflight connectivity solution that can operate seamlessly on NGSO and GSO networks and is optimized for the narrower fuselages of regional jets. The two firms plan to flight-test their offering next year, Runway Girl Network can confirm.
The so-called Ka1717 package for regional jets will compete with a new breed of electronically steerable antennas as well as nextgen air-to-ground offerings in North America and elsewhere. It is low-profile, low-power and "fully integrated" insofar as it will include the antennae — based on ThinKom's proven VICTS mechanically steered phased array — as well as a CarlisleIT adapter plate, skirt and radome, plus associated power supply, connecting cables and installation kits. It can transmit via Ka-band satellites in LEO, MEO or GEO orbits as well as multi-orbit hybrid networks.
"The complete antenna subsystem, including the antennas, solid-state power block (SSPB) amplifier, adapter plate, fairing, and radome, is six inches high and weighs under 160 pounds (73 kgs)," says ThinKom in a press statement. "ThinKom has integrated the Ka antenna networking data unit (KANDU) and the Ka radio frequency unit (KRFU) functionality inside the crown-mounted radome to accommodate the in-cabin space limitations of regional jets."
For regional fleets and smaller aircraft, adds the firm in a fact sheet about the new system, the ThinAir Ka1717 "integrates years of fielded technology in an ARINC 792 package for a compact, resilient and highly efficient connectivity system". Developed by the AEEC Ku/Ka-band satcom subcommittee with robust aviation industry participation, ARINC 792 provides a standard for the next generation of low-profile antenna provisions.
Full DO-160 certification and supplemental type certification (STC) flight-testing of the Ka1717 "are targeted for the third quarter 2023 so that we can start commercial installations in fourth quarter 2023", reveals ThinKom vice president of sales & marketing Greg Otto.
CarlisleIT product line manager, aircraft connectivity solutions Chris Rawley concurs with this timeline, telling RGN: "We have established a development schedule that the teams are working to. Additional announcements related to that will be forthcoming, but we expect to be supporting flight tests in 2023 with a launch customer."
Both parties will engage in sales activities, and collaborate on sales strategies. "Under this new arrangement, ThinKom and CarlisleIT will jointly and individually be marketing the Ka1717 to secure new RJ opportunities but each of us will be selling direct to the ISP partner, as to not add any unnecessary mark-ups along the food chain," explains ThinKom's Otto. "Our ISP partners will manage the airline SLA, but Carlisle and ThinKom will have PMA responsibilities."
CarlisleIT's Rawley further notes, "In most cases, we anticipate working with satellite services providers as the lead to have the system and service package provided by a single source but we are both capable of supporting operators/airlines directly if they prefer that workshare arrangement."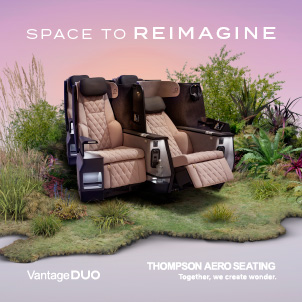 The lead market for Ka1717 is the RJ market but the system — which can operate gate-to-gate — is also being positioned as an effective solution for some business jet types, given its spectral efficiency, beam agility, and multi-orbit capabilities among other factors.
"We are launching with a focus on regionals as we believe this is an underserved market from a high bandwidth connectivity standpoint but application on other airframes would only be limited by the connectivity service level required and impact to aircraft operational performance," says Rawley. "There is definitely an opportunity for VIP, medium/large bizjets and special missions to take advantage of the benefits offered by the Ka1717 platform."
ThinKom reckons that the system has advantages over the 12" gimbaled parabolic tail-mount antennas popularly offered in business aviation. "We are outfitting KingAir 350, Challenger 650 and Global 6000 aircraft with our (larger) Ka2517 for special mission (government) opportunities, so the Ka1717 will certainly be an attractive option," says Otto. "BizAv is a fragmented market, so will take a little more time to finalize our strategy and develop the right partners."
Like all of ThinKom's VICTS antenna systems, Ka1717 has been designed to meet the ITU Article 22 and WRC 5G earth station in motion (ESIM) requirements to ensure the system does not interfere with GEO satellites when operating on NGSO networks or with 5G terrestrial networks that share the same Ka-band spectrum. ThinKom chairman and CTO Bill Milroy previously suggested to RGN that gimbaled flat plate antennas in aero are challenged by this stipulation, due to the unavoidable direct line-of-sight path between the ground and their high-profile apertures.
He reckons that Ka1717 will be "a key enabler to contracting with airlines to a very high service level agreement".
Related Articles:
Featured image: istock.com/Lukas Wunderlich