Viasat and Inmarsat remained competitors up and until the moment that Viasat's acquisition of the London-headquartered satellite operator officially closed on 31 May, so the company is only now thrashing out a formal plan for integrating both organizations, their assets, and indeed their various approaches to business, including the business of inflight connectivity.
"Since we remained independent and, in fact, competitors until the deal officially closed, the integration process has just begun," a Viasat spokesman said last week when asked by RGN if, in the near-term, the firm expects to respond to airline RFPs with multiple offers — both its own Viasat Ka-band IFC hardware and service, and separately Inmarsat Global Xpress-powered GX Aviation.
Given the likelihood that both Viasat and Inmarsat have already responded to various open RFPs in the market, Viasat is also now technically competing against itself, in the form of Inmarsat, for business.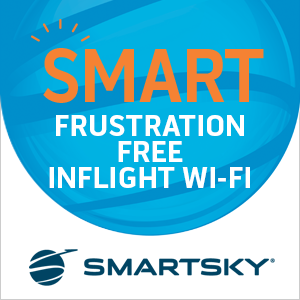 As readers are aware, Viasat largely serves the commercial aviation market directly, whilst Inmarsat pursued a sort of hybrid approach, first building out a GX value added reseller (VAR) ecosystem with partners SITA, Thales, Honeywell and Collins Aerospace, and later going more direct. (SITA and Thales also offered the lower-bandwidth Inmarsat SwiftBroadband service to airlines as SBB VARs.)
In fact, a significant portion of Inmarsat's business with airlines, including Singapore Airlines, a big portion of the Emirates fleet, and others, has been secured by the VARs, especially SITA and Thales. SITA alone has IFC installs on roughly 1,000 aircraft.
As to whether Viasat will retain Inmarsat's value added reseller programs for a spell, the spokesman assured:
Nothing changes at this stage. Existing Inmarsat value-added reseller relationships are highly valued and expected to be an important part of the new company's success; and they will be kept informed of plans as integration work proceeds.

Our goal is to deliver ever greater customer value through the integration of the two companies. This process is underway, and we will be communicating the specific customer benefits arising from the acquisition as this progresses over the next 100 days and beyond.
Viasat intends to ultimately integrate the spectrum, satellite and terrestrial assets of both companies into a global high-capacity hybrid space. That integration journey "starts now since we are finally able to explore the best ways forward — for our company, our customers and our partners", he says.
"Our intention is to leverage the combined capabilities of the Viasat and Inmarsat networks to deliver an unparalleled range and quality of service to our customers."
Related Articles:
Featured image credited to Viasat