OneWeb has not yet formalized its second-generation constellation plan but is eyeing a "late 2026 or early 2027" launch of what are likely to be satellites with inter-satellite links, company vice president – mobility services Ben Griffin told Runway Girl Network.
"[We're] still going through specification of those and I believe we will start issuing RFPs and RFIs for some component parts now," said Griffin in an interview earlier this month. He described OneWeb's Gen 2 progress as being "very much in mature design phase".
At present, over 70% of OneWeb's Gen 1 Ku-band Low Earth Orbit (LEO) network is complete. "As everyone knows, we had a bit of a hiccup in terms of launch schedule. But [on 23 October], with the India launch, we started the satellite launches again," noted Griffin.
We're over 70% of the network up in space and the ground piece is rolling out nicely as well. One element of it is that people know absolutely that we're back on track and in good shape. [And we] signed both Panasonic and Intelsat to our distribution family. They are, safe to say, really driving forward with getting customers and selling OneWeb actively into the market…"
Panasonic and Intelsat's respective Ku-band inflight connectivity solutions are installed on several thousand commercial aircraft in the world fleet. Intelsat's 2Ku-branded antenna is based on ThinKom Solutions' Ku-band VICTS hardware. Panasonic uses a more traditional antenna, which it assembles in-house, but last year the firm signaled its intent to launch nextgen service with ThinKom VICTS.
Yet, as Intelsat Commercial Aviation division president Jeff Sare explained to RGN at the APEX/IFSA EXPO in Long Beach, the solution won't work on OneWeb because of the choices that OneWeb has made thus far. "The particular chip in the particular modem that they've done so far, so it won't do that. Whether or not they choose to, you know, change that chip or do something for the next generation, that'll be their decision," said Sare.
RGN asked Griffin if the VICTS antenna might be in line to operate on the Gen 2 network for aero.
"We've tested the 2Ku terminal a couple of years back and although we could get it to connect, it was not optimal," he said. "The timing of switching of beams and satellites was simply not there. And also, asking a semi-mechanical antenna to retrace quite often; it was suboptimal during testing. I don't see how that changes in a Gen 2 environment. It's still Low Earth Orbit, still [requires] very quick switching…"
(This contrasts to SES's experience in flight-testing broadband connectivity on a VICTS-equipped Gulfstream G-III business jet whilst seamlessly switching between its GEO and O3b MEO satellite beams.)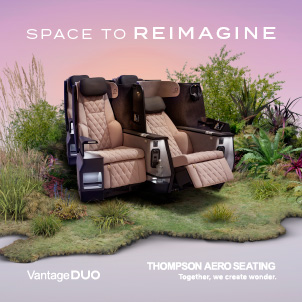 Griffin also confirmed to RGN that OneWeb has been in dialog with Airbus for some time about the airframer's new supplier-furnished HBCplus IFC program.
In the Ka-band, Airbus has selected Safran Passenger Innovations' new terminal, with VICTS as core, as the "one antenna to rule them all", and thus far named Inmarsat and SES as managed service providers (MSPs). But Airbus hasn't yet announced its plans for the Ku-band, or indeed who will be named as a MSP for Ku. OneWeb has been cited by Airbus as in the running, however.
Griffin suggested that Airbus execs "know that the VICTS solution is not optimal" for OneWeb LEO and "not something we want to pursue; we're very much in the ESA [electronically steered antenna] camp because it makes so much more sense for Low Earth Orbit stuff."
What does make sense for OneWeb, said Griffin, is the Stellar Blu ESA package, which harnesses Ball Aerospace's modular, scalable, electronically steered arrays in the terminal, and is seen as a "relatively low-risk item to consolidate and integrate". (Intelsat refers to its offering as an Intelsat product, with Ball's arrays and Stellar Blu as design and integration partner, hence our 'Stellar Blu package' wording.)
The Stellar Blu package was "being proudly displayed on Intelsat and Panasonic's stands" at the APEX/IFSA show and will "certainly" be the focus of initial installations and supplemental type certifications for certain aircraft types, noted Griffin, adding:
Stellar are the first retrofit options capable of OneWeb service. And linefit, certainly there is discussion with OEMs about how we can integrate that into a linefit solution as well. That isn't necessarily being led by OneWeb; the distribution partners have their own dialogs with the OEMs in that respect, and it may not, depending on OEM programs, they may not accept the Stellar Blu, for example, so [we] may have to look at something else. That's for the OEMs to decide and how it fits in with their programs…
Last year, OneWeb selected SatixFy UK to develop a new aero terminal that will operate simultaneously over both its own LEO Ku-band satellite network as well as geostationary (GEO) networks. And JetTalk, the joint venture between SatixFy and Singapore Technology Engineering Ltd (ST Engineering), will "exclusively commercialize" the terminal for commercial aviation markets.
Griffin told RGN that the SatixFy terminal is still in play, but "it's not going to be ready for primetime anytime soon". A key difference between the Stellar Blu package and the SatixFy terminal is that the former will not be able to connect to LEO and GEO satellites simultaneously; "they're one or the other" but with "pretty quick switching". So, if an aircraft is operating in higher latitude toward the poles, for example, "clearly you'd swap to LEO".
In contrast, the SatixFy terminal will be able to simultaneously connect but is "a couple of steps behind in readiness". Griffin suggested that a multi-orbit ESA that can simultaneously connect to LEO and GEO will take years to enter the aero market. "[T]hat's what SatixFy and others are developing, that is not there yet."
In terms of a timeline for multi-orbit, simultaneous, Griffin said: "I think 2025 is a reasonable target, but inside the decade for sure."
If Airbus selects OneWeb as a Ku-band managed service provider for HBCplus, would OneWeb – which has favored a B2B partnership approach – be willing to go direct as an aero ISP, RGN asked?
"I think the general answer is no," responded Griffin, adding:
Do we have an appetite to get closer to the market to satisfy a particular program or particular OEM? Not really. We'd much rather maintain our indirect wholesale approach, so in that sort of scenario [we] would have distribution partners serving as MSPs…
He stressed, however, that it's "not for me to comment" on what that would look like, rather it's for Airbus, OneWeb and its distribution partners to collectively decide. "These discussions have been going on some time."
What type of PaxEx?
Regarding switching from LEO to GEO satellites with the Stellar Blu package, Griffin doesn't think passengers will see a massive difference in experience. "Latency is the one that's going to be key; this is where we lean on [new aero distribution partners] the Intelsats and Panasonics of the world to help smooth that transition over."
He added that OneWeb is "leveraging the capability and experience and frankly the resources of the likes of Panasonic and Intelsat".
They've been doing this a long time, and we didn't see the need to reinvent this…
Meanwhile, Eutelsat is pressing forward with its proposed combination with OneWeb; its board recently approved the merger, subject to shareholder and regulatory approvals.
Speaking generally, Griffin told RGN that he reckons we should expect more industry consolidation. "I have been saying this for quite some time; it has been fairly ripe for it, and the last couple years have been seeing great acceleration." He said there are rumors afoot of large satellite tie-ups but that it "wouldn't surprise me" to see consolidation "lower down the food chain" in the wireless IFE space as well.
Related Articles:
Featured image credited to OneWeb