Despite a legacy of powering cockpit and cabin connectivity for Emirates with its L-band satellite services, Inmarsat has historically not enjoyed a direct partnership with the UAE carrier. But according to the London-headquartered satellite operator, that relationship has evolved now that Emirates has selected Inmarsat's GX Aviation-powered broadband connectivity for 50 incoming Airbus A350-900s, with deliveries beginning in 2024.
"This announcement marks the beginning of a direct partnership between Emirates and Inmarsat, and Inmarsat will continue to look for further opportunities to support Emirates in providing the best inflight connectivity service to its passengers," Inmarsat Aviation regional vice president, Middle East, Neale Faulkner told Runway Girl Network after the announcement dropped that Emirates has selected Inmarsat "as the inflight connectivity provider" for its incoming fleet of A350s.
He demurred in disclosing whether Inmarsat will serve as aero ISP on the A350s or if Emirates' longtime partner SITA will retain its role for these birds but assured that: "Further details will follow as the programme progresses." SITA could not provide immediate comment.
Faulkner did confirm, however, that Emirates has chosen the ThinKom Solutions Ka2517 VICTS antenna for these installations. And ThinKom last night informed its following on LinkedIn that it is: "Happy to hear our partners Inmarsat and Safran have been selected to connect the Emirates A350 fleet."
Safran Passenger Innovations' GX terminal, based on the Ka2517 hardware, is being offered by Airbus as a linefit option under the airframer's new supplier-furnished HBCplus programme, for which Inmarsat is a managed service provider (MSP). If Emirates has picked the SPI terminal under HBCplus, then it is among the launch customers for the programme, and Inmarsat will presumably serve as MSP. We await clarity, however, on whether this is the structure being pursued, or if the kit will be delivered via post-delivery retrofit.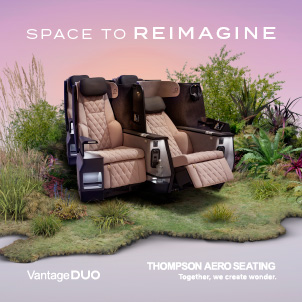 "We are delighted that Emirates has joined the GX Aviation family. This will be the first fleet with Emirates to be equipped with our highly advanced GX Aviation solution," said Inmarsat Aviation senior vice president of inflight connectivity William Huot-Marchand in a statement.
But while the A350s will technically be the first Emirates aircraft to take advantage of the GX satellite network, Emirates previously tapped Thales as integrator for GX connectivity on its forthcoming Boeing 777Xs as part of a deal that includes Thales in-seat IFE hardware for the twinjets (representing a departure for the long-time Panasonic IFE customer). Deliveries of the 777Xs are delayed until 2025. The A350s, meanwhile, are expected to begin arriving in 2024, and will come equipped with Thales' nextgen IFE with 4K QLED HDR displays.
Emirates uses SITA as its aero ISP to manage IFC services across its current fleets with disparate IFC hardware. (SITA integrated a personalisation program for Emirates across principal combinations of the Airbus ALNA connectivity backbone with Inmarsat SwiftBroadband L-band satellite service; Airbus ALNA with Panasonic Avionics' Ku-band connectivity service, and Panasonic's Global Communicates Services platform via Ku.)
Somewhat remarkably, given the lower-bandwidth, L-band IFC solution in place on many Emirates aircraft, the airline offers complimentary Internet access through the SITA-powered 'OnAir' network to specific passengers — all Skywards Gold or Silver members travelling in business class, in addition to first class, and Platinum members travelling in any cabin class. "Due to limited bandwidth and satellite data cost, media streaming and some sync services are restricted. Available bandwidth is optimised to provide a better or fairer experience for everyone," Emirates states online.
SITA also happens to be a value added reseller of Inmarsat GX so it is very familiar with the service. But Inmarsat has taken a more direct approach to the market in recent years. Another satellite operator that has gone direct in aero is Carlsbad, California-based Viasat, which intends to acquire Inmarsat, pending regulatory approval. Should Viasat complete the acquisition, it will have placement at Emirates and a raft of other Inmarsat clients, as well as a GX network that currently consists of five Ka-band satellites, with seven more payloads in the pipeline.
Related Articles:
Featured image credited to Airbus/FIXON/Dreamstime.com