LONG BEACH — In a surprise move, Airbus has inked a letter of agreement with SES, paving the way for the satellite operator to become the second managed service provider (MSP) in its supplier-furnished Airspace Link HBCplus catalogue. Following a contract signature with Airbus, SES is expected to bring its "combined MEO and GEO" Ka-band network through the Airbus ecosystem for the first time, said the European airframer.
The news, which was revealed at the Airline Passenger Experience Association (APEX)/IFSA Exhibition in Long Beach, California, comes just four months after Airbus unveiled its linefit HBCplus program at the Aircraft Interiors Expo in Hamburg, where it announced Safran Passenger Innovations (SPI) as the terminal provider and hardware integrator, using ThinKom's popular VICTS antennae, plus Inmarsat as the first managed service provider supplying its Ka-band satellite-powered Global Xpress service.
Under HBCplus, Airbus not only factory-fits the supplier-furnished inflight connectivity hardware to A320, A330 and A350 twinjets, but has overall responsibility to airline customers, providing support and warranties. Effectively, the program allows airlines to switch bandwidth suppliers without changing the hardware "so the aircraft doesn't have to go through a rip-and-replace procedure that we now see happening actually in the United States", Airbus upgrades marketing director Yannic Duifhuizen told Runway Girl Network last week at the APEX/IFSA show in apparent reference to Delta Air Lines' massive rip-and-replace program.
As such, the SPI terminal will also serve as the conduit for SES's Ka-band services as part of HBCplus.
The terminal includes "the latest and greatest ThinKom antenna. So, we have higher reliability — about three times more. There is parts interchangeability, so in case you operate a widebody and narrowbody single-aisle fleet, you can make use of the parts across the fleet," noted Duifhuizen, adding that airlines can also select their desired level of performance. "[T]his really depends on how much the airline is willing to pay but you can go up all the way to 800 Mbps if your pockets are really deep; the technology and the hardware is capable of it and we've really embedded it as an SFE [supplier-furnished equipment] option in our catalog so that airlines can select it while configuring their aircraft."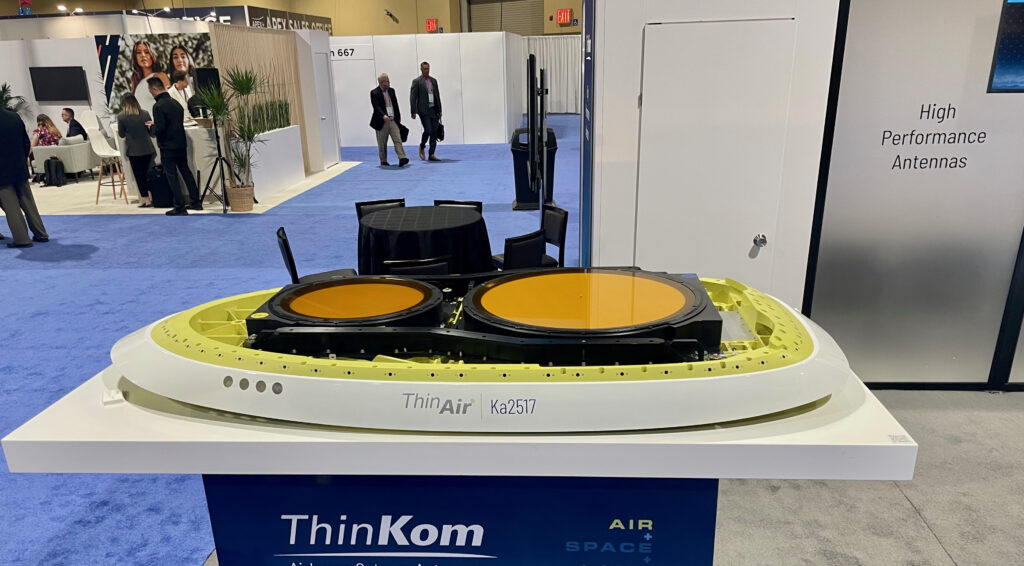 Highlighting the fact that the SPI terminal can support Inmarsat GX or SES Ka-band services, Duifhuizen said: "It's one antenna to rule them all, as I like to say. That's it guys, really, for the Ka frequency."
Duifhuizen explained that the HBCplus model is "a triangle setup" involving the airframer, the airline and the MSP.
So we have a customer, Yannic Airlines [for example], then we have Airbus taking care of the aircraft hardware, the antenna, diagnostics… and then we have the MSP completing the triangle and the contract for the bandwidth will be between the airline and the MSP.
Will traditional aero ISPs (such as SITA, Thales and others) still have a role to play, RGN asked? "[T]hey will definitely exist between the airline and the MSP", he said, if the airline wants that sort of arrangement.
If our customer wants someone in the middle to manage it — manage the portal or go different from what Inmarsat [or SES] is offering as a standard package — definitely from an Airbus point of view we allow that to happen. So that's really between the airline and the MSP to define together.
For many IFC stakeholders, SES's win of MSP status on Airbus' new linefit SFE inflight connectivity program seems like a very 'zero to sixty' moment. While SES provides broadbeam and high throughput Ku-band satellite service to multiple inflight Internet service providers today — and its SES-17 Ka-band satellite is powering Spirit Airlines' IFC via integrator and aero ISP Thales (with a retrofitted ThinKom Ka-band VICTS antenna) — SES itself is "not even an aero ISP", noted one alarmed executive on the APEX/IFSA show floor.
So, Runway Girl Network put the question to Duifhuizen: what is SES bringing to the table that struck you guys as making sense?
"I think their innovative approach of looking at GEO and MEO satellites is really something that adds a lot of value in their offerings," he replied, adding that SES's forthcoming O3b mPOWER MEO network will ensure global coverage as part of this multi-orbit solution. The first mPOWER satellite is expected to launch in the fourth quarter.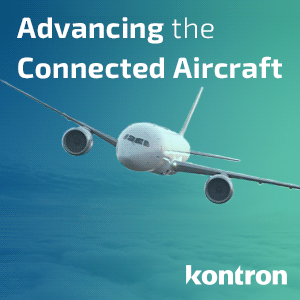 In fairness to SES, the satellite operator has been talking about mPOWER for aero for several years, telling RGN back in 2017 that mPOWER would be capable of addressing, among other things, "every aircraft flying in the world". Two years earlier, SES told RGN that it didn't want to be "the invisible guy" in aero. 
In becoming a key player in Airbus' new supplier-furnished HBCplus program, SES is certainly ensuring it's not invisible. "SES along with its global partners are building a truly differentiated multi-orbit network, which is capable of providing the best IFC service in the air for both short-haul and long-haul commercial aviation markets. We look forward to concluding our partnership with Airbus and working together to bring these innovative multi-orbit global capabilities to the Airspace Link HBCplus ecosystem," said SES chief strategy and product officer JP Hemingway in a statement.
Meanwhile, Airbus has indicated it is open to adding additional managed service providers to the HBCplus program, including those that support Ku-band connectivity. "[W]e're in talks with everyone", said Duifhuizen when pressed by RGN if the likes of OneWeb and SpaceX's Starlink might be included. "We're not excluding anyone at this stage and [are] absolutely in discussions."
ThinKom does offer a VICTS antenna in the Ku-band. Intelsat (formerly Gogo) famously adopted the solution for its 2Ku-branded inflight connectivity kit, which is rolling off the line on Airbus A220s and A320s as part of Airbus' buyer-furnished equipment catalog. And Panasonic Avionics  selected a nextgen version of the hardware for future installs (having recently agreed to offer OneWeb-powered connectivity, Panasonic might also conceivably end up using the Sidewinder terminal for certain packages).
It's unclear, however, if a terminal with the Ku-band version of VICTS will be selected when Airbus onboards Ku-band managed service providers for HBCplus. That's the type of technology decision that is under review "and we're looking at it as we speak", Duifhuizen told RGN at the APEX/IFSA EXPO.
Related Articles:
Featured image graphic credited to Airbus, photos credited to Mary Kirby