ThinKom Solutions has secured a near 1,000-unit backlog for its Ka2517 VICTS antenna, of which a very significant portion is headed for integration into Safran Passenger Innovations' terminal for the Airbus supplier-furnished HBCplus inflight connectivity program, ThinKom chairman and CTO Bill Milroy told RGN at this month's SATELLITE 2023 conference and exhibition in Washington DC.
Moreover, ThinKom has developed a new, slightly smaller Ku-band antenna, called Ku2525+, and is positioning it as suitable for the Ku-band side of the HBCplus program, to sit alongside a separate electronically steerable antenna (ESA) that could talk to LEO constellations, for instance OneWeb or SpaceX Starlink, should the airframer select either party as a Ku-band managed service provider (MSP) on the program.
"[W]e have almost a 1,000-unit backlog for those [Ka2517] and we've designed these systems to be — and these have been up on — LEO systems; they've been on MEOs, they're O3b and mPOWER-capable, which I think is part of the attraction and of course working on all the different Ka installations," said Milroy.
Both Inmarsat with GX and SES with hybrid GEO/MEO are Ka-band MSPs for HBCplus. Airbus has yet to formally select its Ku-band MSP for the program, but Milroy revealed on the hardware side: "We're trying. They will make a selection. We can't guarantee that they're going to do us, but we're trying very hard. So on the Ku, we're actually looking at bringing capabilities in terms of the ability to work on Starlink or OneWeb or other systems. We have some tricks on how we're doing that."
You're doing so without formal approval from OneWeb, RGN asked? "Kind of the answer is yes. So, we have a product, or we're calling this, it's not very creative, we're calling it the Ku2525+, which is a 25-inch Ku receive/25-inch transmit [solution] but also paired with something else that is approved to work on OneWeb."
In short, Ku2525+ would be paired with an ESA. "But a small one, very small," noted Milroy at SATELLITE 2023. "And the reason is: we do the heavy lifting, the GEO. So, the anticipation there is probably 90% of the bandwidth is going to go through the GEO system. But for those folks who need, want, or have to have the LEO experience for whatever reason, whether that's availability in really remote areas [including] polar or whether that's because of latency, certain application latency, we're going to bring that too. So, we call that the Ku2525+, which happens to be interchangeable with the Ka2517 [size/configuration-wise].
Indeed, both antennas can be tucked into the same package. So, ThinKom can say: "Pick your LEO constellation. Do you want best-in-class Ka GEO performance or do you want best-in-class Ku GEO performance and we're going to bring that all together."
Explaining how ThinKom can downsize its Ku3030 kit (which is in use by Intelsat for its 2Ku program) to Ku2525+, Milroy stated:
"We've lost about 1 dB of our 7 dB advantage. So now we're down to a 6 dB advantage. So not a big deal. And now that frees up just enough space to put a very modest LEO-capable system and that's all it has to do is just LEO; it doesn't have to stretch to try to do GEO. We've had conversations [with you] about how one can accurately describe a LEO/GEO-capable system. We're not against LEO ESAs; we just bring up the point, and without naming any particular names, we think, OK, if  you have a LEO ESA and someone says, 'Oh well, can we do GEO? Oh yeah, absolutely you can do GEO' on it. And maybe you could do GEO near the equator. But can you do GEO in Greenland or can you do GEO in London, can you do GEO in Boston [via that ESA]? And these are the kind of [questions]."
So again, this Ku2525+ I describe is interchangeable with the Ka2517+. This is the best of both worlds.
During the APEX TECH conference last week in Los Angeles, Milroy provided further color about the Ku2525+ product, telling a packed audience that while the solution adds a standalone LEO capability, it's a "second beam, not a switchable beam" so it can actually support "simultaneous beams".
Notably, if Ku2525+ makes it into HBCplus, said Milroy, "Safran will be the terminal [provider]. [B]ut that's not the only place we're looking."
OneWeb presently favors Stellar Blu Solutions' ESA (and SatixFy UK's future multi-orbit dual beam antenna). Thus far, SpaceX has gone direct in aero. Milroy confided that ThinKom has held discussions with SpaceX, though he has nothing to announce right now. "And we're  generic. We love all constellations. So we would love to host a Starlink ESA. We would love to host a OneWeb ESA. We have conversations going on. We don't have anything to announce yet, but there's definitely stuff percolating in the background. Hopefully at AIX [Aircraft Interiors Expo], you know obviously we're ready to play our hand, but the folks we're talking to aren't ready yet, although we're hoping that AIX or shortly before you'll be able to [know more]."
"So we're just trying to become this easily digestible, if you will, or as easily usable across all of those different areas. So we remain very interested in the retrofit market as you can see from some of the press releases, but you know why, particularly since we're already HBCplus approved/selected for Ka, we're trying to make it as attractive as possible for them [Airbus] to make the same decision on Ku."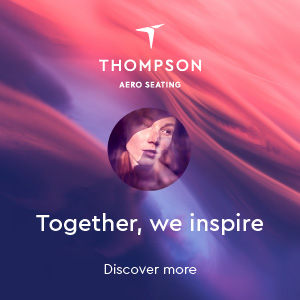 Airbus' HBCplus program is not without controversy (both the supplier-furnished nature, and some of the surprising choices: SES as a Ka MSP, for instance, seemed to come out of the blue, some stakeholders have confided.) And aero ISPs have their own favored hardware solutions, which don't always fully mesh with Airbus' vision.
But with a large chunk of ThinKom's 1,000-unit, Ka2517 backlog earmarked for HBCplus, it seems that the airframer is pushing forward, full steam ahead, and airlines are proving receptive. That is no doubt good news for Inmarsat given its here-and-now near global GX service and MSP status on the program, and indeed ultimately Viasat, which is to acquire the London-based firm (though Viasat is on record saying it doesn't favor VICTS).
Boeing, meanwhile, is also eyeing a more standardized equipment approach, as its work alongside Airbus at the Seamless Air Alliance suggests.
Anil Kumar, who serves as technical fellow – offboard communication systems at Boeing, was a panelist for Desai's OEM linefit/terminal integration session at APEX TECH, and spoke of the growing complexity in the aero satcom market.
"Just imagine [that] we have to install all 737, 777, 787s with different versions" of ESAs, he said, noting that this scenario creates a problem. "So from that perspective, we want to have some element of standardization in this with the space networks changing, with the terminal providers changing their hardware and software, and also the ground network changes."
When asked by RGN if Boeing is going to go in a similar direction as Airbus with a supplier furnished IFC program, Kumar said:
"So, I don't know about Airbus. So, clearly we have a plan to moving away from BFE to an SFE solution if it can help in terms of our production stability. So that is one of the reasons we are looking at all the technologies possible. We cannot go fully like the way Airbus is going. But clearly in terms of standardizing equipment, yes we will go."
Related Articles:
Featured image credited to Airbus