This June, at the Aircraft Interiors Expo in Hamburg, Airbus announced to great fanfare that it is offering a new linefit supplier-furnished catalogue option for inflight connectivity across its commercial aircraft portfolio, choosing as its first partners Safran Passenger Innovations (SPI) as terminal provider and hardware integrator, using ThinKom's popular VICTS antennae, plus Inmarsat as a managed service provider supplying its Ka-band satellite-powered Global Xpress service.
Now SPI confirms to Runway Girl Network that its ThinKom VICTS-based terminal for GX is also going through the offerability process at Boeing, and that "both Airbus and Boeing customers are able to select this product today for future aircraft".
One carrier that has done just that is Qatar Airways, a longtime customer of Inmarsat GX. While a large portion of Qatar's fleet is fitted with the original GX terminal, Honeywell's JetWave system, the carrier has selected SPI's nextgen VICTS-based Ka-band solution for some of its programs, namely its newly-announced Boeing 787-9 retrofit and linefit IFC programs, as well as the Boeing 737 MAX 10 linefit IFC program.
Seven of Qatar Airways' in-operation 787-9s have already been fitted; its remaining 27 on-order -9s will be delivered linefit with the new IFC system for GX, whilst 50 future MAX 10 deliveries will also be delivered to the carrier with the system already installed at the Boeing factory. "Safran Passenger Innovations can also confirm that the ThinKom solution is the same for both Boeing Linefit and Retrofit," a spokeswoman tells RGN.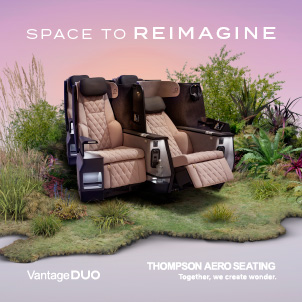 This is certainly an interesting twist given that ThinKom's Ka-band VICTS antennae is seeing placement at Qatar versus the Intelsat 2Ku solution (featuring ThinKom's Ku-band Ku3030 VICTS), which was originally slated to be fitted to the 787-9s (plus 787-8s and A380s) but which proved too wide to fit under the Boeing tri-band radome.
ThinKom's Ka2517-branded VICTS antenna has enjoyed remarkable trajectory of late. As mentioned, Airbus recently selected the SPI terminal with VICTS for HBCplus; the SPI terminal is also in line for Boeing offerability (and being retrofitted to aircraft); and SAUDIA recently selected a separate Stellar Blu retrofit terminal for Inmarsat GX, which (here again) features the Ka-band VICTS. Moreover, Thales is rolling out a VICTS-based terminal as part of its IFC program for US low-cost carrier Spirit Airlines' Airbus A320 family.
News about Qatar's decision also comes as a wave of new electronically steerable antennas are being pitched at the IFC market. Yet, according to multiple industry stakeholders, ESAs are better positioned to support IFC on single-aisle aircraft versus widebodies, at least early on. Safran certainly took a step back from its own ESA work for GX to focus on a VICTS-based GX terminal, with the fruits of its labor increasingly clear.
Related Articles:
Featured image credited to Qatar Airways