Despite the challenges posed by the COVID-19 crisis in commercial aviation, Intelsat in the last 18 months secured new inflight connectivity orders with airlines covering 720 aircraft, while seeing its 2Ku IFC solution fitted at the factory to new Airbus A220 and A320 family aircraft. Delivery of new 2Ku-fitted Boeing 737 MAXs from the airframer are expected to resume next year, Intelsat told Runway Girl Network at the Satellite 2022 conference and exhibition in Washington DC.
The satellite operator and aero ISP's win of hundreds of new aircraft tails amid the pandemic is perhaps especially notable given that Delta Air Lines last year began removing 2Ku from a large portion of its domestic fleet, pivoting instead to Viasat's Ka-band satellite-supported IFC system. But according to Intelsat SVP, commercial Dave Bijur, the Delta decision wasn't quite as big a blow to Intelsat as it may have seemed.
"You know, I think it's been easier than you might think only because that all transpired when Gogo was in charge," said Bijur, who worked as regional president for Gogo overseeing airline partnerships in North America before Intelsat acquired Gogo's commercial aviation business at the end of 2020.
"And I don't think people probably recognize that what was going on when Gogo was in charge was that we were really just the middleman," he continued with his former Gogo hat on. "We were purchasing capacity from SES or from Intelsat and we were reselling it to another party. So, the offer we can put on the table was only so good. That's all different as part of Intelsat. And so, you know, the fact that over the COVID-impacted last 18 months we won 720 aircraft, I think is good and I'm really proud of that and I'm not terribly concerned with the Delta loss to be honest."
Intelsat has been enjoying the business that linefit offerability helps to facilitate. Its 2Ku kit is offerable on the Airbus A220, A320 and Boeing 737 MAX families, meaning that airlines can effectively tick a box and have the solution installed by either airframer at their factories, though new MAX deliveries with linefit 2Ku are not expected to resume until next year.
"[T[]he Airbus program is going really well. I would say we have — I'm going to rough it for you, Mary — maybe 250 jets in line at Airbus. So, I'm really excited about that," said Bijur. "We announced a big expansion of our relationship with LATAM Airlines. We had the Brazil fleet always [the win was announced in 2017] and then we just picked up all of the fleet that goes in the Spanish-speaking countries [Chile, Ecuador, Peru, Colombia] and I think that's somewhere in the neighborhood of 150 new airplanes for the A320 line. But we've got three other carriers coming out of that delivery flow as well.
"So, A320 family has being very productive for us, as has the A220 family where we've been delivering a lot of airplanes. That linefit predates Airbus' acquisition of the airplanes [from Bombardier]…We still deliver for Delta. I think people don't probably realize that we continue to install brand new airplanes for Delta. So that continues, and that's really good."
On the MAX, 2Ku (under Gogo) was offerable before the worldwide grounding of the aircraft type. "So, we delivered a handful of linefit MAXs and then we had some radome challenges and then the MAX got shut down. And so, we're just getting back to it now and will resume deliveries I think next year," said Bijur.
When MAX linefits resume, the 2Ku antenna system, which is based on Thinkom Solutions' Ku3030 VICTS technology, will not roll off the line under Boeing's tri-band radome, but rather, "we're under our own, always have been", said Bijur of Intelsat's linefit-specific radome. "2Ku doesn't fit under the tri-band radome. And so we always had our own thing, our own radome." But this required the firm to meet Boeing's exacting standards for the radome. "And they want us to stand up to those standards and have a radome that is durable."
In the meantime, he said, Intelsat has "a lot of MAX customers" which are taking the airplanes in a retrofit configuration.
The Intelsat executive reckons that being offerable in airframers' catalogs is more important than ever. "If you fly with Lufthansa, Singapore, Qantas, BA or American, all those big jets are equipped [with IFC]. So, at this point, it's turning into more of a linefit game," he suggested.
"I think we were, you know, later to that party than others, but that's because 2Ku is unique and didn't fit the standard that Boeing and Airbus initially wanted. So, fortunately they've adopted that. They've realized that airlines want it and of course the name of the game in linefit is if airlines really desire it, they'll tell the OEM, 'hey, this is what I'd like to do,'" he added.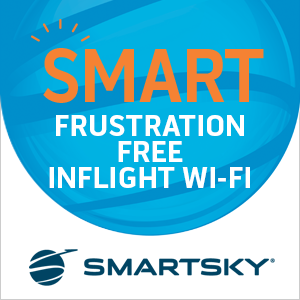 The signature slimline nature of 2Ku equates to lower drag — ThinKom advertises that its system requires a radome height of just 7.8″ — which not only makes it harder to spot from a #Humpspotter perspective, but translates to fuel savings for airlines at a time when the cost of fuel is high.
The large, but flatter antennas in the 2Ku system are "really efficient", said Bijur. "They can move more data for less cost. So that plus the fuel savings, I think are a real benefit."
He added: "[A]t this point, people are starting to think about how much weight is on the aircraft and why is that weight on the aircraft. And think about the crossover with IFE. If the connectivity is now fast enough and there's enough capacity, this will reignite the debate over seatback [IFE]. You know, we've had that debate for a dozen years and I would imagine that all comes back as the price of oil continues to increase."
Related Articles:
Featured image credited to Cathay Pacific