Since the launch of the Airspace Link HBCplus solution at AIX 2022 with partners Inmarsat and Safran Passenger Innovations (SPI), Airbus has achieved significant headway: At APEX 2022, Airbus revealed SES as the second Managed Service Provider (MSP), offering its GEO+MEO Ka-band solution. Airbus' airline customers therefore have the choice of SES and Inmarsat, and can switch between these MSPs while using the same terminal made available by SPI. Most recently, Airbus is pleased to announce Emirates Airline as the launch customer for HBCplus, outfitting 50 A350 aircraft. More airlines will be revealed soon.
Latest developments underway…
Responding to feedback from the market, Airbus has now started the development of a complementary HBCplus product in order to further broaden the MSP offer: Operating in the Ku-frequency band and being both GEO and LEO compatible, this latest solution will use ESA (Electronically Steered Antenna) technology to enable simultaneous multi-beam operation. This new product is planned to be offerable in the course of 2024.
With this Ku-band HBCplus solution, complementing the initial GEO+MEO Ka product, Airbus is on track to provide a full range of options for airlines, for simultaneous *GEO (Geostationary Earth Orbit), *MEO (Middle Earth Orbit), HEO (Highly Elliptical Orbit) and *LEO (Low Earth Orbit) connectivity.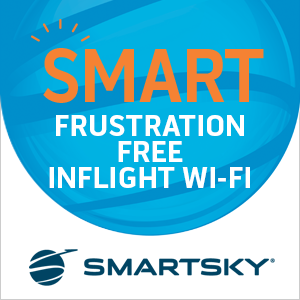 New MSP partners for Ku-band services
For the Ku-band HBCplus capability Airbus is in advanced discussions with Intelsat and Panasonic, with MoUs signed, as the launch MSPs. HBCplus will enable these MSPs with GEO constellations to seamlessly integrate their chosen LEO operators, such as OneWeb, into their Ku service for their respective airline customers – using the same electronically-steered antenna (ESA). To this end, SPI has been selected as the terminal provider and hardware integrator for the development of the Ku-band ESA for HBCplus, which will come as a SFE line-fit catalogue option and also for retrofit on all Airbus programmes.
André Schneider, Airbus VP Cabin & Cargo Programme said: "Complementing our HBCplus offer with multi-constellation Ku-band solutions is a key step in our aim to provide flexibility of choice for airlines."
He adds: "With this additional offer, Airbus' customers will benefit from a wider choice of connectivity services with the same operational flexibility as offered by our Ka-band solution recently selected by Emirates on its A350 fleet. This will also enable passengers to enjoy an outstanding and seamless connectivity experience aboard Airbus aircraft."
Please stay tuned for more details of the next product launch, delivering to our plan for more choice and flexibility for our customers.
Orbit / constellation key characteristics
*GEO – Geostationary Earth Orbit:  ~ 36,000 km altitude; equator line, no polar coverage.
Capability to focus the beams where there is capacity demand.
Ability to deliver broadcast (TV).
Requiring high performing antenna.
GEO HBCplus MSPs offerable today: Inmarsat (Ka-band); SES (Ka-band).
Currently in discussions with: Panasonic (Ku-band); Intelsat (Ku-band).
*MEO – Medium Earth Orbit:  ~ 8,000 km altitude; Intermediate solution between GEO and LEO; fewer satellites needed than LEO.
High throughput; low latency, network availability and flexibility.
MEO HBCplus MSP offerable today: SES (Ka-band).
*LEO – Low Earth Orbit:  ~ 500 to 2,000 km altitude; several hundreds of permanently moving satellites, with frequent hand-over.
Global coverage including polar routes.
Capacity distributed on all satellites.
Very low latency suited for gaming, video conferencing, VoIP etc.
Seamless handover required.
Featured image credited to Mary Kirby