Boeing is evaluating how it can gently tweak its inflight connectivity provisions on 737 MAX, 787 and 777-9 aircraft to enable operators to easily retrofit Stellar Blu Solutions' Sidewinder electronically steerable antenna (ESA) to aircraft delivered with existing provisions, if they so choose.
The US airframer is strict about who interfaces with its IP. Its legacy inflight connectivity provisions — a throwback to the old Connexion by Boeing days — support a larger configuration atop the fuselage, including an adapter plate and a radome to accommodate the installation of a mechanically-steered antenna transmitting via GEO satellites. Aircraft that roll off the line with these legacy provisions can be fitted post-delivery with a variety of approved satcom systems (as an example, Inmarsat's classic GX kit was first installed on new Boeing jets via post-delivery service bulletin installation and activation).
But Stellar Blu's low-profile, multi-orbit Sidewinder ESA architecture, which can talk to OneWeb's Ku-band Low Earth Orbit (LEO) satellite constellation in addition to GEO and MEO satellites, is different. For one, it doesn't require a radome. And now that it is seeing traction in aviation, Boeing is "working with us to come up with their parts that would put this antenna into their fitment", Stellar Blu CEO Tracy Trent told Runway Girl Network at the Aircraft Interiors Expo (AIX) in Hamburg, following their week-earlier announcement.
In short, Boeing is looking at how to make its current factory-fit IFC provisions — its parts, its data — a little more compatible with Sidewinder for operators that are interested in adding the antenna to their aircraft post-delivery. "It's a couple of parts that they're going to create," revealed Trent, fresh off of hiring former Boeing chief engineer, aviation networks and security John Craig as his new chief of staff.
There is one kind of agreement that a company like Stellar Blu would have with Boeing, and that's a technical service agreement (TSA). And while neither party has publicized such, this must be a thrilling moment for Stellar Blu, given that Sidewinder — featuring Ball Aerospace's modular scalable subarrays — has only been in the news headlines for just over a year, having burst onto the scene as part of a successful trial of OneWeb-powered IFC aboard a Boeing 777. 
Exact details on what the final linefit configuration will entail have not been revealed. For instance, as "satcom guru" industry consultant Peter Lemme clarified at AIX, is Boeing going to move those legacy antenna mounting provisions in or not? Will a decision be taken to grow the small ESA antenna out to that larger footprint or bring new attachments closer in?
It's still early days, and Stellar Blu will first provide a terminal to Boeing for evaluation. But as it stands right now, it seems likely that Sidewinder would be mounted atop Boeing's current adapter plate in some fashion, post-delivery.
"[T]he concept of what we're striving to do with them … is that we will use their adapter plate [and] drop in our two apertures. The cable kits will be unique to be able to support all of the existing production feed-throughs that are unique to each of the three airframes [737, 777 and 787] so that the customer doesn't really have to change a whole lot. And Boeing doesn't have to change a whole lot," explained Trent to RGN.
Regardless of the path chosen, the news has interesting implications.
Once Boeing decides on its requirements specific to Sidewinder, then aero ISPs Intelsat and Panasonic Avionics could be seen as sitting pretty. That's because both of these Ku-band GEO satellite connectivity providers are also OneWeb distribution partners in aero (and OneWeb favors Sidewinder); and, importantly, both already have relationships in place with Stellar Blu (and indeed Boeing).
So, airlines ordering new aircraft would effectively be able to tick the box for the tweaked linefit IFC provisions that support Sidewinder, and install the antenna portion of the kit post-delivery. "[T]he evaluation contemplates a retrofit install plan for all aircraft types in service with these factory provisions," confirmed Stellar Blu vice president Stephen Rice. And airlines could choose to work with Intelsat or Panasonic for the service (or perhaps other aero ISPs in the future).
Unsurprisingly, Intelsat and Panasonic are pleased with this turn of events.
"I'm in love with what Stellar Blu has done with Boeing, we're supporting them," Intelsat SVP, commercial Dave Bijur told RGN at AIX. "I'm sure Panasonic likes it too. We're both beneficiaries of a tighter partnership between an antenna provider and OEM."
Panasonic vice president, connectivity business unit John Wade, said: "Our current partner is Stellar Blu in the retrofit market. We are excited about what that terminal does. We've got a mockup of it on the stand here. They're also going through the Boeing linefit process, which again we think is a great step." While Stellar Blu's work with Boeing is starting with linefit provisions "in due course they want to get to full linefit", noted Wade.
"It's certainly starting with" post-delivery retrofit mods, "but I mean to the extent they can make that work with the existing provisions, it's not really much of a step to go from that to linefit," he added.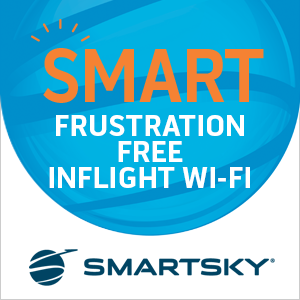 Boeing's first consideration might be for green aircraft that are just coming out of the factory with provisions. But whatever final configuration is decided could ultimately be mirrored in the retrofit world via supplemental type certification. And so, it seems reasonable to assume that once those details are thrashed out, Stellar Blu's arrangement with Boeing could set in motion a major retrofit opportunity in the market. Trent agreed, telling RGN: "So you could kind of then take that to your retrofit concept, which is a big thing that we're pushing…"
"And," he added, "we're going to make it as easy as possible. And we realize that we ourselves could be a limiting factor, which is why we're partnering with some big-name players that understand what those fitments look like and they can take our kit and just make it easy for customers to put it on."
A variety of inflight connectivity providers could be affected, including Intelsat and Panasonic. After all, a meaningful number of Boeing aircraft are fitted with Panasonic's linefit offerable buyer furnished legacy Ku-band hardware. And Intelsat 2Ku is linefit offerable on the Boeing 737 MAX. Additionally, some operators that would have previously chosen these IFC solutions to be factory-fit, might be encouraged to simply take new Boeing aircraft with provisions and add Stellar Blu's ESA post-delivery.