The Bring Your Own License (BYOL) streaming inflight entertainment model — also known in some circles as connected direct-to-consumer IFE or "D2C/IFE" — is seeing strong traction in the United States and on certain short- to medium-haul flights elsewhere, as a growing number of airlines offer free or paid access to a streaming class of Internet service on narrowbody aircraft, and passengers avail of it to access their Netflix, Hulu, HBO Max and other OTT subscriptions.
But whilst advances in inflight connectivity are happening all the time — both single-aisle and twin-aisle aircraft are increasingly being fitted with high-throughput modems, high-performance antennas and more reliable WAPs — the high cost of bandwidth, gaps in satellite coverage, bandwidth constraints, and other technological inhibitors mean that most widebodies flying internationally aren't presently able to support a planeload of passengers simultaneously streaming HD content over the broadband pipe.
Not by a long shot.
In fact, anyone who regularly flies connected widebodies knows that inflight Wi-Fi is often buggy and can suffer from coverage gaps. "It's awful. I mean the flight I took from the UK; I couldn't get connected. It gave you the illusion that there was connectivity and that was it. And then, everything froze," Rivada business development manager Joe Apa confided to RGN at the SATELLITE 2023 Conference and Exhibition in Washington DC, after your author shared some of her own recent experiences flying twin-aisle aircraft on international routes with inoperable Wi-Fi.
And so, with a few exceptions — such as Virgin Atlantic's new Viasat-fitted Airbus A330neos flying within the satellite operator's footprint across the North Atlantic corridor (which supports streaming-capable service for passengers with clear caveats) — the connected D2C/IFE paradigm on board widebodies has largely not transpired. According to AERQ head of strategy and business development Jonas von Krüchten, who serves as chair of the Airline Passenger Experience Association's APEX Technology Committee, the ability for many passengers to stream HD content on twin-aisle aircraft is not likely to happen anytime soon.
"The math to enable 100+ simultaneous HD streams (and especially with higher resolutions) does not seem to add up with currently available solutions delivering 100-200 Mbit/s to aircraft," he says.
"Now, as bandwidth further increases in future, we will eventually reach an envelope where we can technically tap a more broadly available streaming use case for the greater share of passengers."
Perhaps that envelope will be reached when elements of New Space become a reality, such as when hybrid LEO/GEO or MEO/GEO networks are fully available, or when microGEO or next-generation laser-linked LEO satellites are in play.
Or perhaps it will happen when Viasat's near global, high-capacity, three-satellite ViaSat-3 constellation is in geostationary orbit. After all, in addition to Viasat's IFC installs on Virgin Atlantic's A330neos flying UK-US routes (using the current ViaSat-2 and ViaSat-1 satellites), Viasat has been able to facilitate a free streaming class of service on JetBlue's narrowbodies since 2013, and more recently started powering free Wi-Fi on Delta's domestic fleet (and will do so fleet-wide in the future), as well as a paid streaming tier on certain Southwest twinjets. And Viasat's other regional narrowbody deployments, such as in Australia, enable passengers to stream HD content.
Moreover, some operators of twin-aisle aircraft are clearly preparing for ViaSat-3, with Etihad announcing last week that it will bring the Carlsbad, California-based firm's Ka-band satellite-supported service to its new Boeing 787s, even before the near global constellation is fully built out.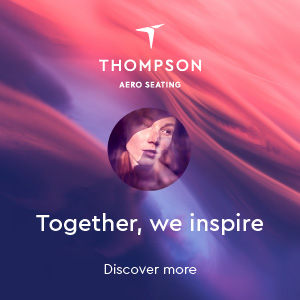 Of course, passengers have been gravitating towards their own version of the BYOL model for years, but with content that they pre-download before the flight.
"With most passengers being subscribed to at least two streaming services today and already making active use of bringing pre-downloaded content to the aircraft, we have effectively long embarked on a 'bring your own content' journey as an industry," notes AERQ's von Krüchten.
"We just haven't actively facilitated it; neither from a solution/services integration side nor by providing a PED-first cabin environment — this is at least true for most cabins currently flying. There is a clear opportunity for our industry to enable a more seamless 'bring your own content' experience for passengers. Thus, allowing passengers more content choice and control over their journey."
But even if aircraft are eventually primed and capable to enable what might be seen as the holy grail of "connected D2C/IFE in HD" for all passengers in a PED-first environment, there will be instances where the onboard connectivity simply does not work, or does not deliver a superior experience to all passengers, which then begs the question:
Will there always be a need for airlines to carry a certain amount of cached content — stored in an onboard server and served up either wirelessly or via embedded screens — as a backup in the event of IFC failures?
Flying Philadelphia-Dallas roundtrip on an American Airlines Airbus A321, fitted with Viasat's Ka-band system, your author was urged to "enjoy free entertainment" when the IFC was unavailable.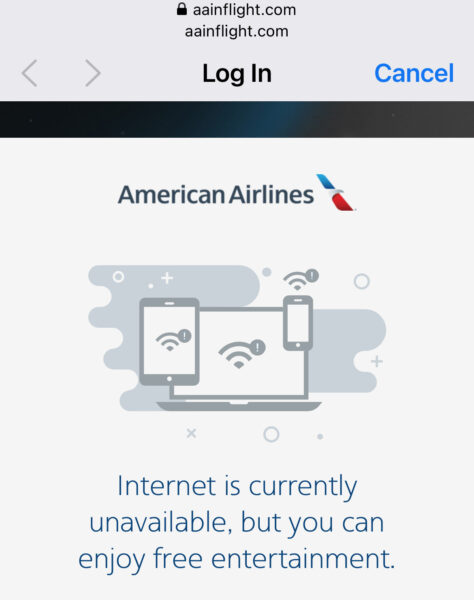 To be clear, stored IFE content can be made to look a lot like the connected D2C/IFE model. Longtime industry veteran and APEX Technology Committee member Michael Childers notes, for instance, that "D2C" solutions like the Paramount+ offering on British Airways, the HBO Max offering on LATAM, and the Peacock offering on JetBlue are all cached content channels that deliver content created for the D2C market but not explicitly delivered over a live inflight connectivity pipe. The primary motivation for these types of partnerships is to expose the brand and the D2C exclusive content to airline passengers to generate subscriptions.
"Over time, the volume of content which is cached will decrease and the content which is streamed directly from the satellite will increase as bandwidth goes up and costs go down," predicts Childers. "A hybrid of cached content and satellite-delivered content will be aided by edge caching which enables the airline to copy the satellite stream and cache it rather than re-delivering it from the satellite each time a passenger wants to access it."
But he suggests that: "[T]here will — in all probability — always be a backup supply of content in cache on the onboard server for backup. It could also be stored at the seat in SSD clusters that may or may not be meshed. Redundancy is a component of IFE. Connectivity is the principal way in which payment or subscription access can be realized on the aircraft, but there are some possible options such as downloading a token before the flight that facilitates access."
AERQ's von Krüchten also reckons that we will continue to see cached content on board at least for some years to come, in part because of IFC system reliability issues, and because airlines cannot fully rely on passengers to always bring their own content. He states:
[T]here are different factors that will drive the mix of the future onboard content set (cached vs. streamed content) e.g.

1) performance of nextgen IFC solutions

2) its worldwide adoption and time for aircraft to be (retro)fitted

3) the development and implementation of solutions that allow for a migration path between streamed and cached content such as content edge caching (eCDNs)

4) content creators' go-to-market strategy (theatrical vs. D2C). Just to name a few.

Depending on how those factors play out — and this may very well vary depending on the airline market segment — the legacy way of (cached) content provisioning will sooner or later lose importance.
Even so, AERQ, which is working to digitalize aircraft cabins through its AERENA open IT platform — including with an in-seat IFE component — believes that, in the the future, IFE and IFC systems will continue to progressively converge, "ultimately forming fully integrated IFEC ecosystems".
Regarding whether cached content will always serve as backup to inflight connectivity, RGN put the question to in-seat IFE giant Panasonic Avionics, which holds a whopping 70% market share.
"At Panasonic, we believe the future is not IFE 'or' IFC, but rather IFE 'and' IFC," says vice president of product management Andy Masson. "In the near term, IFE systems can serve as a 'guarantee' for times when IFC is not available, however, we believe that there is untapped potential with the current inflight entertainment approach that the industry is taking. Success in this new industry paradigm will require amongst other things, IFC and embedded IFE to reach its full potential."
The topic of IFE and IFC working more fully in concert — as true IFEC — will be top-of-mind next month when the Aircraft Interiors Expo gets underway in Hamburg, Germany, featuring a dedicated IFEC Zone. Indeed, Panasonic Avionics CEO Ken Sain plans to talk about the firm's future vision of the IFEC industry in more detail at AIX, notes Masson to RGN.
According to the organisers of AIX, more than 50 companies will be exhibiting in the IFEC Zone hall, with products spanning wireless connectivity hardware and software, bring-your-own-device (BYOD) solutions, seatback systems, 5G, streaming platforms, and content services.
"IFEC will continue to be a clear differentiator for airlines due to the increasing digital dependency of passengers," says AIX.
Related Articles: