Delta Air Lines is committed to offering free high-speed Internet across its entire fleet by the end of 2024, but says it is still thrashing out the finer equipage details for its regional jets and aircraft flying internationally.
The US major on 1 February made free Wi-Fi available to all SkyMiles members on most of its domestic mainline flights, in partnership with sponsor T-Mobile. The service, which is powered by Viasat's high-capacity Ka-band satellite-based inflight connectivity solution, was available "on more than 500 Delta aircraft at launch" and will be offered "on more than 700 Viasat-equipped aircraft by the end of 2023", said Delta, which began migrating to Viasat's hardware in 2021.
Also on 1 February, Delta reiterated that it plans to bring free Wi-Fi to its international and regional aircraft — including its mainline Boeing 717s, as well as Delta Connection partner-operated two-class regional aircraft (the CRJ700s, CRJ900s and Embraer E170 and E175 twinjets) — by the end of 2024.
At present, Delta's 717s and regional jets are fitted with an Intelsat- (formerly Gogo-) managed air-to-ground (ATG)-powered connectivity system, whilst its widebodies carry a mixture of Intelsat's traditional Ku-band gimbaled antenna hardware and Intelsat's 2Ku kit. Passengers pay to use these services.
Intelsat is presently putting the building blocks in place to support an IFC equipage program for customers keen on adopting its new multi-orbit, Ku-band IFC solution, which features an electronically steerable antenna with Ball Aerospace's modular scalable subarrays that can transmit via OneWeb's LEO constellation and Intelsat's own GEO satellites. The kit is currently being flight-tested on a CRJ700 in San Juan, Puerto Rico in partnership with design and integration partner, Stellar Blu Solutions.
But Delta's messaging positions Viasat as the carrier's fleet-wide Wi-Fi provider of choice. "Working with engineers from Viasat — the satellite Internet service provider behind the airline's connectivity revolution — teams at Delta have applied a rigorous approach to testing, learning and scaling best-in-class inflight connectivity, with an eye toward rolling out the new system on more routes at an unprecedented scale by the end of 2024," says the carrier.
Moreover, this free, fast Wi-Fi is the catalyst for Delta Sync, the airline's new ecosystem of digital services and experiences aimed at further personalizing travel for SkyMiles members. "With food and beverage ordering in First Class, curated content recommendations, real-time seatback flight notifications and more, Delta plans to introduce early versions of the system this summer," says Delta of the new IFEC and e-commerce portal.
When asked about the migration of RJs and widebodies to Viasat, however, a spokesman says only: "I can confirm that our regional and international fleets will be equipped with free Wi-Fi capability by the end of 2024. Regarding specifics, our teams are still working on those timelines and installation plans, so we don't have any further details to share at this time."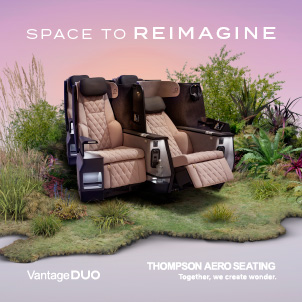 Coverage-wise, Viasat's current Ka-band footprint is presently supported by its high-capacity ViaSat-1 and ViaSat-2 satellites in North America (the latter also covers transatlantic air and maritime routes to Europe) and the KA-SAT satellite in Europe, for which it has full control. The company will be able to offer near global Ka coverage including in the Middle East/Africa and Asia-Pacific when it completes the build-out of its three-satellite ViaSat-3 constellation. The first ViaSat-3 satellite for the Americas is now targeted to launch on 8 April of this year. Boeing, which is building the satellites, and Viasat will showcase the ViaSat-3 Americas satellite for the first time later this month.
"Each of the three satellites in the ViaSat-3 constellation is expected to offer 2.3x more capacity than Viasat's current entire satellite fleet," notes Viasat. "Collectively, the three-satellite constellation is anticipated to provide more capacity than any other telecommunication network in orbit. Each ViaSat-3 satellite is expected to have more than 1 Terabit per second (Tbps) of throughput capacity making them the highest-capacity broadband satellites ever launched…"
Viasat says it is confident its success in the North American IFC market can be extended globally, and that its initial forays into Australia, Brazil, Europe and, more recently, China are indicative of that.
Should the ViaSat-3 constellation be ready by mid-2024, it seems logical that it could provide near global coverage to Delta and indeed other Viasat customers by the end of that year. But Viasat is also hopeful of acquiring Inmarsat, which today has near-global coverage through its ever-expanding GX Ka-band constellation, and, purely from a technological standpoint, could conceivably support Delta's ambitions.
Related Articles:
Featured image credited to Delta Air Lines