AERQ is working with a slate of potential new partners to assess whether their applications are a good technical, commercial and customer fit for integration with its AERENA open IT platform, which consists of cabin digital signage and in-seat displays. The goal is to ensure AERQ can offer a well curated mix of apps via AERENA as part of its broader effort to digitize aircraft cabins, drive ancillary revenues for airlines and improve the passenger experience.
A joint venture between South Korean multinational technology conglomerate LG Electronics and aircraft maintenance, repair and overhaul giant Lufthansa Technik, AERQ late last year revealed it is already collaborating with gaming specialist Gladi8tor, destination video guide company InflightFlix, digital media distributor Media Carrier and the Rydes transport app. Prior to this announcement, it teamed with media processing and distribution platform ABOVE to automate content supply to aircraft, with the goal of cutting the time it takes to bring content onboard from months to weeks.
But more key partnerships are in the works. "Partnering is really core to what AERQ is doing. We want to drive passenger engagement and relevance. AERQ won't do this all by itself but through partners. The partner aspect is going to be ongoing. We haven't made further announcements but there will be announcements in the future," says AERQ head of strategy and and business development Jonas von Kruechten, noting that the firm is looking at different areas like gaming, wellbeing, and e-commerce.
When considering partners, he adds, "we ask — is there passenger need? Will it drive engagement on the platform and thus allow ancillary revenue potential or increase the passenger experience? Ultimately AERQ wants to provide a marketplace and that term connotes more than five or six partners so it's a process that we're going through right now."
To that end, AERQ is endeavoring to streamline its partner onboarding process as much as possible. It expects to produce the SDK and APIs for those who want to develop and get onto aircraft. On the deployment side, there will be numerous initiatives to get rid of physical rig tests and move that into the cloud to drastically reduce time to aircraft.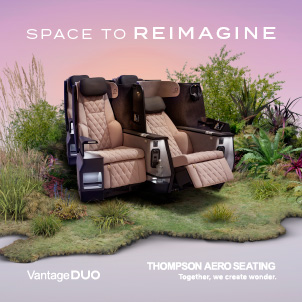 While AERQ will consider giving airlines the option of a baseline package inclusive of a variety of apps for AERENA, von Kruechten reckons that "most likely we'll see a mix of different packages because AERQ is ultimately partner-agnostic, and we want to provide control to airlines so those services and applications need to be able to be swapped out on rather short notice. We're happy to discuss with airlines on what would suit them best, model-wise, but it is likely going to be a combination of packages.
"Obviously, there are certainly applications that drive complexity so certain apps will have to be customized. For instance, an airline might want to include an 'earn and burn' program, which would be hard to include in a base package because they are customized." Since AERENA is fully open, AERQ vows it will not be the bottleneck to innovation.
Discussions with airlines have begun, including at the recent APEX EXPO in Long Beach, California where AERQ had a display. "Basically, we had two major goals for APEX. Firstly, it was the first physical event for AERQ so our goal was to position AERQ on the radar screen for everybody via an in-person event and letting them know that this is real. The second one was to present our solutions to the industry and seek feedback from airlines to see if we're on the right track with what we're doing," explains Arnd Kikker, a managing director at AERQ.
He continues, "The message was about giving airlines back the control of their digital cabin experience plus giving them a choice of services, testing, and scaling of digital processes and content onboard to create a competitive edge for airlines. We met with nearly a dozen airlines. Some were critical in the beginning, saying 'this is what we've heard a lot of times before.' But we had a virtual demonstration of our solution onsite and the airlines confirmed our position that AERENA goes beyond a traditional IFE solution. They were quite convinced that we are going beyond what is available today. We also heard that the brand appearance is very, very positively recognized."
The AERENA platform consists of aircraft cabin digital signage which can be used in a variety of applications such as 'welcome on board' signage, virtual windows or as a transparent class divider, plus an in-seat engagement system. Ambient screens, which could set the mood in the cabin, are also being studied for premium airline applications.
"We are taking a family approach with digital signage so there will be different sizes and use cases to bring into the market. So those types of decisions are associated with the use case for the airline. Airlines won't put a screen onboard for the simple purpose of having a screen there. Some want it for ancillary revenue, others to advertise, others for inflight signs and messaging including to address hygiene," explains Kikker.
"The hygiene topic is important particularly in the COVID time; this use case is quite tangible for now. But the ultimate goal for us is to have a family approach that airlines can quickly and easily update the environment they're in, whether by using an ambient screen or to drive ancillary revenue or to have passenger announcements or to use the signage as a welcome board on the bulkhead, on the ceiling. Most won't buy it for just one use case, but rather will need flexibility to change their content strategy."
Though AERQ remains connectivity agnostic, its AERENA platform will require varying degrees of bandwidth to aircraft. "[I]t may be different on different routes, and different times of the year, as content on the platform changes as well, thus driving different bandwidth demands so this is something we're watching closely, and we are in discussions about," von Kruechten tells Runway Girl Network. Wireless IFE will not be part of the initial offering but will be offered down the road.
AERQ hopes that by the June 2022 timeframe, it will be well placed to support an end-of-2023 rollout on aircraft. "We know we need to have something ready to showcase to airlines so they basically believe and trust what we are promising here. Airlines have lead times to onboard a new supplier so 2022 will be very interesting for us," says Kikker.
Related Articles:
Featured image credited to AERQ