OneWeb has pushed back the planned start date for its Ku-band Low Earth Orbit satellite-based inflight connectivity service to early 2024, but says it expects "big name" airline customers to be announced ahead of this year's Aircraft Interiors Expo in June.
"We're looking at the start of '24 to start commercial service in aviation, and we'll have global service available from that point," OneWeb VP mobility Ben Griffin tells Runway Girl Network. "It's a bit delayed but nothing that we're too concerned about. In terms of airlines and their readiness to embrace it, I think it's all coming together at a nice time."
The UK-based company had planned to introduce its commercial aero service later this year, but its satellite launch schedule was interrupted following Russia's invasion of Ukraine in early 2022. After launches were suspended from Baikonur Cosmodrome in Kazakhstan, OneWeb made alternative plans through agreements with SpaceX and NewSpace India Limited (NSIL).
As of 10 January, 80% of OneWeb's 648-strong constellation of LEO satellites had entered orbit. There are two more launches to go, notes Griffin, one in early March with SpaceX and another later that month from India.
"Assuming they're successful, that will give us the full complement of satellites in orbit for us to complete the global constellation," he says. "We've already got service above 50 degrees north and we will extend that service down to 25 degrees around the middle of the year. We'll be fully global by the end of the year — probably November, maybe December. Then we drop mobility onto the network, which is basically a software update which facilitates the use of fast-moving terminals."
OneWeb has been working with two commercial aviation terminal partners — Stellar Blu (previously known as GDC) and SatixFy UK. The Stellar Blu terminal is expected to be "certified and ready for primetime market" by the end of this year, says Griffin, while the SatixFy terminal is unlikely to be ready before 2024. This is roughly in line with the messaging shared by Stellar Blu with RGN.
Distribution partner Intelsat last month revealed that Alaska Airlines had agreed to equip the Embraer E175s flown by its regional feeders, Horizon Air and SkyWest, with Intelsat's new electronically-steerable antenna (ESA), which will talk to OneWeb LEO and Intelsat's own GEO network.
In contrast, rival LEO satellite company SpaceX has inked direct deals for its forthcoming Starlink Aviation IFC service with several operators: JSX, Hawaiian Airlines, airBaltic and ZIPAIR.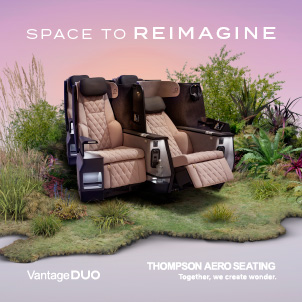 However, with IFC heavy-hitters Intelsat and Panasonic Avionics serving as OneWeb distribution partners, major airline agreements are in the offing.
"There are a number of mature dialogues going on and I expect to have a number of airline announcements," Griffin says, adding that he expects "one or two" to be unveiled before AIX in June.
These customers will be airlines with "international/global gravitas", says the OneWeb executive, and agreements are expected to be signed with carriers looking for both a standalone LEO solution and a hybrid LEO/GEO service.
Interestingly, OneWeb tells RGN it is not looking to add any more commercial aviation distribution partnerships at this stage.
"I think with the distribution framework we've got, we're confident we can get to the market share that we aspire to, and we can be competitive in the market," says Griffin.
"We didn't really feel the need to spread our bets and sign everyone up. That would've been a) very difficult to manage, and b) diluted the proposition and made it very confusing for the marketplace."
The business aviation community is also prepping for OneWeb's aero debut. However, OneWeb previously said it intended to launch aviation services for business aviation in 2024.
Related Articles: