San Francisco-based start-up Astranis, which is building microGEO satellites for the forthcoming Anuvu Constellation and other customers, is in talks with companies and countries around the globe to put down focused capacity for them, including in support of aero.
Speaking to RGN at an Anuvu event, held on the eve of last week's Satellite 2023 Conference and Exhibition in Washington DC, Astranis co-founder and CEO John Gedmark told RGN that the firm has projects in the works all over the world "for customers in these medium-sized countries to just put down focused capacity, regional or domestic and just focus capacity only on that area and that could absolutely be used by domestic airlines. It could be used by maritime users in the area, and also we have customers that we're working with on things like cellular backhaul and Wi-Fi backhaul."
Astranis will launch five satellites this year. One is already at Cape Canaveral, Florida about to launch for Alaskan satellite communications company Pacific Dataport. "This will be the first time that Alaska has their own dedicated satellite, just like we were talking about," said Gedmark in reference to Astranis' ability to connect an entire state, country or region. "It's very exciting."
Intriguingly, he also told RGN:
I believe our customer is also talking with inflight service providers for some of the Alaska routes so we may see some better coverage in Alaska.

I have been up to Alaska several times and the inflight Wi-Fi on the flights to and from going up there is not the best right now, so we're excited to see that.
At the end of the summer, four more microGEO satellites — each roughly the size of a washing machine — are set to be ferried into geostationary orbit in a single launch via an Astranis-dedicated SpaceX Falcon 9 rocket. Two of the four satellites are for Anuvu, providing Ku-band coverage over North America, with capacity that "is totally dedicated to Anuvu and the service they're providing to their customers".
Gedmark continued: "With the two satellites we are covering basically the lower 48 in the United States and the Caribbean and we're able to do that by basically covering the country, East and West, with the two satellites side by side. Between the two satellites it creates one continuous network and it's compatible with existing equipment that's on the airplanes today. So, it's in all the same frequency bands and it's the same global performance, and actually better because it is that much more capacity to serve these customers on these planes."
Astranis will launch another four satellites next year, and will ramp up manufacturing to produce two satellites per month "so two dozen a year. We see demand as that significant," said Gedmark.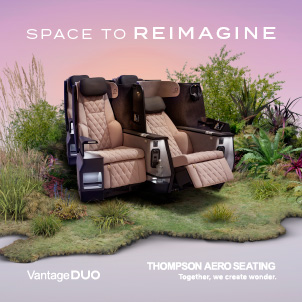 As previously reported, Astranis is also slated to deliver another six satellites for the Anuvu Constellation, in what may yet prove to be a mixture of Ku and Ka. Gedmark said he's seeing a frequency mix with customers. "There's less total spectrum available to play with in Ku but it can have better service in certain circumstances. Ka, you get a lot of spectrum and you can do a lot of capacity at low cost so that has advantages also. There is definitely a role for both."
If the Anuvu experience works out well, does Astranis expect that other dedicated aero ISPs will go this microGEO route?
"We are having conversations with many prospective customers around the world including in maritime and inflight connectivity. We're just working with Anuvu in the United States for that. But around the world is a huge market, right? We are seeing, it feels like almost unlimited demand for broadband Internet on these aircraft," responded Gedmark.
"Some of the major airlines are now starting to talk about moving to free inflight Wi-Fi so now there is no reason for every person on the plane to not use it at its full capacity. They are just going to need so much capacity to be able to serve those needs, it's a huge amount of demand. We will get all the satellites up that we can, and still maybe not be able to fulfill all of it."
Broadly, Gedmark reckons that the mobility market will constitute "a huge share" of Astranis' business in the coming years.
We continue to see the demand climb exponentially on the mobility side. People just want Internet, everywhere they are, at all times, and it has to be at the right price point. So we see it as a huge market.
For Anuvu, the microGEO capacity is coming at the right time. During the Covid pandemic, and indeed as aviation and maritime have accelerated out of the crisis, Anuvu has seen a three-fold increase in per user data across its connectivity platforms.
"This is not the normal curve, this is a spike in the curve, but it has always been going up and we still expect this consumption curve to go continually up," said Anuvu executive VP – connectivity, Mike Pigott in DC.
"We think this is the hockey stick; passengers want to be connected and they want to be connected just as if they're at home and in some cases, beyond home. Today a big portion of this demand, you probably would assume, is streaming, and you're absolutely right, a good portion of that demand is streaming. But we're seeing the beginnings of the true revolution in connectivity, the things you see on the ground today with cell phones and even home connections. Social media, the infinite scroll, upload capabilities, [are] all becoming more and more key parts of the connectivity story. They're not the majority today but we're building something for the future and that is our future."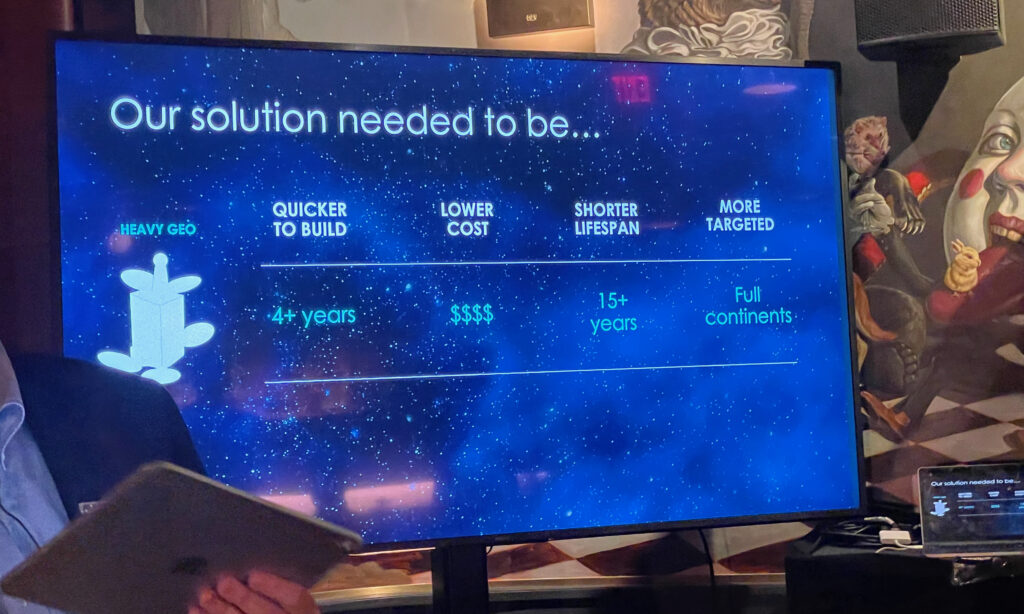 Anuvu currently has 13 GEO satellite partners and the firm has "great relationships with all of them", said Pigott.
With the ultimate aim of offering hybrid GEO/LEO service, Anuvu remains super excited about Telesat Lightspeed, but given Lightspeed's delay, it has been eyeing LEO contingencies.
Pigott said Anuvu looked at the market, and realized it needed to move faster and basically rethink the entire business of satellites.
"And this was hard because we want to maintain — and we are maintaining — our relationships with all of our current partners, and we will into the future by the way, but we needed something different. So we wanted a solution that fit our vision for the future," said Pigott. "Our vision for the future is a hybrid network, and I'll tell you today that that vision is in action right now in some of our markets. So in our cruise market and our yacht market, we're actually delivering our hybrid network future.
"We're delivering LEO performance over Starlink and GEO performance over our current network. We see this evolution going throughout the [aviation] industry. We see them complementing each other, GEO and LEO, complementing each other in the future. But we had this problem; we needed to go faster so right now the solution couldn't take four years to build a satellite; it couldn't cost the profile of what it costs today. We actually didn't want satellites that lasted 15-20 years and we didn't want the vast coverage. We wanted something that was complementary to our future. We wanted something that fit that hybrid network strategy. And so we partnered with Astranis.
We think they have the silver bullet for the future of GEO. Their microGEO platform is quicker to build, lower cost, [offers] targeted timeframes for lifespan which is a good thing in a market where you're trying to go for flexibility and it can be targeted to certain areas of the world, and it can also be spread out. You can get broad beams.

But how we expect to use it is a mix of broad beams and targeted performance. So what John [Gedmark] and his team are building at Astranis is truly what we think is the revolution in the GEO arc that has been desperate for the industry to have. And we want to lead the way with it and we have led the way, and we expect to continue to advance on that.
Pigott said Anuvu is going to start small, but assured that: "2023 is the year we'll make it real in the market, and we expect to move fast. We're launching in late summer 2023. We are going to make our strategy real for all our customers starting this year."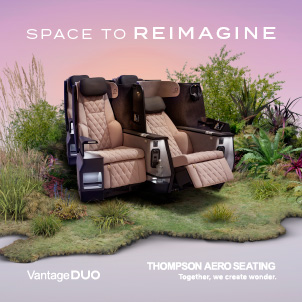 The news comes as Anuvu customer, Southwest Airlines, is readying to press its first Viasat-fitted Boeing 737 into service this month, and with it offer a new paid OTT streaming-capable experience for passengers. And it comes as SpaceX's Starlink Aviation IFC service is enjoying nice talkability in the market, after a successful launch on JSX.
Your author can confirm that the Starlink-powered IFC service she experienced on 7 March on board a JSX media flight from Dallas Love Field delivered blazing fast speeds, and ably supported video streaming and FaceTime video.
In the last 15 years, I have been aboard several media flights to test various new IFC systems. Three of them demonstrated an ability to support clear video calls: JSX featuring Starlink on the ERJ-145; SmartSky featuring nextgen ATG aboard its Citation Excel testbed at NBAA 2021 in Las Vegas; and JetBlue's December 2013 debut of Viasat Ka.
Related Articles:
Featured image credited to Astranis