Leveraging the IP developed in its active technology suite of products, Hughes Network Systems is exploring translating for commercial aviation the sort of hybrid approach it currently uses to deliver HughesNet Fusion to residential users and indeed its managed GEO/LEO service for enterprise customers.
"That's what we're actively looking at," Hughes vice president Reza Rasoulian told RGN at SATELLITE 2023 in Washington DC.
Combining both GEO satellite and terrestrial wireless technologies, HughesNet Fusion provides a snappy, low-latency experience to residential customers who are not aware when they are using wireless or when they're using GEO. "We've deployed this at scale today and our consumers love it," noted Rasoulian.
"It's like you're 100% on LTE. You'd never know that there's a GEO satellite at play. And the reality is a lot of folks want to stream movies and they want non-latency sensitive applications. So, our active technologies decipher what packets to send over which link at the same time. That's where the magic happens. It's real-time and it knows, okay well that's a packet that requires low latency, so I'm going to send that over the low latency link, and then you have a movie coming, so that will go over the higher latency link. And that's how you get massive capacity with low latency."
Blending GEO and LEO in aero
For commercial aviation, Hughes management "absolutely believe" in a hybrid world that will see it leverage both GEO and LEO satellites simultaneously, but with a similar goal as HughesNet Fusion, whereby the experience is totally seamless for the passenger.
Rasoulian explained: "LEO networks in general — no matter which one you're looking at that's available or will be available in the next 6 to 12 months — there are capacity constraints and limitations. So, imagine 20 flights over Dallas or over Chicago or over Atlanta, a LEO-only solution would struggle to deliver capacity at scale. When we blend both GEO and LEO, we're able to provide an SLA which is very important in the aero world, but also provide a low-latency experience.
"So, a lot of the technology that we've developed over the last decade-plus, and the IP that we've developed in our active technology suite of products, enables us to blend the capacity, so the passenger doesn't have to compromise, the airline doesn't have to compromise. Our partners don't have to compromise in picking GEO or LEO, or you know having to operate on GEO or LEO. It's a GEO and LEO approach that we're working on, and we've proven, not only in the consumer space, but also in the enterprise space."
Hughes' heritage lends itself to this approach, with Rasoulian pointing out that Hughes is "the de facto standard" from a baseband perspective. "So we're on SES satellites, we're on Eutelsat satellites, we're on Telesat satellites."
[S]o we could actually seamlessly take an aircraft from North America over the Atlantic into Europe, and to the passenger it's seamless. And we've created this roaming feature basically to be able to take you from a Hughes asset to let's say a Telesat asset to potentially an SES asset and ultimately to a Eutelsat asset. And we would work all the commercial relationships or our partners would work the commercial relationships to be able to implement this. The great part is it's one modem on a single aircraft and it's seamless.
In short, noted Rasoulian, "It's Hughes inside, Jupiter enabled."
Leveraging its IP base to blend
Hughes also has a very deep relationship with OneWeb, the LEO satellite operator which on 26 March successfully launched the last batch of satellites to complete its 618-satellite Gen 1 constellation. In addition to a history of investment in OneWeb, Hughes has designed and developed the OneWeb ground segment, and was recently tapped for 10,000 fixed ESAs (for enterprise and government customers).
"We have developed a core module that's going to be in every single terminal, and with the Gogo Business Aviation announcement and deal [to support the company's LEO service and hybrid ATG/LEO], it really provided us a vehicle to really think clearly about what we would do in commercial aviation," said Rasoulian, adding:
So, we're still evaluating options. We're looking at kind of bringing all of this technology together and coming to market with a really, we believe, kind of unique approach to solving connectivity in the air at scale.
He referred to this exercise as a "very deliberate approach at looking at opportunities to leverage our IP base to blend, if you will, with a vision of really bringing all these technologies together and eliminating the compromise. I think it's a 'no compromise' solution [which] is our vision and our approach."
Hughes, like OneWeb, has pursued a partnership approach in aviation, and according to Rasoulian, "nothing has changed" on that front at present.
However, he added: "You know, we are all about the customer experience, though. So, I think as we move forward, we're going to look critically at everything we do. And ultimately, it's about experience. With respect to these solutions, we have talked to our partners about these solutions. We're still kind of in the development mode. You know likely in the coming months and quarters we'll solidify the approach and again it all goes back to customer experience."
Hughes' ESA in play
From a hardware standpoint, Hughes' ESA development for the Gogo Business Aviation program is "going very well", said Rasoulian, adding: "We'll be flying in the second half of next year." For commercial aviation, the firm reckons that it will also use its ESA technology with its own custom chips, custom ASICs, coupled with the beamforming algorithms it developed to deliver the experience. It is targeting "well under 100 pounds and very low power consumption".
This would work in conjunction with our active technologies. We could operate in a OneWeb-only mode. We could operate in a hybrid mode where … it's not GEO or LEO, it's GEO and LEO.

And you know, we've done a lot of testing and it's exceptional performance. So we're able to demonstrate it today over the air on the OneWeb network [and] on a Jupiter satellite today and it's just exceptional so we're thrilled at the performance. We are basically, I think, creating a really interesting customer experience with this kind of synergy of different technologies that we have.
He reckons that the optimal passenger experience can be achieved via the hybrid approach, however.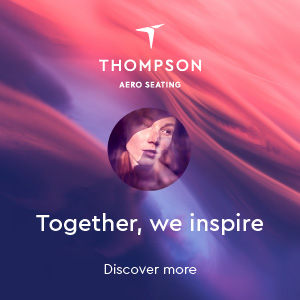 For instance, when asked by RGN if Hughes would accommodate an airline's request for a GEO-only IFC solution, especially given that the Jupiter 3 satellite is expected to launch in the first half of the year, the Hughes executive said:
"Well I think it depends. So for some customers, a GEO-only solution is absolutely adequate and again with enough GEO, you're able to deliver a very snappy experience. If a customer would like to consider a low latency [solution] …it would be an augmentation strategy, which also provides optionality. And in this case you could theoretically have a Ka-band GEO solution that provides massive amounts of capacity. And then we would add a OneWeb antenna, a Hughes LEO antenna, and create the low latency and our active technologies blends the two. So there's no compromise." (Incidentally, this is the type of model that ThinKom Solutions is proposing that Airbus consider for multi-orbit Ku-band IFC as part of the supplier-furnished HBCplus program, whereby a small LEO antenna is added to the package.)
And, if an airline already has IFC kit installed that Hughes is able to work with, could it simply slap its slimline ESA right next to it rather than pursue a rip and replace, RGN asked?
"That's right," said Rasoulian. "You hit the nail on the head. That's the concept. Absolutely. And you know, if an airline has already made an investment in an antenna system, that's okay, we're just gonna add this with our active tech."
Related Articles:
Featured image credited to Hughes