A host of new passenger experience (PaxEx) features will arrive in the third quarter on Etihad Airways' new Boeing 787 deliveries, including 32 doored business class suites based on Collins Aerospace's Elements platform; Viasat's Ka-band satellite-powered high-speed connectivity; and Safran's RAVE Ultra 4K inflight entertainment system fitted from nose-to-tail.
All three choices represent a honing of the Abu Dhabi-based carrier's usual PaxEx offerings. Etihad is, for example, laying claim to being "the first airline in the world to introduce the Collins Elements seat on the Boeing 787", calling it a "customised version" of the off-the-shelf Elements platform, which itself is an evolution of Collins' Elevation herringbone, and prior to that, Super Diamond.
Showcasing the new seat for the first time at the Arabian Travel Market in Dubai today, Etihad's comments mesh with those made last year by Collins to Runway Girl Network when it explained the design ethos behind Elements — including how it carved out more space for passengers — and the expected timeline for entry-into-service of Elements on the 787. (Elements first debuted on the Starlux A350.)
Configured 1-2-1, each doored suite on Etihad's new 787s will provide greater seclusion for business class passengers. "The height of the suite has been further increased from the A350's debut model, offering even greater privacy for guests," notes Etihad in reference to how Elements compares to the Collins Super Diamond doored mini-suites that broke cover on its Airbus A350-1000 in late 2021 and entered revenue service last year.
Indeed, Etihad CEO Antonoaldo Neves in a statement refers to the Elements-based platform for its new 787 deliveries as "the second evolution of the Business Studio which was launched on the Airbus A350-1000 last year".
That Super Diamond product on the A350 differed again from its immediate predecessor, Etihad's custom, forwards-backwards staggered Business Studio product, which was first revealed in 2014. The Business Studio was manufactured by Airbus subsidiary Sogerma (now Stelia) for the Airbus A380 upper deck and by Zodiac Aerospace (now Safran Seats) for the Boeing 787, which itself succeeded the Sogerma Solstys staggered seat on earlier airframes including the Boeing 777 and Airbus A340.
In adopting a version of Elements for its new 787s, Etihad joins a growing cadre of carriers eschewing truly custom seats in favor of customised versions of off-the-shelf platforms.
On the inflight entertainment and connectivity front, Etihad is a longtime customer of Panasonic Avionics for embedded IFE and Ku-band satellite-based connectivity. But the carrier revealed today that its new 787s will feature Safran's RAVE Ultra 4K IFE at every seat. Passengers have the option of pairing their Bluetooth headphones and personal devices to the in-seat screens, which are sized 17.3" in business class and 13.3" in economy class.
Notably, Etihad's new 787 deliveries will be fitted with Viasat's Ka-band satellite connectivity, offering, it says, "high-speed Wi-Fi with streaming capabilities on board as well as Live TV, including news and sport channels".
As to whether the connectivity system will be factory-fit on the 787s by Boeing or installed via post-delivery retrofit modification, Viasat deferred RGN's questions to Etihad. And Etihad did not provide immediate comment.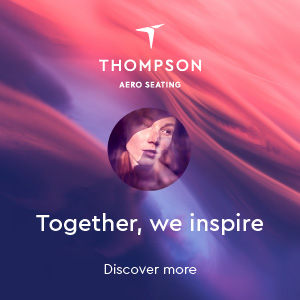 To power Ka-band connectivity for airlines, Viasat uses it own satellites — such as ViaSat-1 and ViaSat-2 in North America and over the North Atlantic, and the KA-SAT satellite in Europe — or its works in partnership with another satellite operator, as it does for the Australian market.
Pertinent to its new client Etihad — and indeed other international airlines that require a near global satellite footprint for inflight connectivity — Viasat is also in the process of building out its ViaSat-3 constellation. The first of these, ViaSat-3 Americas, successfully launched on a SpaceX Falcon Heavy rocket over the weekend. Future launches of ViaSat-3 (EMEA) and ViaSat-3 (APAC) will complete the three-satellite ViaSat-3 constellation, offering near global coverage "with nearly eight times more capacity than Viasat's current satellite fleet", according to Viasat.
Meanwhile, in economy class, Etihad says its new 787s will feature 271 seats "which are lighter in weight than the current fleet and therefore more fuel efficient" and "boast exceptional comfort and an increased feeling of space created by the smart design and adjustments including a slimmer profile armrest".
The proof, as they say, will be in the pudding. But the seat retains a version of the unique fixed-wing headrest that first appeared on the airline's A380s and 787-9s.
Etihad says it will take delivery of three new 787s with the new interior in the third quarter, adding to the 39 Boeing 787s it already operates. The carrier has a mixture of 787-9s and -10s on order with the airframer.
Related Articles: