As new highly elliptical orbit (HEO) satellites for high latitudes and polar coverage are added to the mix of LEO, MEO and GEO satellites supporting mobility applications — including as part of hybrid multi-orbit networks — and with "software-defined" characteristics increasingly becoming the name of the game, the satellite industry is on the cusp of a massive transformation.
This transition to terabit level capacity with flexible payloads will in turn have significant implications for the satellite market's mobility verticals, including inflight connectivity, and ergo, for the passenger experience.
So said ST Engineering iDirect vice president of product management Sean Yarborough at the APEX TECH conference in Los Angeles. "The hybrid network is going to be critical" in terms of providing the lowest-cost capacity, operational improvements, and ubiquitous coverage, he said.
A global leader in satellite communications including for aviation — where the firm is perhaps best known for its nextgen aircraft modem technology — ST Engineering iDirect is a wholly owned subsidiary of Singaporean multinational technology and engineering group ST Engineering, providing hub systems, modems, terminals, network management and other services in support of satcom across multiple markets.
During his presentation for the airline-focused APEX TECH audience, Yarborough noted: "Many of our customers have RFPs on the street per se to bring on additional constellations, let's say MEO or HEO. We have some customers who are actually launching new HEO satellites as we speak [and] plan to offer service early next year."
[T]he whole idea is to really deliver the service across the right medium, from an orbit perspective, based on cost, based on capacity, based on speed, etc.
Moreover, the arrival of software-defined satellites — with the ability to be reconfigured on demand, and to direct capability or bandwidth from place to place — will provide huge scalability in terms of available bandwidth for aircraft, noted Yarborough.
"[W]e are talking about the ability to change the coverage area dynamically. So, no longer do you have these static beams in space where you might have coverage issues or you might have over-capacity issues. You now have the ability to do things … like follow me beams — beams that move with your high revenue, high QoS mission critical customers as they move across the globe," he explained. "Aero is a perfect use case for this."
So when you are at the airport at night and you don't have a lot of planes taking off or landing you can move that capacity somewhere else to take advantage of the capacity.
New Space requires New Ground
Now combine the rollout of multi-orbit and software-defined satellites with the adoption of 5G and other telco standards and capabilities, and the satellite industry is poised to be catapulted into an entirely new direction, according to ST Engineering iDirect.
Some folks are calling the advent of the new private space industry frontier 'New Space', and ST Engineering iDirect reckons it will arrive in roughly 2030, when fully-formed nextgen constellations are expected to be up and running.
But in ST's view, this ecosystem will require the ground segment to evolve, moving to a 'standards-based, fully integrated, end-to-end, cloud-based service delivery driven by three key technology enablers – automation, virtualization and orchestration'. Or rather, it will require New Ground, which is the name of the industry innovation campaign released in 2021 by ST to highlight the critical nature of ground infrastructure in the future of this new connectivity landscape.
The space segment and the ground segment "are moving away from standalone networks, configured more or less independently from other terrestrial networks. What we see now is a shift for satellite to blend in seamlessly with every other type of access technology to create full interoperability within end-to-end converged networks like 5G," explained the manifesto. In short, industry will adopt key technology enablers that are already well-known in the telco world.
This convergence is not pie-in-the-sky thinking. In 2020, ST announced it had been tapped by SES to provide its high-performance ground infrastructure for the O3b mPOWER MEO network to support a "flexible, low-latency, high-speed, fiber-like experience" for industry segments including aero. The arrangement, ST said at the time, would enable it to take further steps towards achieving its mission of delivering nextgen services and applications enabled by emerging 5G standards.
Intelsat, meanwhile, in 2021 divulged details about its planned nextgen "unified global 5G" network strategy, saying it will operate roughly a dozen software-defined satellites to support a multi-orbit, multi-layer, multi-band network which will be integrated with terrestrial technologies and — specific to aero — will ensure an "everything-connected" airline passenger experience. And Inmarsat has vowed to add a terrestrial 5G layer to its network.
"What the 5G standard brings to us is a standardized way of communicating across disparate networks," explained Yarborough at APEX TECH. "So that whether you're running a GEO orbit or LEO orbit or whether you are provider one or provider two, there's now a way to essentially roam between satellite networks in a very similar way to what we've done in our traditional kind of cellular space."
"New Ground really has to deal with orchestration," he further explained. "So, if you're making all these changes; you're bringing in multi-orbit, you're bringing in software-defined solutions [and] network virtualization" — i.e. the act of extracting network resources that were traditionally delivered in hardware to software as enabled by the cloud — "you have to have something that orchestrates this in a seamless way."
ST Engineering iDirect may be particularly well placed to play a steering role in facilitating ground segment orchestration, given its experience in gateway and hub technology. For example, the firm has been a pioneer in the patented return link technology known as Mx-DMA MRC, which can support a greatly expanded set of applications, and in civil aviation, "gives us this ability to have a very broad number of terminals, or say airplanes' tails, in a single network but still giving up to 300 megabits on the return and much higher speeds on the forward", noted Yarborough.
Moreover, he said, in taking hardware-based solutions into a more software-based environment, ensuring they can run on the likes of AWS or Microsoft Azure cloud, ST is able to scale fast and be flexible "in terms of how those processors, those servers are being used, which improves the efficiency of those servers, as an example. But this move to cloud really is driving some changes in the infrastructure to enable us to be able to have that flexibility."
Indeed, ST Engineering iDirect and Microsoft Azure in 2021 entered a strategic partnership to drive the adoption of virtualization and cloud to enable the digital transformation of the ground segment.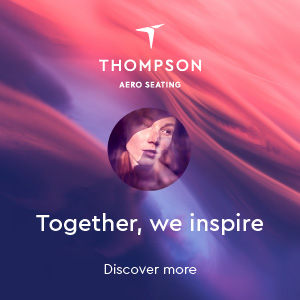 Additionally, ST Engineering iDirect is also "very active with the Seamless Air Alliance and some of the other aero consortiums and we are a subsidiary of a much larger company. ST Engineering is a $6 billion entity that we are part of, which actually is very valuable for us because we have some technology partnerships with some of their other businesses that help us to accelerate time-to-market and bring some new technology to the market," noted Yarborough.
The Seamless Air Alliance's work certainly seems to sync with ST's vision. For example, the alliance is already working with mobile network operator association GSMA to support a more frictionless Wi-Fi experience.
"As new [satellite] capacity and competition floods the market, standards will be required for satcom to go into the mainstream and integrate with the mobile network operator (MNO) ecosystem. The GSMA has built standards that enable a very efficient process for contracting roaming agreements between 750-plus mobile network operators worldwide. These standards define requirements for testing, billing, and include commercial contract templates," Seamless CEO Jack Mandala told Runway Girl Network in advance of APEX TECH. "Our project with the GSMA will enable mobile network operators to contract for roaming inflight with the same ease and comfort of a process they are familiar with."
Adopting 5G specifications
So what does 5G standard adoption in satellite look like for passengers? Yarborough explained: "So today if I was flying out of LAX, I might be at the gate on a Wi-Fi hotspot, the airport's Wi-Fi hotspot. And then when I get on the plane, and we're waiting to take off … I might be on LTE, I'm a Verizon customer. And then when we get into the sky, I'm on that particular airline's Wi-Fi network.
"In the future, though, there's no reason why I can't sign into an airline's Internet service from the time I get to the airport gate over Wi-Fi, to the time I'm over LTE through a partnership, to the time I'm in the sky. 5G gives us the ability to move that traffic between those networks in a very seamless way because all the authentication happens through the devices, through the terminals that are on those planes versus, before, having to re-log in on each of these different networks. So the idea here is that you can remain on these passenger networks for a longer period of time versus switching off and moving on to a different network using technology like 3GPP."
ST Engineering iDirect is also expected to have a role to play in the air, including with software-defined modem technology. And here again, the extraction of network resources from hardware to software will bring inherent flexibility.
"[I]f now you're moving towards a scenario where you have modem technology on these planes that can support multi-orbit — where you might run out of GEO capacity or GEO coverage [but] there might be a LEO satellite coverage in that area or there might be MEO in that area — the ability for your airplane technology to switch over to that new orbit is what we're going to enable to deliver that advanced mobility, so that as an end user sitting at your seat, you have the ability to stay connected throughout the entire flight without these dead zones," said Yarborough.
There are still plenty of hurdles to surmount. The satellite operators and service providers will still have to have roaming agreements. "I'm not saying everything is solved with technology," cautioned Yarborough, "but the technology will be an enabler to have those roaming agreements set up across different provider networks."
Related Articles: