Much ink has been spilled about Airbus' decision to offer supplier-furnished broadband inflight connectivity in the form of its new HBCplus program. And with good reason. The move is groundbreaking in that it enables participating airlines to switch bandwidth suppliers without changing the linefit IFC hardware on their aircraft.
But it might also help to accelerate airlines' adoption of the free Wi-Fi model, according to Safran Passenger Innovations (SPI), which has been tapped to supply its agnostic IFC terminal for HBCplus to support Ka-band satellite-powered transmissions from the airframer's approved managed service providers: Inmarsat with its Global Xpress service; SES with its multi-orbit network including future O3b mPOWER MEO satellites; or other future Ka-band MSPs selected by Airbus.
Indeed, while HBCplus is very much about enhancing convenience for airlines, it is also about improving the economics of inflight connectivity, and helping operators avoid a costly rip-and-replace of IFC hardware should they seek a different MSP in the future. And because the SPI terminal is being offered by Airbus as supplier furnished equipment, it comes with inherent support and warranties from the airframer.
"I think it's really going to drive costs down for airlines in the space, which ultimately will provide a better service to passengers because we'll then start to see airlines being able to offer free Wi-Fi because it becomes much less of a cost burden on them and they can really provide the service they want for their passengers," SPI vice president, products and strategy Ben Asmar told Runway Girl Network at the recent APEX/IFSA EXPO in Long Beach.
Particularly after the Covid pandemic, "I think cost reduction is critical not only for the airline to operate and to provide great service; then they can pass it onto their passengers as well," he added.
Airlines are increasingly gravitating towards a free-tier approach, including US major Delta, which is currently permitting SkyMiles loyalty program members to access free streaming-capable Wi-Fi on select flights to "stress test" the new Viasat Ka-band IFC system onboard, as first reported by The Points Guy's Zach Griff.
But SPI's Asmar reckons that the industry as a whole will get there within the next decade, especially as programs like HBCplus gain traction, telling RGN:
I think from our perspective, in the next ten years, like we saw in hotels, Wi-Fi on aircraft is going to be free everywhere, for sure.
Airbus has fielded strong interest in HBCplus including from low-cost carriers. "I think you'll start to see a number of announcements in terms of Airbus awards certainly, customers who have selected this exact solution for upcoming deliveries, very, very soon," said Asmar.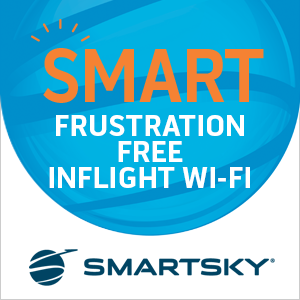 At the heart of SPI's terminal is ThinKom Solutions' unique mechanically-steered phased array VICTS antenna known as the ThinAir Ka2517.
Asmar enthused: "Certainly, I think ThinKom have got it nailed in terms of infrastructure today for sure. The mix of how their terminal works with few moving parts, excellent connections for different satellites, orbits, it's fantastic."
Outside of its work for Airbus HBCplus, SPI is presently going through the offerability process at Boeing for its new terminal. And Qatar Airways, a longtime customer of Inmarsat GX has already fitted a cluster of Boeing 787-9s with the kit, with more 787-9s, and the carrier's future Boeing 737 MAX 10s, earmarked for equipage.
"We feel that this technology is really going to drive forward the industry so we want to make it available in as many places as we can to as many airlines as we can to really give them the opportunity to lower their costs going forward," said Asmar.
He explains the firm's work in IFC, and in seatback IFE, in the following video.
Related Articles:
Featured image credited to istock.com/AleksandarNakic