You might say that Intelsat and OneWeb have been engaged in a sort of mating dance for years. A SoftBank-supported marriage was even contemplated, but never consummated, and things got legal for a spell. But, like any passionate pair that knows deep down they have a good thing, the two satellite operators have finally defined their relationship in commercial aviation, after getting their proverbial houses in order and successfully emerging from Chapter 11.
Under a global distribution partnership agreement announced on 11 August, Intelsat will distribute OneWeb's Low Earth Orbit (LEO) Ku-band satellite services to airlines worldwide coupled with its own GEO service. "The result is a truly multi-orbit solution for the aviation community, leveraging the benefits of both networks," said the two firms, which expect the multi-orbit inflight connectivity solution to be in service by 2024.
"Airlines and their passengers will no longer have to accept significant gaps in IFC coverage or capacity — even at busy hubs, across oceans, and over polar routes," they added.
A hybrid network relationship between Intelsat and OneWeb has been touted and teased for years, including when Gogo — then in the business of powering IFC on commercial aircraft — announced in 2016 that it would leverage the first shared GEO/LEO satellite network for IFC featuring Intelsat EpicNG high throughput GEO satellites combined with OneWeb's LEO constellation. Now Intelsat owns that Gogo commercial business, and is positioned to make good on facets of the original vision.
I say 'facets' because the Intelsat (formerly Gogo) 2Ku antenna terminal is, at present, not expected to facilitate transmissions over this GEO/LEO network, though it has previously shown itself capable of this sort of labor on other networks, and OneWeb in 2018 reportedly saw the ThinKom Ku3030 VICTS antenna — which is core to 2Ku — as being easily OneWeb-compatible.
Speaking to Runway Girl Network, Intelsat Commercial Aviation president Jeff Sare explained:
The 2Ku antenna itself certainly is usable on other orbits. However, in this particular case, OneWeb has chosen not to use it on their network.

So, I don't envision at the moment a simple easy conversion from 2Ku GEO-only to a OneWeb-capable antenna because they [OneWeb] have made some design choices, at least this is my understanding, that have made it less optimal for them to allow that particular antenna on their network.
Rather, Intelsat will offer its new electronically steerable antenna — based on Ball Aerospace's mature electronically scanned array technology and a modular design from partner Stellar Blu Solutions — for the hybrid Intelsat/OneWeb GEO/LEO inflight connectivity service.
So, what will Intelsat tell its airline customers which are flying thousands of aircraft with 2Ku?
"What I would tell our customers who are flying 2Ku today is we believe at the moment that we can deliver and do deliver globally a world class service across their fleets, and we can continue to make that more and more efficient," said Sare, noting that Intelsat's next generation software-defined satellites will  also support that GEO-focused service (as well as the hybrid GEO/LEO network).
"If the time comes and they want and need to embrace the LEO constellation in some way, our intent is for our new terminal to fit into the same lugs on the airplane [as 2Ku] so that we make the installation — and removal and replacement of that antenna — as efficient as possible, and as quick to, and as little impact to the airframe as possible. But at the moment, it would be a changing of terminals."
He believes many of Intelsat's 2Ku customers will be comfortable with their GEO-based IFC service, without adding the LEO layer.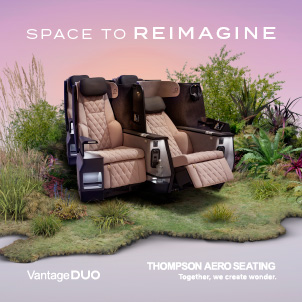 There is still some important work to be done on the modem and terminal to support the multi-orbit LEO/GEO service. But Intelsat later this year expects to begin flight-testing the hardware on the CRJ-700 it leased as its initial testing vehicle.
As such, the first STC secured for the package will be for the CRJ out of necessity to fly on that airplane. Even so, Intelsat reckons that the state of ESA technology at the moment makes these antennas "ideally suited for that kind of aircraft".
While ESAs are "not as efficient as the 2Ku antenna", said Sare, 2Ku "can't fit on a small aircraft easily so RJs and narrowbodies are a sweet spot for the first generation of our terminal". (ThinKom Solutions is, meanwhile, working with Carlisle Interconnect Technologies on a smaller Ka-band VICTS for regional jets.)
Sare said Intelsat hopes to be able to announce "in the fairly near future" its first customer for this multi-orbit ESA-focused solution.
As OneWeb's Gen 2 network plan evolves, so too will Intelsat's multi-orbit offering. "Gen 1, in the way we're going to bring it to bear with our electronically steered array terminal combined with both orbits, I think it will be a natural evolution as you move into Gen 2," he said. "It will get faster, coverage will continue to get denser, that layer of LEO gets deeper but at the same time demand continues to grow."
Does Eutelsat's plan to combine operations with OneWeb affect this arrangement in any way, RGN asked the Intelsat executive?
"Candidly," responded Sare, "it makes no difference to us who chooses to own OneWeb."
As for Intelsat's own MEO constellation plan, Sare doesn't think the OneWeb deal will slow that down either. "We are a believer in a hybrid multi-orbit network, not [just] hybrid LEO/GEO, so we will continue to drive forward in that space in a software-defined multi-orbit future."
Related Articles:
Featured image credited to istock.com/Clare Bonthrone