Having validated an interoperable GEO/MEO connectivity platform in the cruise industry, SES Networks' eyes are now on the skies for its hybrid network. Working in collaboration with aerospace giant Thales and antenna maker ThinKom Solutions, the satellite operator has successfully flight-tested broadband connectivity on a Gulfstream G-III business jet whilst seamlessly switching between its GEO and O3b MEO satellite beams.
This milestone G-III flight – believed to be the first in-air demonstration of an aeronautical antenna communicating across a MEO/GEO hybrid satellite network – operated from Melbourne, Florida to the Atlantic coast of Nicaragua.
The Thales FlytLIVE connectivity network on board featured ThinKom's Ka2517-branded mechanically steered, phased array VICTS-based antenna integrated with a high-performance Hughes Jupiter airborne modem and ModMan. Engineers on the flight "saw dozens of switches successfully completed between GEO and MEO beams, and between multiple MEO satellites within a beam", say SES and Thales in a statement. They used a broad range of bandwidth-hungry services – including delivery of 4K video streaming – and demonstrated "rates in excess of 265 Mbps".
All parties are, quite rightfully, chuffed about the outcome. "Our cruise customers have long experienced the benefits of the combined power that low latency MEO- and GEO-based connectivity brings to network performance and resilience. This innovation is now on its way for connected commercial and business air travel," says Steve Collar, CEO of SES.
The satellite operator is gearing up for the launch of its next generation O3b mPOWER MEO constellation "and now, with a demonstrated ability to roam seamlessly across our GEO and MEO networks, our customers will enjoy unprecedented speed and performance from our O3b constellation, while also benefiting from the scale and reach of our GEO fleet", adds Collar. SES in 2017 vowed it would meaningfully serve aero with O3b mPOWER.
Referencing the successful flight test, and hinting at the future prospects for a near global hybrid network for aero, Thales InFlyt Experience CEO Philippe Carette notes: "The system offers a consistent passenger experience gate-to-gate; Ka-band coverage on routes where GEO satellites do not currently exist; and is fully compatible with the new SES-17 satellite built by Thales Alenia Space that is scheduled to enter commercial service in early 2021."
For ThinKom, the successful demo with its hardware confirms what management has been saying all along – that its antenna can support seamless global satellite communication in the air with automatic roaming among GEO, LEO and MEO constellations, and that electronically steerable antennas are not the only technology capable of supporting such. "The demonstration further establishes that ThinKom has the only proven 'no compromise' antenna solutions that can support seamless global satellite communication in the air with automatic roaming among GEO, LEO and MEO constellations," says ThinKom chairman and CTO Bill Milroy.
It's not the first time that ThinKom's hardware has shown such capabilities. Earlier this year, ThinKom successfully completed ground tests of the Ka2517 antenna via Telesat's Phase 1 LEO satellite.
A Ku-band version of ThinKom's antenna was famously white-labeled by Gogo as 2Ku, and has already seen over 12 million flight hours. Like ThinKom, Gogo has long suggested that 2Ku would be able to talk to LEO constellations via an easy upgrade, with OneWeb in its sights.
But SES's scalable terabit-level O3b mPOWER Ka-band constellation with 35,000 fully-shapeable and steerable beams now in the works should give serious food for thought to Ka-band inflight connectivity stakeholders, and indeed those mulling or pursuing hybrid Ku/Ka solutions, be they in GEO, MEO or LEO orbit.
The mPOWER network is being customized to ensure bandwidth can be tailored to specific passenger and operational connectivity requirements over certain travel routes and regions. SES believes this innovation will transform the inflight connectivity market, bringing unprecedented ultra-high capacity, low latency and unrivaled flexibility to passengers, and opening up brand new opportunities for airlines to leverage operational efficiencies like never before.
If SES's commitment to powering inflight connectivity has ever been in question, its recent doubling down in the market should put all queries to rest. The satellite operator, which currently powers Ku-band IFC for Gogo, Global Eagle and Panasonic Avionics, is already poised to aid Thales' rollout of broadband connectivity on Spirit Airlines' Airbus A320 family fleet. While Hughes Ka capacity is currently being used for flight tests and the initial phase of revenue service, which is delayed, SES's powerful forthcoming SES-17 satellite will give the Spirit program – and other potential airline customers – serious capacity oomph in the coming years, covering North America, South America, Central America, the Caribbean and the Atlantic ocean.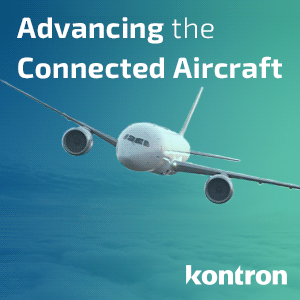 Moreover, SES recently teamed with Collins Aerospace Systems to launch LuxStream, which is billed as "the only service that offers speeds up to 25 Mbps in the United States and 15Mbps globally via SES's managed Ku-band satellite network". Vista Global, operating 116 business jets worldwide, will be the first to offer LuxStream services to business jet passengers.
Incidentally, Gogo is in the process of launching its own global Ku-band network for the business aviation community, with Gilat rumored to be a key partner.
Commercial airlines and business jet operators are significantly boosting the satellite-delivered connectivity aboard their flights to serve the growing number of passengers using inflight WiFi and broadband services, notes SES. It reckons the dream of a connected experience in the skies that's just like the one enjoyed on the ground is about to become a reality thanks to a new age of high-powered multi-orbit, multi-band satellite capacity.
Related Articles: