Even as Intelsat is developing an electronically steerable antenna (ESA) to support OneWeb's service and its multi-orbit network plan for inflight connectivity, the satellite operator and aero ISP still sees "a very long life" for its 2Ku antenna system, which is installed on thousands of commercial aircraft.
Hard on the heels of Virgin Australia's decision to reactivate Intelsat 2Ku on its Boeing 737NGs and order the 2Ku-based IFC solution for its forthcoming 737 MAX twinjets, Runway Girl Network sat down with Jeff Sare, the new president of Intelsat's Commercial Aviation division, at the APEX/IFSA EXPO in Long Beach.
As far as Sare and Intelsat are concerned, 2Ku is "the most efficient and the most effective antenna in the space today. So, we still see a very long life for it, we really do."
On the Boeing linefit front, 737 MAX deliveries that are factory-fit with 2Ku are expected to resume next year, which may line up with Virgin Australia's delivery timeline.
But Sare reckons that Boeing will ultimately grant linefit offerability across its portfolio. "We're continuing to drive forward with that. I expect to be fully linefit at Boeing probably the end of '24 at this point. You know they'll tell you the end of '25, I'll tell you the end of '24, but we'll continue to work that."
He believes that offerability will extend to the 787 in time, but cautioned that "everything remains to be seen, of course, and how things transition over the years." (2Ku is too large to fit under Boeing's chosen tri-band radome.)
As previously reported, Intelsat 2Ku is already rolling off the line as buyer furnished equipment on Airbus A220 and A320 narrowbodies. And it continues to be retrofitted to aircraft in the world fleet. Customers such as Air Canada are also using the 2Ku connectivity pipe to support live television.
But will Intelsat be able to crack into Airbus' new supplier-furnished HBCplus IFC program, which sees Airbus' longtime partner, Inmarsat, well positioned as the first managed service provider (MSP) on the program with its Global Xpress service, and the recent addition of SES with its forthcoming multi-orbit offering including O3b mPOWER MEO service?
After all, 2Ku is based on the same ThinKom VICTS antenna hardware as the Safran Passenger Innovations terminal that will support HBCplus, albeit in a different frequency (Ku versus Ka) and with a larger footprint. And Airbus has assured that a Ku IFC option is in the offing for HBCplus.
"Yes, of course we are talking to Airbus and working with it. You know SES is an interesting choice. Didn't know that they were a service provider. Didn't know that they have the capability to do that. But it would be interesting to see what they do," said Sare.
Pertinent to 2Ku, the Intelsat executive acknowledged that there is confusion at times as to whether the system, based on ThinKom VICTS, is LEO-capable. And so, he clarified the conundrum for RGN:
[I]t's not the antenna technology; it's the network technology that determines whether or not it's capable. That's why you can have a VICTS antenna say that they are LEO-capable…

It's not the antenna, it's the network.

So, this won't work on OneWeb, because of the choices that they've made thus far, right. The particular chip in the particular modem that they've done so far, so it won't do that. Whether or not they choose to, you know, change that chip or do something for the next generation, that'll be their decision.
Intelsat's new ESA, of course, will talk to OneWeb. Based on Ball Aerospace's mature electronically scanned array technology and a modular design from integration partner Stellar Blu Solutions, the ESA will support hybrid Intelsat/OneWeb GEO/LEO inflight connectivity service. And it is expected to weigh significantly less than 2Ku.
"We will have the experimental version [of the ESA] flying before the end of the year," said Sare. "So, we'll have that up on our own airplane, on this CRJ-700 that we leased. We'll have that up and running and STCs on it in the middle of the year, middle of '23. And God-willing and the creek don't rise, be shipping in there at the end of '23, early '24."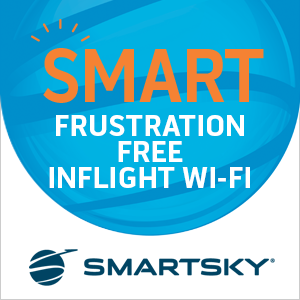 Sare joined Intelsat this spring from Panasonic Avionics, where he had served as vice president and Connectivity Solutions business segment leader. In addition to the fact that both firms share a Ku-band IFC vision (and PAC is a satellite capacity customer of Intelsat's), Panasonic also recently signaled its intent to offer OneWeb-powered inflight connectivity.
When asked by RGN if Intelsat has any interest in M&A activity involving Panasonic, he understandably remained tight-lipped. "Obviously, I'm not crazy enough to comment on M&A type of activity, you know. And given where I came from, that would be really imprudent, to make any comments like that at all."
Speaking more broadly about general industry consolidation, however, Sare shared some interesting color, noting that there are presently something like 5,000 service providers provisioning for satellite across verticals.
Think about aero, you know, there's so many, right? There's just so many choices. So, I suspect that you'll continue to see things move around, you'll see consolidation, but who knows?

I don't think we feel any real pressure one way or the other, quite honestly. We're very happy with the position that we have today and where we think we're going to take this network. I don't think anybody has a strategy and a position that's really better than ours right now.

You know we have 60 or so geosynchronous satellites. We have, now, our partnership with OneWeb. We're building an ESA. We've got the right modems and the right network capability.

[We] feel very good about our software-defined, multi-orbit, ESA-enabled future.
Will Intelsat pursue its small MEO constellation plan, RGN asked?
"I legitimately think we will. I do see a future where there's GEO, MEO, LEO. They all provide different capabilities, right, and are fit-for-purpose again. So, I do suspect that MEO will come to fruition. My CTO may correct me later, but who knows."
He noted that SES's mPOWER "is an interesting constellation as well, hence my comments about MEO."
Related Articles:
Featured image credited to Intelsat