GDC Technics sister company Stellar Blu Solutions burst onto the satellite connectivity scene as an independent entity amid the COVID-19 crisis, picking up the mantle on GDC's Falcon 300 terminal for Inmarsat GX+ North America and global GX transmissions; and advancing work on its Ku-band electronically steerable antenna-based terminal, called Sidewinder, for partner OneWeb. Since that time, Sidewinder has been successfully tested on a Boeing 777-200LR commercial jet over OneWeb's LEO network.
With Sidewinder, Stellar Blu has integrated Ball Aerospace's modular, scalable, electronically steered arrays into the terminal. At present, two versions are in final testing, according to Stellar Blu vice president of sales Stephen Rice — the "LEO only certified terminal on the OneWeb network" and what Rice describes as a "LEO+ non-GSO certified on OneWeb and TBD GEO network".
But Stellar Blu will also produce the multi-orbit version of Sidewinder "in a variety of configurations by certifying multiple Ku modems, therefore making it compatible with multiple networks," revealed Rice.
He noted:
Sidewinder will support multiple Ku-band NGSO and GEO networks, and will support multi-orbit/hybrid networks. It is intended to meet the needs of service providers developing seamless multi-orbit networks.
Given its modular design, the multi-orbit version can also be "scaled down to LEO only (reducing weight) by simply removing antenna components. This antenna permits airlines to 'shop' service providers without a heavy investment in technology changes," added the Stellar Blu executive.
Interestingly, according to Rice, Stellar Blu and OneWeb believe the LEO-only version is ideal for most customers — depending on fleet size, hub concentration, and mission. "The LEO-only version will be certified for both phases of OneWeb's network, with phase 2 scheduled for 2025/2026," he revealed, in an apparent nod to the more agile second-generation satellites that OneWeb is expected to launch.
Sidewinder is not the first aero terminal selected by OneWeb. In 2021, the satellite operator tapped SatixFy UK to deliver a terminal based on the latter firm's electronically steered multibeam technology developed together with JetTalk. And other inflight connectivity providers plan to use OneWeb's aero service with different antenna hardware (Gogo Business Aviation with the Hughes ESA, and Satcom Direct with the Qest ESA). How does the Sidewinder terminal compare to the other kit being positioned as OneWeb-ready, RGN asked?
While Rice deferred to OneWeb on details of other antenna suppliers, he said: "Our terminal will be certified on several aircraft types concurrent with the launch of OneWeb's aero services. I can't speak for the performance of other antennas, but we expect to compete on some aircraft types. Sidewinder is suitable for larger business jets, regional jets and larger airframes."
During the recent Boeing 777 flight test of the small form factor, LEO-only Sidewinder transmitting via OneWeb, executives from Stellar Blu, OneWeb and associated suppliers were represented. Customers are scheduled to participate in later flights (some apparently were slated to do so immediately after the Aircraft Interiors Expo in Hamburg). "We will conduct multiple flights over the next six months," said Rice on 12 June.
These flight tests are focused on terminal performance. But Rice confirmed that the Sidewinder hardware will be STC'd on the 777 and other aircraft when the final avionics package is released and will require certification flight testing. At present, certification and availability for Sidewinder in this configuration is expected in mid-2023.
"We expect to have STCs for the following aircraft types within 18 months: CRJ/ERJ/A320 family/B737 family/B777," said Rice.
Given the low weight/profile of the antenna, lack of a traditional radome and re-use of existing installation provisions (or use of standard ARINC 791 provisions), STC flight testing is expected to be straightforward and very low risk, he said. Stellar Blu's GDC legacy also means that the firm has access to extensive aircraft modification experience and in-house ODA approval authority.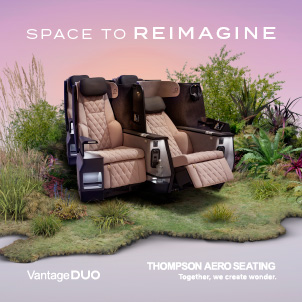 Also during the Aircraft Interiors Expo, Intelsat announced it is launching a new ESA-based inflight connectivity solution that "relies on mature electronically scanned array antenna technology from Ball Aerospace, while leveraging design and integration partner, Stellar Blu Solutions,' modular design that will offer simplified maintenance, access and improved reliability".
However, Intelsat insists that its new multi-orbit ESA terminal "is not and should not be confused" with Stellar Blu's Sidewinder product.
Moreover, Intelsat's hybrid network vision may or may not include OneWeb, though Intelsat management suggested it would back in 2018, even after a Softbank-supported tie-up of the two companies never came to fruition.
Jeff Sare, who serves as president, commercial aviation at Intelsat, explained to RGN via email:
The Intelsat Multi-Orbit ESA Terminal is the first of its kind in that it offers scaled performance and true multi-orbit capability, this differentiates it from other LEO (Low Earth Orbit) only terminals such as the product you mentioned above. We have taken our expertise in serving the Commercial Aviation market and assembled a solution that provides a best of both networks (GEO+LEO) benefit to airlines, passengers, and crews.

While OneWeb is a potential choice of LEO partner in the Ku-band, we want to emphasize the versatility of the new ESA terminal that realizes Intelsat's multi-layer, multi-orbit network vision. Our solution has the capability to work on any Ku-band satellite network, including those in a variety of earth orbits.
Intelsat, which is also eyeing a small MEO constellation of its own to support hybrid MEO/GEO service, anticipates that its new multi-orbit ESA terminal will see its "first installation on a CRJ-700 in late 2022, with production installations to occur roughly a year later".
According to Stellar Blu, this aircraft type may turn out to be the first to obtain STC with the Ball ESA and Stellar Blu package.
Commenting on the new terminal, Intelsat SVP, commercial aviation Dave Bijur said in a statement: "We've always been a leader in revolutionary aero terminal design and integration; our 2Ku antenna remains the market leader and we're now complementing the line-up with this new option."
Intelsat 2Ku, based on ThinKom Solutions' VICTS, can ably support LEO/GEO transmissions, and indeed was previously positioned as ideal for such by former owner Gogo Commercial when a hybrid Intelsat/OneWeb GEO/LEO network was being discussed.
Related Articles:
Featured image credited to OneWeb