As a supplier of inflight entertainment and connectivity system interconnect solutions, antenna radomes, and IFC installation kits — and with a legacy of providing supplemental type certification work in aviation — it is perhaps unsurprising that Carlisle Interconnect Technologies, a division of Carlisle Companies, has confirmed to Runway Girl Network that it is "working with several antenna manufacturers on their ESAs right now".
"We've invested a lot of money and effort into developing thermal management systems targeted at the ESA market. Progress dipped during COVID, you know, it's a product that isn't out there generating revenue, so research dollars slowed up a little bit for a lot of these ESA manufacturers," said CarlisleIT manager, business development David Grice.
"However, we've seen the aircraft upgrade and STC market really kickoff again."
The rebound has been fast. Within a four-month, winter-to-spring timeframe, CarlisleIT went from quite low volumes in aviation "up to almost back to where we were pre-COVID in such a short space of time. Everyone's getting excited again and everyone is having the same problems they had two years ago: thermal issues, available space, and then certification, which is where we can jump in and help out," said Grice.
As readers are all too aware, ESAs can generate a lot of heat because they draw a fair amount of power. In 2019 at the APEX EXPO and later at the NBAA business aviation convention, CarlisleIT showcased its answer to this problem — a patented Thermal Management System (TMS) which provides a uniform temperature plane for beam steering.
Grice reckons that CarlisleIT's TMS is going to hit the business aviation industry first. "We're working with a few different partners. I think there's only one that's public," he said, referring to Gilat Satellite Networks' ESA with CarlisleIT's TMS, which first debuted at the Satellite 2020 show, just as COVID-19 lockdowns were starting, and then again at Satellite 2022. "[W]e've worked with Gilat on that," confirmed Grice at the latter show.
[I]t's the first one and, it's neat that it's flown, been tested and works. So yes, my bet would be that would be the first one to market, especially with one of our systems on it. You never know, though, there's a lot of other ESA manufacturers here that claim that the technology is there, and we've certainly seen a progression and a lot of people have been working behind closed doors on the ESA technology.
Asked by RGN if Gilat would partner with the likes of CarlisleIT for its cooling system, Gilat vice president, mobility and global accounts Amir Yafe said: "And some through, yes, Carlisle…"
As many as 19 ESAs were showcased at Satellite 2022. In addition to hardware from Gilat Satellite Networks, ESAs were on display from Hanwha Phasor, Isotropic Systems and Kymeta, to name but a few that are eyeing an aero market-entry in a couple of years. An aero version of Hughes' ESA has been selected by Gogo Business Aviation for its planned new LEO-powered global satcom solution which will operate via the OneWeb constellation, as announced at last month's EBACE business aviation show in Geneva — in what seemed like a very 'zero to sixty' acceleration in the aero messaging around Hughes' system.
Speaking generally about the market for ESAs, Grice told RGN: "We've certainly seen a progression from the hype in 2019, to ESAs actually looking a lot more realistic now."
But the broader upsurge in aviation linefit and retrofit work was evident when Carlisle Companies released its first quarter 2022 earnings including details about the performance of its CarlisleIT division, a longtime provider to Airbus and Boeing — including radomes and adapter plates to Airbus linefit, and cabling and wire provisions to Boeing — as well as the retrofit market.
During the quarter, CarlisleIT saw revenues increase 18.7% year-over-year, achieving "balanced growth" in both its commercial aerospace business and medical technologies platforms, chairman, president and CEO D. Christian Koch said in a 28 April earnings conference call.
"We are encouraged by the recertification and accelerating deliveries of the 737 MAX and impending resumption of 787 deliveries later in the year. As we approach the summer travel season, trends are also positive for international travel. This would be a welcome change from the past few years and longer term, should support a resumption in widebody production," he said.
Pertinent to retrofits of commercial IFEC, and impressive in his specificity, Koch later noted:
So it's real, orders, and the team, I know, is excited about continuing to see air travel pick up and profitability return to airlines and reinvestment in things like new aircraft but also in things like retrofits around ARINC 791 and satellite Internet access and things like that we invested in before.
CarlisleIT generally deals with the service providers rather than directly with airlines, unless it is to support something technical on its systems. But Grice noted that the firm has seen "a big uptick in aborted programs restarting, and new programs being awarded, which is a great sign for the market. And new technologies, not just ESAs, as you know, there are other 'hybrid' technologies, and you see that really moving forwards. A lot of airlines showing a lot of interest there."
Naturally, the word 'hybrid' can refer to a hybrid air-to-ground/satellite service such as the Inmarsat/Deutche Telekom European Aviation Network, the Gogo ATG-over-North America/LEO hybrid that will also be facilitated by Gogo's latest news, or indeed future LEO/GEO or MEO/GEO satcom solutions in aviation. But the word is also used in industry to describe hybrid antennas such as ThinKom Solutions' VICTS, the mechanically steered phased array antenna that is presently fitted to thousands of aircraft and can facilitate transmissions on the other type of hybrid — multi-orbit satellite-supported IFC service.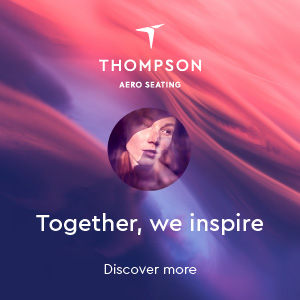 Aero ISPs, meanwhile, have been deeply focused on cost for quite some time. Long before the COVID-19 pandemic, they were deep diving into all of the costs associated with IFC, including the in-the-weeds parts of a system that can be improved upon without requiring a totally new system…chokepoints, if you will, that might see them even venture down to the interconnect side of the equation.
"[W]e've seen that going on way before COVID. All of those inflight connectivity people were really deep diving into all of the costs. And like you said, the bottlenecks behind that. So, we've actually seen that for many years," noted CarlisleIT business director Marc Temple. "And then what we've also seen is a lot of new players get into the market. It used to be one or two people, now there's dozens of people out there who are doing the same thing. And so obviously the more competition at that level that flows down to us, like I said, where we're having to look at our costs and looking at how do we provide value to all of those folks to where we can continue to compete and play in that market."
In October 2020, The Seattle Times reported that profit, not the pandemic, had driven the closure of a CarlisleIT wire assembly facility in Kent, Washington, as the company moved some work to lower-cost overseas facilities.
During the first quarter of 2022, Carlisle Companies overall reported record first quarter revenues of $1.5 billion, of which $185 million was attributable to CarlisleIT.
Related Articles: