The confidential nature of many business aviation contracts often prevents suppliers from making splashy announcements and divulging specific details about their clients. That's why readers may not be aware that SmartSky Networks' nextgen air-to-ground inflight connectivity (IFC) system is now installed on multiple large-cabin aircraft including bizjets that carry a separate satcom system to power connectivity when flying outside of the continental United States. But it is precisely these sorts of arrangements in business aviation that showcase the art of the possible in commercial aviation.
For example, SmartSky's kit is installed on a Gulfstream 550 that is also fitted with Inmarsat's Jet ConneX (JX) Ka-band satellite-supported IFC. "And it's a great complement," SmartSky president Ryan Stone told Runway Girl Network at the airline passenger experience-focused APEX/IFSA Exhibition in Long Beach. "They get the best of both worlds. If they're traveling overseas, they get [JX] and domestically, they're able to use us and we have different performance features than that has, and then together you've got a little bit of diversity, redundancy. So, the customers seem to really like that."
Similarly, in commercial aviation, SmartSky sees "a nice role for us to work in complement with satcom" especially on large aircraft, said CEO David Helfgott, who cited, for example, the value of having a high-throughput forward and return link to not only support a streaming class of Internet service for passengers when flying over CONUS, but also to transmit operational data such as telematics, aero IoT and supplemental, non-safety cockpit applications. "You have to have an empowering network infrastructure to do that. It's not just elastic bandwidth at the aircraft; it's getting bandwidth off the aircraft at really, really low latencies," noted Helfgott.
While SmartSky will not necessarily be in the cockpit safety services business, it can help provide situational awareness and a common operating picture so that air traffic control, dispatch, the pilots and ground crew all know what is happening in-flight, ensuring more efficient operations and a better flying experience, company vice president marketing and partnerships Britton Wanick told RGN. The firm's digital platform and application-layer, Skytelligence, also has a role to play, as it empowers the development of a raft of aviation apps such as predictive weather, aircraft health monitoring and retail & media/entertainment apps.
Hume explained: "We haven't talked about sustainability, but whether you're in commercial aviation or business aviation, the ability to monitor and maintain and improve is something that the aviation industry needs to tackle and we are. But you can't understand those things unless you have data off the aircraft. So as Dave [Helfgott] mentioned, it's one-third, essentially, of the solution we're providing. I also saw an article recently about the ability to nudge the pilot into doing better things that are more in line with fuel savings and the like. So you have to understand the activity in the air and what's happening on the ground to be able to provide those services but again it's about connecting those two things together. "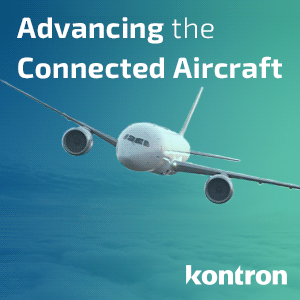 Now that its network is live nationwide in the continental US, SmartSky is in a stronger position to talk to airlines about the possibility of offering hybrid ATG/satcom solutions onboard commercial aircraft — including narrowobodies and regional jets — and moving data over the most efficient pipe.
With LEO and MEO satellite-powered aero services on the march, there are also new options on the table for compelling hybrid ATG/satcom solutions. But will the likes of SpaceX's Starlink Aviation and OneWeb also pose a threat to SmartSky? In addition to what it sees as a superior connectivity pipe, the firm reckons that a strong selling point for those conversations is that SmartSky's certified solution is available right now. "You don't need to have this uncertainty."
But with business aviation as its primary market, SmartSky is keenly focused on securing a dominant position in BizAv. "I mean we will overlap satcom on the large-cabin aircraft. We are already on multiple large-cabin aircraft and that's great. We think we're going to take a large share of the 25,000-plus aircraft in business aviation," said Helfgott plainly. In the US alone, this goal pits SmartSky against several IFC service providers including ATG stalwart and current dominant provider Gogo Business Aviation, which is developing a 5G solution that SmartSky alleges infringes on its patents, and is the subject of litigation. (Gogo has, meanwhile, teamed with OneWeb to offer an integrated ATG/LEO satellite-supported IFC product to the North American business aviation market, and a LEO-focused solution globally.)
In a bid to showcase "the reliability and value" of SmartSky's ATG service, Honeywell Aerospace — which serves as the company's value-added reseller — together with SmartSky in December will visit select sites across the country, including in California, Washington and Texas, to give prospective customers a first-hand look at the service and Honeywell's connected applications.
"Customers need a relatable measure to compare the value of inflight connectivity systems. Peak speeds don't describe what you can actually do when connected, experiencing the service on a typical flight is the ultimate test," explained Honeywell Aerospace director of aircraft connectivity Adam Sheppard. "When you know that everyone onboard will be able to make full use of their devices and get done what they need to, it makes selecting SmartSky as a connectivity provider the smarter choice."
Over the next five years, SmartSky also plans to play a pivotal role in connecting general aviation aircraft, and ultimately electric eVTOL aircraft and the burgeoning UAM market, management told RGN at the APEX/IFSA EXPO.
In short, as the airspace gets more crowded, it reckons that the need for more secure, high-speed pipes will become more acute.
Related Articles:
Featured image credited to istock/imv