Four and a half years after Panasonic Avionics vowed to reserve a portion of its GEO satellite capital to support a multi-orbit strategy with Low Earth Orbit satellites, the inflight entertainment and connectivity giant has partnered with OneWeb to market, sell and support the London-based LEO operator's low-latency Ku-band connectivity service for commercial airlines.
In a statement today, the firm said it will offer OneWeb's global service "standalone or paired with Panasonic Avionics' award-winning GEO service", though it does not mention whether its next generation ThinKom Solutions-made VICTS Ku-band antenna or another terminal, such as an electronically steerable antenna, will be used.
Andy Masson, who serves as vice president product at Panasonic Avionics, tells Runway Girl Network: "Panasonic is currently working on a groundbreaking, next-generation, highly-capable terminal product, with a series of strategic partners, and will be announcing this presently."
Panasonic has long provided Ku-band GEO satellite-powered inflight connectivity to its airline customers by forging capacity agreements with satellite operators around the world. It is also what's considered an 'anchor client' on certain birds, including, for example, the APSTAR-6D high-capacity satellite over China. With a near global quilt of Ku capacity agreements in place, Panasonic says it can support IFC on 99.6% of the world's flight routes. It boasts 70 airline customers and some 3,400 aircraft tails for its current onboard Internet solution, which features a traditional antenna that is assembled in-house.
But LEO satellites also have advantages; their low-latency nature make them potentially better equipped to facilitate gameplay, video conferencing, and VoIP communications in-flight.
"Passengers are accustomed to high-speed, low-latency connections supporting remote collaborative working environments, high-quality video streaming, and real-time gameplay. With OneWeb, we can now offer that experience everywhere our customers fly. This is a truly exciting day for the inflight connectivity market," says John Wade, vice president of Panasonic Avionics' Inflight Connectivity Business Unit in a statement.
Moreover, the arrangement with OneWeb advances Panasonic Avionics' multi-orbit strategy, enabling it to offer airlines "more choices, with top-tier products supporting forward link speeds approaching 200 Mbps and return link speeds up to 32 Mbps everywhere, including polar routes", suggests Panasonic.
Indeed, the firm has been planning for a multi-orbit future since at least early 2018, when it informed Runway Girl Network that because of the "really rapid change in the business primarily driven by LEO operators and the investment we're putting into LEO constellations", the company did not want to "put as many eggs in the [GEO] basket" as previously anticipated.
And so, we have been waiting for years to learn if Panasonic would partner with one of the new LEO satellite operators on the block.
"This agreement with Panasonic is significant for OneWeb, as it allows us to leverage their reputation, expertise, and reach to bring our LEO network to airlines, while seamlessly integrating our connectivity solution within existing IFEC infrastructure," says OneWeb vice president mobility services Ben Griffin.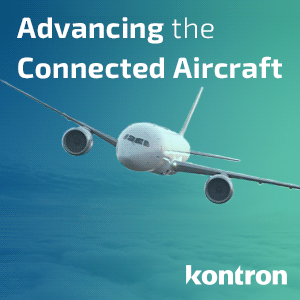 Lately, OneWeb has been on somewhat of a roll in aviation. It recently inked a global distribution partnership agreement with satellite operator and aero ISP Intelsat, under which Intelsat will offer OneWeb LEO service coupled with its existing GEO service to support a multi-orbit solution for aviation. (Though Panasonic is not a vertically integrated satellite operator like Intelsat, there are nonetheless some notable similarities to Intelsat and Panasonic's approach to the market. Both are Ku-band connectivity providers, and both tapped ThinKom VICTS for antenna hardware. Panasonic is also a Ku-band capacity customer of Intelsat's, and was anchor client on the Intelsat 29e Epic satellite before it suffered an in-orbit failure.)
Gogo Business Aviation, meanwhile, in May announced that it will leverage Hughes Network Systems' electronically steered antenna technology and OneWeb's LEO service to offer an integrated air-to-ground/LEO satellite-supported inflight connectivity product to the North American business aviation market, and a LEO-focused solution globally.
Another LEO satellite operator making waves in aviation is SpaceX's Starlink, which has been tapped to power JSX and Hawaiian Airlines' inflight connectivity, and is working with De Havilland Canada for integration into the Q400 turboprop.
Meanwhile, Canadian operator Telesat — which has for some time supported Panasonic's IFC service with broadbeam and high-throughput capacity on GEO satellites — plans to launch a LEO network called Lightspeed, but the timeline for rolling out the service in aviation has moved to the right.
Though Panasonic struck a deal in 2018 to become a strategic value added reseller to Inmarsat's Global Xpress Ka-band aero service, it opted to focus on its own Ku-band network when the COVID-19 pandemic hit. In announcing today's arrangement with OneWeb, Panasonic is doubling down on the Ku-band IFC proposition.
Related Articles:
Featured image credited to istock.com/Pollyana Ventura