With airlines already expressing interest in Airbus' new HBCplus supplier-furnished inflight connectivity program, Inmarsat is confident that its Global Xpress network — which will be augmented with two payloads in Highly Elliptical Orbit (HEO) for Arctic coverage in 2023 — and its GX-powered IFC service will prove to be a highly compelling option for those carriers that opt to tick the box for HBCplus when buying new A320, A330 and A350 twinjets.
As part of the linefit HBCplus program, Airbus thus far is offering a choice of two managed service providers (MSPs) in the Ka-band frequency: Inmarsat with GX, and SES with its forthcoming hybrid network including O3b mPOWER MEO satellites. But Inmarsat, a longtime partner to the European airframer for both cockpit/safety and cabin connectivity, reckons it has a meaningful head start and leg up.
Noting that Inmarsat was the first MSP to be selected for the HBCplus program, Inmarsat Aviation president Niels Steenstrup told RGN at the APEX/IFSA Exhibition in Long Beach that: "At Inmarsat, we will tend to run towards things instead of away from them, which is [why it] made sense to collaborate with Airbus to help Airbus, Safran and so on to provide this solution to the market and make it that easy for airlines to make this selection.
"So, we knew that there was going to be others that they would partner with over time to help give airlines choice. That's fine, but we were there first and there's a reason we were there first because we have our global network and so on. We do feel confident because we're the only ones with a global, uniform network [broadband]."
Additionally, Inmarsat is already quite familiar with Airbus' chosen terminal for the HBCplus program, i.e., Safran Passenger Innovations' terminal with ThinKom Solutions' VICTS antenna as core, and indeed more specifically with VICTS. That's because SPI's terminal was recently installed on a cluster of Qatar Airways Boeing 787s, as part of the carrier's decision to bring Inmarsat GX to 80 more aircraft in its fleet and Qatar's selection of the SPI terminal, which is going through the offerability process at Boeing. And, separately, Inmarsat last year positioned Stellar Blu's (formerly GDC Technics') new IFC terminal with ThinKom VICTS as its nextgen global solution for GX transmissions in aviation. SAUDIA will use the Stellar Blu terminal to offer GX IFC to passengers on 35 Airbus narrowbody deliveries, starting in early 2023.
"[I]n terms of a reliable antenna that is in the market now and available, the ThinKom-based terminals that really combine the mechanical and the phased array [are] really a very, very strong reliable solution," said Steenstrup.
Does Inmarsat expect that LEO satellites will need to be part of its IFC service overtime? "Yes," said Steenstrup, "that's why we have Orchestra" – the multi-orbit network, announced last year, that will bring together Inmarsat's existing near global GEO satellites with terrestrial 4G/5G and what is envisaged as being a small constellation of LEO satellites.
At the same time, Inmarsat does not feel immediately threatened by the march of the LEOs and MEOs gaining some traction in aero. The combination of capabilities provided by Orchestra "will be stronger than something that is just GEO or just LEO," he said.
To that end, the London-headquartered firm last year activated an initial LEO payload to conduct some testing. "We're doing some work in some of the other business units in Inmarsat, with mesh networks and maritime and so on at this time," said Steenstrup. "And so, Orchestra is an evolving solution where we start combining the different parts of the networks."
It's about providing the right capacity where you need it, when you need it. So, the terrestrial solution is not going to work when the plane gets off out of the airport, right? But it can be great at the airport. A LEO solution could be good in some places, but it's not going to work in highly congested areas, a place with lots of planes.

GEO, especially with our new GX 7, 8 and 9 satellites coming onboard; we can do dynamic beamforming, put capacity where we need it. So, you know, Orchestra will be combining the various technologies to give us — even more so than we have today — the capacity where we need it, when we need it.
As reported, Airbus told RGN at the APEX/IFSA EXPO that traditional aero ISPs will exist between the airline that chooses HBCplus and their chosen MSP, if the airline desires that sort of arrangement. "So that's really between the airline and the MSP to define together," said Airbus upgrades marketing director Yannic Duifhuizen.
He revealed that Airbus is fielding interest in HBCplus from airlines all over the world, including with low-cost carriers which "are now exploring and really are knocking on our door whereas, maybe some years ago, that wouldn't have been happening as much as it does now."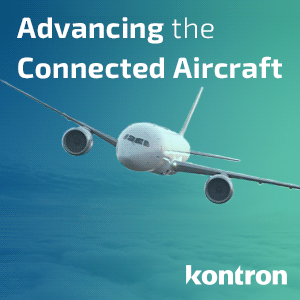 But will LCCs use a classic aero ISP in the middle or simply go completely direct? That remains to be seen, but Inmarsat stands ready with its OneFi solution — a new connected platform for airlines that brings multiple inflight services together within a single portal interface.
Outside of HBCplus, Inmarsat has already secured two airline customers for OneFi — SAUDIA, as announced when Inmarsat revealed that the carrier will launch the new Stellar Blu terminal for GX, and another as-yet-undisclosed operator. Inmarsat is also now offering new bundles for OneFi. Airlines can select the core OneFi Connect module, which offers airline-branded connectivity and ISP functionality, plus any of six additional bundles, covering customer feedback; loyalty; wireless entertainment; media including moving maps and PDF magazines; advertising, and buy-on-board shopping.
In short, with OneFi, Inmarsat can offer the type of value-add that traditional aero ISPs often perform.
"It just makes it very easy for an airline to again take that [OneFi] platform to use in the way they want to and only take the bundles they need," explained Steenstrup.
Related Articles:
Featured image credited to Airbus SAS / Borja Garcia de Sola