OneWeb still expects to launch its Low Earth Orbit satellite-based inflight connectivity service in 2023, though later in the year than previously planned after it was forced earlier this month to suspend all launches from Baikonur Cosmodrome in Kazakhstan, following Russia's invasion of Ukraine.
The London-headquartered company announced today that it has signed an agreement with SpaceX that will enable it to resume launches at an unspecified point later this year. The terms of the deal are not being disclosed, but OneWeb says it is "deeply appreciative of this cooperation with SpaceX, which demonstrates the true spirit of space collaboration". 
SpaceX is launching its own network of LEO satellites – Starlink – which chief executive Elon Musk said on Twitter in October would be available for airline customers in the future.
OneWeb has so far launched 66% of its planned 648-strong global constellation of LEO satellites, but it hit a stumbling block when its latest batch of satellites did not launch as planned on 4 March on a Soyuz rocket out of the Russian-controlled Baikonur spaceport. 
Russia's space agency Roscosmos had sought guarantees that the satellites would not be used for military purposes. It also demanded that the UK Government divest its stake in OneWeb, to which UK business and energy secretary Kwasi Kwarteng responded on Twitter on 2 March: "There's no negotiation on OneWeb: the UK Government is not selling its share".
Speaking to Runway Girl Network today, OneWeb VP mobility Ben Griffin says he did not expect recent events to cause a significant delay to the introduction of its IFC service, which had been targeted for the first half of 2023.
"It's a touch too early to say what the new service launch timeline would be, but I'd expect it to be in the middle, Q3 or Q4 of 2023, so I don't expect a significant delay," says Griffin. "I would say, realistically, after halfway through 2023."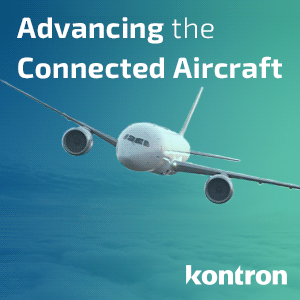 OneWeb has signed two joint development agreements with terminal manufacturers – SatixFy UK and GDC Advanced Technology – and Griffin says it "could certainly entertain more than a handful of terminals on the market". The agreement with SatixFy, announced early last year, preceded the November 2021 JDA with GDC, but OneWeb expects the latter to be ready to support its services first.
"I'd say GDC is the one that's most likely to get to market in the timeframe that we're aspirational to get to market and provide service," he says. GDC's terminal is based on electronically-steered antenna technology developed by Ball Aerospace, and there are plans to flight-test it in the second quarter of this year.
"GDC was embracing the Ball technology that already exists and is already proven, and the integration of that is actually not quite as involved as the SatixFy one," says Griffin.
On OneWeb's openness to other terminals on the market, he adds: "We are generally of the opinion that if people can develop terminals and understand what our network requirements are, and if they meet those requirements and pass network tests and we can certify them, then I'm not saying there would be no limit to it, but we could certainly entertain more than a handful of terminals on the market."
South Korean technology firm Hanwha Systems last year made a $300 million equity investment in OneWeb. Earlier that year, Hanwha also announced a $30 million equity investment in Kymeta, which is developing electronically-steered flat-panel antennas for aviation. In 2020, the South Korean company also bought antenna maker Phasor Solutions out of bankruptcy.
"Clearly, both are key terminal developers in their own areas, so I would expect there to be a mutual interest there," says Griffin.
Related Articles:
Featured image credited to Roscosmos, Baikonur Space Centre, TsENKI