Longhaul narrowbody flights — the ability to fly long and thin routes at a time when many routes will be increasingly thin — are going to be key to aviation's return after the COVID-19 crisis, especially as Airbus' A321LR and A321XLR aircraft get into full swing.
But, as a rule, passenger response to the idea has been muted at best, horrified at worst. They imagine spending up to ten hours in an LCC-style cabin with their knees around their proverbial ears, with very little comfort and even fewer amenities, as the comments to any tweet or article about them will attest.
Congratulations/Félicitations @AirTransat!
With a record 7,600km flight between Montreal 🇨🇦 & Athens 🇬🇷, the #A321LR has lived up to its name like never before.
⬇️Here is the unrivalled long-range route opener offering true transatlantic capabilities w/ a single aisle aircraft. pic.twitter.com/wC3Obv5nEW

— Airbus (@Airbus) October 26, 2020
To get passengers enthusiastic about the benefits of longhaul narrowbodies, most notably avoiding connections (increasingly attractive in the age of COVID), aviation needs to be able to show that these aircraft can be designed to be just as comfortable, if not more so, as their larger counterparts.
The first hurdle is narrowbody seats, which are better than you might think — and certainly better than someone who doesn't usually read Runway Girl Network might think.
In economy, there's great news: many fully-featured longhaul seats are available for both the 737 and A320 families, including the hugely popular (yet not exactly memorably monickered) Recaro CL3710.
Airlines that want to offer this longhaul standard, as flydubai does on its presently-grounded 737 MAX aircraft together with Safran's RAVE inflight entertainment, can do so. The trick will be showing passengers what's on board and persuading them that they're not going to be sitting with their knees around their ears for ten hours. Early steps into the medium-to-longhaul narrowbody world haven't been plush with #PaxEx comfort and features, so there's some work to do there.
(Perhaps an ad campaign highlighting the details designed into the aircraft — "this isn't just an Airbus A321… this is our all-new luxury Airbus A321XLR with fully reclining seats, on-demand inflight entertainment and blisteringly fast satellite internet.")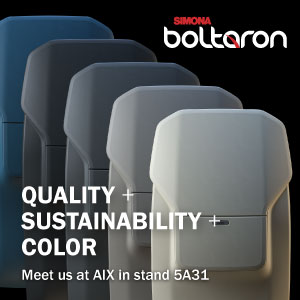 Premium economy hasn't made much of a foray into the longhaul narrowbody world since British Airways' OpenSkies 757s disappeared, and there is a lot of space to work with here since a wide variety of seats are already certified for recliner-based business class or US domestic first operations.
Up front, with the arrival of Stelia's 44°-angled Opera outward-facing herringbone, there's a modern angled seat, while other recent direct aisle access options include Aviointeriors' Adagio staggered seat, which appeared front and centre (well, technically front left and right) in Airbus' A320 family mockup on the stand of the last Aircraft Interiors Expo in 2019. One imagines that Safran's Cirrus NG or Versa will also be making an appearance in catalogues given its presence on American Airlines' transcontinental A321 subfleet, while other products in a similar vein from other seatmakers could well be adapted to fit.
And throughout the aircraft, particularly at the front and the back of the cabin, there's a strong need to design innovative ways to ensure that the softer side of passenger experience like food, beverage and amenities are also able to be provided. That might be about ensuring adequate overhead storage for the front row by using in-ceiling storage for crew bags and emergency kit, or developing new processes and protocols to store baggage that passengers don't want to check but don't need access to during the flight.
It might be about designing or redesigning front-row monuments to add extra galley space for business class service — and indeed, improving the door 1L entryway look and feel — or rolling out pre-ordering and designing streamlined meal services to reduce the storage space need.
Fixing the perception problem is, perhaps, the hurdle to be watching as the starting gun goes off. And that's a problem that needs coordination, communication and investment at a time when the latter at least is hard to come by in aviation. Here, as in so many places, innovative thinking and the sparks of design genius that aviation cultivates will be required.
Main image credit, Airbus.
Related Articles: