Panasonic Avionics saw a significant reduction in sales during the fiscal 2021 second quarter, as commercial air traffic and aircraft production remained deeply depressed amid the continuing COVID-19 crisis.
The business, which supplies inflight entertainment and connectivity systems and services to airlines, is part of consumer electronics giant Panasonic Corporation's Connected Solutions (CNS) unit, which also offers process automation, media entertainment, mobile solutions such as notebook PCs, and other technology.
Panasonic Corporation's other business segments are: Appliances (AP), Life Solutions (LS), Automotive (AM) and Industrial Solutions (IS).
Sales in Connected Solutions for the three-month period ended 30 September decreased by 27% year-over-year to 376.6 billion yen. "This is due largely to decreased sales at [Panasonic] Avionics, which was impacted by a sharp decline in flight operations and a significant reduction in aircraft production, despite favorable sales of mounting machines for servers and others in China," explained Panasonic Corporation in its fiscal second quarter earnings report.
Indeed, Panasonic Avionics' fiscal second quarter sales, specifically, declined to 24.5 billion yen (US$234 million) versus sales of 60.8 billion yen in the year-earlier quarter. Panasonic Avionics generates revenue from both the sale of IFEC equipment, and the maintenance of these systems.
Operating income for Connected Solutions decreased to a loss of 17.3 billion yen (a US$165 million loss) from the year-ago quarter, "due largely to decreased sales, despite the effect of fixed cost reductions", said Panasonic Corporation.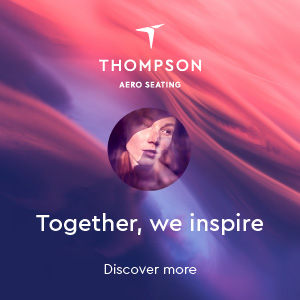 Company-wide, despite a 15% year-over-year decline in revenues, Panasonic Corporation posted a fiscal second quarter adjusted operating profit of 95 billion yen, up 1% year-over-year, "due to steady progress in reducing fixed costs, despite the impact of lower sales". Its net profit of 57.7 billion yen was up 15%.
For the six months ended 30 September, Panasonic Corporation's consolidated group sales decreased by 20%, and net profit attributable to stockholders decreased by 52% to 48.9 billion yen.
The Japanese company noted that the "severe" situation observed in its Connected Solutions segment "is expected to continue in the second half [of the year] due to worse than expected deterioration of air passenger demand."
Among the executives tackling the challenges at Panasonic Avionics is former Hulu SVP, engineering Joe Bentley, who was named Chief Technology Officer of the business in July, replacing David Bartlett, who departed the firm in January.
Featured image credited to Mary Kirby