A bevy of airlines, satellite operators and inflight connectivity stakeholders are progressing in their efforts to build a set of standards to ensure passengers can seamlessly access inflight Internet without logging in or providing credit card information, as enabled by their current mobile operators. Despite the COVID-19 crisis and associated shutdowns, the so-called Seamless Air Alliance has advanced in its work, telling Runway Girl Network it is gearing up to support a proof-of-concept for seamless roaming in early 2021.
Founded in 2018 by Airbus, Airtel, Delta Air Lines, OneWeb and Sprint – and now boasting many more industry heavy hitters as members – Seamless earlier this year published its first standard, Release 1.0, which established the world's first modular platform architecture for inflight connectivity by breaking down the system into eight functional components, and defining the interfaces and technology requirements of those components.
Now, with the completion of Seamless Release 2.0, the alliance has gone a step further by defining the method for these components to discover and communicate with each other so that suppliers can design and build interoperable 'OpenIFC' components. "This will ensure airlines can rapidly adopt new technologies from multiple suppliers without requiring customization or the complete replacement of equipment on the aircraft," says Seamless CEO Jack Mandala.
Asked by Runway Girl Network if there is a timeframe for when we might see a sort of "Seamless-inspired" IFC install aboard aircraft, Mandala reveals:
The good news here is that airlines have stayed engaged and active with the Seamless Air Alliance. Seamless roaming was one of our early initiatives and will help mobile network operators achieve their goal of connectivity everywhere.

Look for an early 2021 airline showcase of an innovative approach to cellular roaming over Wi-Fi.
He explains that Seamless roaming is in fact part of the alliance's Release 1.0 standards work and ready for use. "It is abundantly clear that airlines want the ability to source from multiple suppliers and Release 1.0 requirements are ready for use as part of procurement and the airline RFP process. Release 1.0 functionality can be deployed ahead of the modular architecture, in particular Seamless roaming. Release 2.0 is moving into distributed, virtualized laboratories for validation testing starting 1Q 2021 with full functionality by midyear."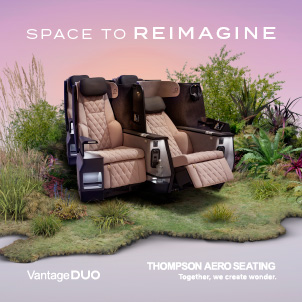 In recent months, Seamless has welcomed several new organizations into the fold, including American Airlines, Deutsche Telekom, International Airlines Group (IAG), SES, Telesat and Thales Group. Despite indications it would join the alliance, Gogo remained a hold-out. But that is set to change.
Intelsat, an early member of Seamless, recently announced a definitive agreement to acquire the commercial aviation business of Gogo. "We have the opportunity to redefine the IFC ecosystem and passenger experience. Our open architecture network delivers unique value with the redundancy and resiliency needed to scale a premium Internet service to every passenger, from gate to gate. We remain fully committed to the Seamless Air Alliance and its mission to develop exceptional standards for the commercial aero industry," assures Intelsat director of aero products Mark Richman in a statement.
Once the Gogo acquisition is complete, and vertical integration is achieved, the satellite operator says it can ably support the free wifi model for Delta passengers.
Related Articles: