Ahead of the Aircraft Interiors Expo in Hamburg, Runway Girl Network posed itself the question: what makes the very best business class products the very best right now? More and more seats are breaking cover, but what makes some of them top-notch, and some of them second rate — and what should passengers reasonably be able to expect?
For the purposes of this ranking, we're entirely talking longhaul business class here, whether on a widebody or one of the new longer range narrowbodies like the Airbus A321LR/XLR or the Boeing 737 MAX, of sector lengths in excess of about six hours or so.
Let's start out with the most basic requirement: fully flat beds with direct aisle access for every longhaul passenger is de rigueur for a five-star business class in 2023. It is now twenty years since Virgin Atlantic created the first business class seat that avoided the "midnight clamber" from window or (worse) middle seats over their aisle passenger neighbour, and airlines seriously desiring top-tier status cannot offer anything less.
Structurally, this will look like either a herringbone or a staggered seat, each of which has its advantages and disadvantages, as well as subtypes: inward-facing, outward-facing or hybrid herringbone, and staggers that are either honeymoon/divorce, singleton or slightly angled within the repeating pattern. Well-designed centre pairs are a bonus, and honeymoon centre pairs should really be designed to be as close to the double bed experience as possible if in a staggered seat, or as some sort of "kissing class" in a herringbone.
Two open questions that are not yet dealbreakers for a five-star business class, however, are doored mini-suites and a front-row business-plus product.
While it's true that most new products on the market since pre-Covid times have been delivered with doors, thoughtful use of layout (like Virgin Atlantic's A350), and non-door screens in particular still hold much promise. Similarly, while a front-row business-plus seat is an excellent way to maintain a halo product in the absence of a full first class cabin, these aren't really mature enough to make them a must-have, though they are a bonus point.
One must-have, however, is an excellent premium look and feel to the colour, material and finish of the cabin. This should include multiple textures, including attractive materials and effects like fabrics and wood to break up the thermoplastics inherent to seat production. Five-star business classes avoid both the feeling of staring at serried rows of seats and facing large expanses of greige thermoplastics. 
Also required: high-quality production, without visible flaws or misaligned elements. Enough said — but regrettably not always achieved.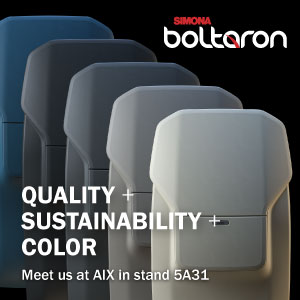 It's reasonable for business class passengers in a five-star product to expect a large, high-quality entertainment monitor. The precise screen diagonal measurements will depend on the seat and the distance from passenger to monitor, but it must feel expansive and compare favourably with consumer electronics. 
This probably means 4K, and certainly should for new installs, but the ongoing low-definition content provision — on a high-quality screen — means that this can't yet be a dealbreaker, not least because there are so few (no?) airlines with full-HD inflight entertainment catalogues. This inflight entertainment must, naturally, be integrated into global high-speed inflight connectivity. Five star business products cannot appear on wifi-less airplanes, or those stuck on previous generations of technology stacks.
A final must-have is consistency of product. This doesn't mean that every seat must be the same model across every aircraft, but all seats must be five-star, and there mustn't be a feeling of having to try to avoid ending up with the "downgrade" or "bad planes" in a fleet.
The big question, though: while a growing number of individual five-star products are now flying, how many airlines can genuinely be said to achieve five-star business class across their fleet?
Related Articles:
Featured image credited to Etihad