BERLIN — Lufthansa's new Allegris generation of business class seats — Allegris being the internal Lufthansa-mainline brand for this Lufthansa Group-wide generation of longhaul cabins, referred to across the airlines as FICE, for Future Inter-Continental Experience — are a paradox of contrasts, both familiar and novel, an old story and a new approach. 
The familiar old story part comes from the layout, which was first announced in 2017 with the intention of having it flying by 2020 — on the basis of which Lufthansa secured its five-star rating from the controversial Skytrax company. Allegris business is the same kind of slightly angled stagger that is now nearly a decade old, and which first broke cover as United Polaris. Lufthansa didn't name the holder of this intellectual property, but that would be Acumen. 
The novel is what Lufthansa is doing with it: unbundling the entire cabin, turning seat selection into what seems set to be a highly complicated ancillary revenue matrix, and standardising passenger experience across the full group. And it's doing so with an unprecedented three seatmakers: Thompson for the 777 (and 777X), Collins for the Boeing 787 and Airbus A330, and Stelia for the Airbus A350 and Boeing 747.
The unbundled seven kinds of seat that Lufthansa plans to offer line up as follows:
Classic Seat: the aisle-adjacent seat of the outboard sections, and the aisle-adjacent seats in the centre (but not the Extra Long Bed versions)
Extra Long Bed: those aisle-adjacent seats that have an extra-deep footwell, the space for which has been carved out underneath one of the side table gangways from the Extra Space Seat "throne"
Extra Space Seat: better known as the "throne", these also feature a large additional side-table and a large inflight entertainment screen
Privacy Seat: window-adjacent seats on the outboard sections
Private Seat with Baby Bassinet: at the rear of the cabin section, these seats reclaim the space that is not needed for a footwell behind to place the baby bassinet
Double Seat: the pair of seats at the back of the cabin, slightly broader at the shoulder and with less apparatus between the two passengers, but not a full double bed
Business Suites: at the very front of the cabin, these front-row business-plus seats reclaim the space from a stagger in front and also offer doors.
In essence, Lufthansa and its design partners have used the delay since the announcement of the product to develop sub-products that make the absolute most of what would otherwise be lost space in the staggered layout. This is very clever indeed, and beyond what other airlines have managed.
The layout will alternate in a surprisingly spacious 1-2-1, 1-1-1 configuration on all of the Lufthansa Group's aircraft, with the exception of the Boeing 747-8I of mainline Lufthansa, which will exchange the Extra Space Seat thrones for "honeymoon" pairs of seats, with fully retracting centre dividers. 
Executives revealed in an exclusive interview with Runway Girl Network that all future linefit aircraft will see the Allegris cabins (starting with Boeing 787 Dreamliners that the airline expects this year, of course with the proviso that 787 deliveries have once again been halted), and that most of the existing Lufthansa Group fleet will be retrofitted. Early retrofits are expected to include Airbus A330s from Swiss, although RGN is told that the future of mainline Lufthansa's A330 fleet has not yet been decided, and that the overall timing of rollouts will depend on the eventual disposition of various aircraft types across the Lufthansa group airlines.
At a very swanky launch in Berlin's Kraftwerk event/club space, only the centre Business Suites and one Extra Space Seat were on offer to view, and these were referred to by executives as "training seats" rather than working mockups or pre-production. Given that the entire point of Allegris business is the seven types of seat, having only two to experience seemed very strange indeed — it wasn't like there was a lack of space in the enormous hall of this former power station.
The colour, materials, finish and overall impression of these seats, with the proviso that we experienced only the training seats, were consistent with Lufthansa's previous seats, with perhaps a little less thermoplastic and a little more fabric, leather and other softer touch materials. Overall: if you loved the many greys and several beiges of Lufthansa's current 2010s business seat, you'll love the many more greys and several more beiges of Lufthansa's 2020s Allegris business seat.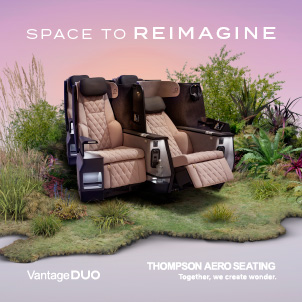 Lufthansa wouldn't be drawn on any of the details of how it plans to allow passengers to select seats, pricing, whether any kind of priority or discount will be offered to any of its own or partner airlines' frequent flyers, or anything else. This is very much the crux of the matter, especially for corporate travellers and frequent flyers. Will frequent flyers revolt if they have to pay $200 for a throne — roughly the price Swiss has been charging for longer flights, and what both Condor and Virgin Atlantic charge for their front-row business-plus seats? Will business travellers get that amount past their corporate travel buyers? 
So what of Allegris business class? Lufthansa's selling point this millennium has never been to have the best business class on the market, and it certainly doesn't with Allegris… at least not to every seat. What it offers is a strong European route network and consistency — its rollout of its previous business class was very quick, faster than most, and it plans to be similarly speedy once deliveries start. The questions around pricing, eligibility and merchandising of the seven kinds of seat are what will make or break Allegris.
Lufthansa flew Runway Girl Network's journalist from Lyon to Berlin for this event, and arranged a hotel, but as ever all views are those of the author.
Related Articles:
Featured image credited to John Walton