As more and more airlines unveil new business-plus front-row seats, the dynamics of how they're designing, marketing and selling these travel class-spanning products are becoming more and more interesting — and bringing more and more implications to the way that the rest of the aircraft has to be designed to service them.
Previously, the inefficient use of this space was ignored as just the price of having a staggered or herringbone layout, and airlines used it as a spot to put small storage boxes or bassinet cribs. Oddly enough, it's still this sort of space on some new aircraft and new seating layouts. Qatar Airways' Boeing 787-9 Dreamliner, for example, has an enormous low extended monument at the front of its Adient seating, at the same Farnborough Airshow at which Adient was showing its integrated front-row concept in the narrowbody space.
Early options for a more integrated business-plus seat in the pre-Covid world included the front row Elements herringbone from Collins Aerospace, as well as the Thompson Vantage First product that was introduced (if your author's memory and spreadsheets are correct) on Malaysia Airlines' Airbus A350 as the Business Suite, although only in a way.
Some airlines, most recently Starlux, are adding these business-plus seats as something of a vestigial remnant of first class. The trick with branding this as first, though, is that there needs to be soft product to match. On today's widebodies — let alone longhaul narrowbodies — this could get very complicated owing to the constraints of galley space. 
No longer is aviation replete with the large galleys of yesteryear (RIP those enormous longitudinal galley spaces airlines including KLM designed aft of door 1R on their 747s), and indeed we've seen carriers hitting food storage and preparation space problems with their aircraft. This has driven changes to their meal concepts and delivery, whether that's accelerating the rollout of pre-ordering meals in business class or moving to disposable food serviceware in premium economy.
Meanwhile, some airlines are classifying business-plus as just that. The Virgin Atlantic Retreat Suite, which is sold as a seat-selection upgrade when choosing seats (presently at the cost of GBP200, approximately USD217 at time of writing), is very much in this category. Air New Zealand, with the clear branding of its Business Premier Luxe front-row seats, would seem to be on the same trajectory.
It's unclear how American Airlines intends to market its new front-row business-plus suites, but the language the airline's executives have used in interviews suggest this will be a business-plus branding as well rather than a first class brand.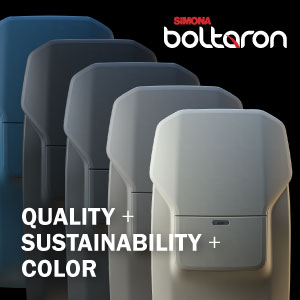 Across these products, a key question will be how to make the front row of business-plus (and even more so first class) sufficiently differentiated from business that passengers don't feel taken for a ride. 
Korean Air's tactic of using the same seat in first class as in business on its regional aircraft — although without making the most of the overlap — is an example of a product that raises the question: precisely what are the benefits of upgrading?
Critical to this question of how to separate, for example, row 1 from row 2, are the flight attendant cabin view and other certification requirements. High-walled seat shrouding is an option if cabin view can be sorted, but also runs into issues around emergency egress in some cases. Cabin view problems can be remedied by adding closed-circuit television, but this raises privacy questions.
Much like the big question of doors, this question of separating business-plus from the rest of business has yet to be fully solved — yet.
Related Articles:
Featured image credited to John Walton