Returning from Lufthansa's Berlin launch of its new Allegris seats — more widely called the Future InterContinental Experience (FICE) product generation for Lufthansa Group airlines — brought many swirling thoughts and, alas, an unfortunate case of COVID.
A few weeks later, and following further news including an order for Airbus A350 aircraft and Swiss' unveiling of its version of this FICE generation, the big picture for Allegris, FICE, Lufthansa and the other Lufthansa Group airlines remains somewhat fuzzy, and I don't think it's (just) a case of post-COVID brain fog.
In some ways, the picture is simple. Swiss Senses, as the Swiss version of FICE is called, is essentially the same as Lufthansa Allegris except replacing blues with reds and greys with different greys (sorry, "bordeaux and anthracite"), throughout the aircraft. Done.
Swiss' implementation will start with its Airbus A330s, which will have one row of first (including the double bed in the centre) and then the same FICE business stagger and seating options stretching some seven and a half rows back through the aircraft. Three rows of 2-3-2 premium economy and a total of 159 economy seats in 2-4-2 round out the aircraft.
Yet all this speaks to a reshaping of the passenger experience relationship between Mother Lufthansa and her premium airline children based in Vienna and Zürich.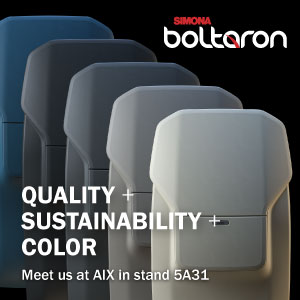 Lufthansa, as the large network carrier within its wider Lufthansa Group, has played a different role to Swiss or Austrian, which have smaller networks and operate in a different, more premium kind of way. This premium today involves a slightly better seating product than Lufthansa and a slightly higher cachet in soft product. It will be instructive to observe how this changes once all three airlines have the same hard product. 
Based on what we see so far, it seems that the Swiss hard product in FICE business class, specifically, is superior (fairly objectively speaking in what is often a subjective field) in colour, materials and finish: it just looks and feels more premium than Lufthansa's.
Swiss' design consultancy partner PriestmanGoode says it followed a brief of "warm minimalism", with particular attention to detailing in materials, colour palette, forms and light, each contributing to enhanced comfort, tranquillity and wellbeing.
Let's compare the Lufthansa and Swiss implementations. This is Swiss' Senses business class:
This is Lufthansa's Allegris business class:
Lufthansa's design partner, Pearson Lloyd, explains that the palette "was designed to build on Lufthansa's heritage and our previous business class seat, while also taking the brand forward by bringing more soft materials into the seat space, offering more texture and depth. This results in a look and feel that we are more used to in our private lives, something less corporate, more distinctive and characterful."
In terms of the FICE first class, there is less clear blue (or bordeaux) water between the Swiss and Lufthansa products, which is also notable. Swiss' first class has had doored suites for nearly a decade, since the entry into service of its first 777 in January 2016, while Lufthansa's has not.
These two products will be, in the FICE generation, essentially interchangeable in experience, apart from whether the crew greet you with a "Grüßgott" in Munich, a "Guude" in Frankfurt or a "Grüezi" in Zürich.
This is Swiss' Senses first class:
This is Lufthansa's Allegris first class:
There's also the Condor Question for Lufthansa. The much smaller challenger German leisure airline — ironically owned by Lufthansa last century — is turning heads both with its love-it-or-hate-it livery and with its excellent new business class.
The Condor product leapfrogs the current Lufthansa product and even matches the basic Allegris one in space and functionality, depending on aircraft configuration. It's certainly arguable that the overall colour, materials and finish of the Condor cabin look more premium than what we've seen of Lufthansa's Allegris business. 
Indeed, it seems like an odd quirk of fate (or design) that the key design anchor points of Condor's business class is a rich deep blue with wooden and metallic accents, plus a thick striped motif — closer to the passing eye to Lufthansa's Allegris first class aesthetic than to that of its Allegris business class.
Lufthansa (and to a lesser extent Austrian and Swiss) finds itself squeezed in its key business class market. On one side are the Gulf carriers, where Qatar's Qsuite is superior to any of the FICE business products, and on the other is Condor, surprisingly competing on the basis of product. It isn't helped by its primary operational hub at Frankfurt, which remains among the worst airports in Europe, although increasing hub operations at Munich are a plus.
Lufthansa flew Runway Girl Network's journalist from Lyon to Berlin for this event, and arranged a hotel, but as ever all views are those of the author.
Related Articles:
Featured image credited to Swiss