Why are the business class seats from Europe's major airlines so bland? Beige, grey, perhaps a bit of blue… it's all a little too reminiscent of the short-turnaround, low-customisation economy seats for lessors and low-cost carriers that have been seeing a renaissance in the post-shutdown aviation world. At least those have a good reason to look and feel a bit standardised. And airlines aren't trying to sell them as luxury.
Let's start in Spain. Iberia's business class is the latest of what I've mentally been calling the European CMF (colour, materials, finish) yawnfest. It's a very standard implementation of the Recaro CL6720, in about four different shades of beige. 
The bones of the hard product are actually a pretty smart decision for Iberia: it's a honeymoon/divorce staggered arrangement that continues the theme of its previous Stelia Solstys seats, but of course more modern and with a door. The problem is that it's very, very beige-on-beige-on-beige.
Iberia could have done so much better. I don't mean that every seat has to have a glittery matador traje de luces antimacassar or ruffled traje de flamenca fabric below the seat pan, but Spain has an incredible cultural history of beautiful patterns, from embroidery to textiles and tiles, that would suit as accents.
In the same way that Lift Aero Design brought barong textile patterns to Philippine Airlines' cabins, it feels like a missed trick not to do something interesting here — not even with a pillow.
It's especially notable that Iberia chose a different seat to its IAG stablemate British Airways. Your author had assumed that one of the reasons the British Airways Club Suite cabin is so monochrome — and indeed why the placards on the aircraft are bilingual English-Spanish — is that IAG was planning some sort of aircraft interchangeability between BA and Iberia without product inconsistency or the need to swap out cabins. 
It's a bit of a disappointment that it turns out that the BA cabin's yawnfest is entirely of its own making, not driven by any lowest common denominator of interchangeability.
On to the new Allegris business class cabin for Lufthansa: grey on grey, with a bit of medium brown leather and some dark blue fabric, it's an Oktoberyawnfest. 
That said, the Swiss Senses version is more attractive. It will be informative to see the Austrian Airlines version (ideas for the generational sub-brand to match Allegris and Senses on a postcard?).
Air France's latest business cabin, too, is le yawnfest. Meryl Streep's iconic line about florals in spring from The Devil Wears Prada comes to mind. (Blue and offwhite? For an airline cabin. Groundbreaking.)
The Air France seat does, at least, have the crevette seahorse icon, but marks taken away for the annoying 'thunk' from the doors. It'll be interesting to see if KLM, which in its current non-suite generation is a little more forward in terms of design elements than Air France, moves any needles here.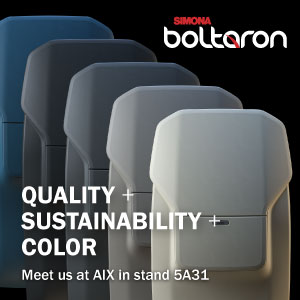 Part of the frustration is that there are other business suites on the market that feel modern, interesting and premium.
Qatar's Qsuite is still the reference here, while even the Collins Horizon now flying for a number of airlines on planes originally intended for Aeroflot arguably features a more thoughtful CMF than most of the big European carriers.
Condor's new business class CMF is an example of how to excel even with a relatively conventional palette, Starlux shows how a modern feel in business can work well, Virgin Atlantic's newest A330neo product works very well too, and JetBlue is now flying to Europe with its design-focussed transatlantic Mint cabin.
Putting their solid hard product choices aside, one is left wondering about the design focus of the continent's airline powerhouses.
Related Articles:
Featured image credited to Recaro