Settle down in your airline seat and look at the seatback in front of you. It's almost certainly grey or beige. So is the armrest, and so is that bulkhead at the front of the cabin. So is the overhead bin. So's the sidewall. There's so much of it that Tim Manson, design director for JPA Design's transport practice, has a nickname for it: greige.
Even in business class — notionally the home of a discerning palette for the discerning palate — over 75% of all the thermoplastics that manufacturer Boltaron produces are either grey or beige. It all feels a little bit like the business card scene in American Psycho.
Call it bone, eggshell or pale nimbus, beige has always been the new black, says Boltaron's Adam Mellen, vice president of sales and marketing. "Generally these more muted colors are perceived as easier to sell, maintain and replace. Yet, as you know, it doesn't cost any more for color and colored material provides the same excellent level of performance, cleanability and thermoformability."
From a designer perspective, JPA's Tim Manson tells RGN that this "greige" palette is helpful. "The colours themselves are not the issue but how they are used is key. The light tones create a canvas for the colours to lift out of the cabin."
The problem is, of course, that in the sea of greige the only islands of colour are in seat fabrics, and often not even then. Once those are covered by passengers, the fog rolls in and it's back to Blah Airlines.
"Having coloured plastics in large scale can be quite overpowering and a little risky," explains Tim Manson. "Airlines tend to carry many passenger types from wide ranging cultures. Their reactions and relationship to colour is quite personal. Committing to coloured plastics for base line assets is arguably a risky strategy."
But hope is not lost, design-wise. Says Manson: "We would love to see more creative options for interior linings other than white or off white, particularly in premium cabins. The intimacy and premium nature of a space is somewhat undermined by the photocopier look of most commercial aircraft interiors. Airlines spend a lot of time and effort to customise and differentiate with only the lower half of any interior."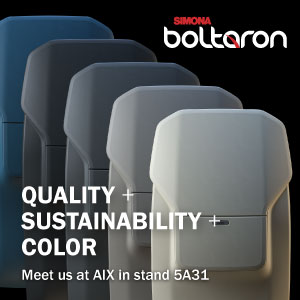 Take the hint, airlines, airframers and designers: look upwards for your next big opportunity.
It struck your author when boarding Qatar Airways' award-winning and truly excellent Qsuite that for all the incredible design and engineering work within the suite, the upper half of the cabin (which we see for quite some time during the flight) was the same beige-with-moodlit-magenta seen on many other airlines.
"Cabin mood lighting must be considered, particularly if highly color-saturated scenarios are used," Lift Strategic Design's managing director Daniel Baron tells RGN from his Tokyo studio. "The next influencer will be seat and monumented-integrated mood lighting: i.e., the color closer to the seat or monument plastic. I imagine the combination of mood lighting and neutral colored plastics with new textures and special effects, in other words how they play with the light, will become even more prevalent."
To that end, even if we still see a lot more neutral greige, the same-old, same-old haircell and coarse matte textures that we're so familiar with are on the way out. "It's incredible to see the way a color transforms by applying a true metallic, unique texture and form to a seat part to make it look more modern and 'designed,'" notes Boltaron's Adam Mellen.
"Beige and grey can still be seductive," concludes Daniel Baron when he talks about the ways that neutrals can interact with the rest of a well-designed cabin. "It's all in the execution."
Related Articles: