Delta Air Lines is shaking up its Premium Select soft product, with new amenity kits and sustainable tableware repositioning the premium economy cabin — and its level of premium look, feel and experience.
A primary objective is to spruce up the meal service slightly, returning a certain amount of premium feel to the dining experience that has been lost during recent years.
Runway Girl Network had the opportunity to look over the new Premium Select tableware — including new main and side/starter dishes made of bagasse, a material made from sugarcane fibers that is a popular more sustainable alternative to waxed card or plastic — at the recent RedCabin summit in Atlanta.
As RGN understands it, the issues surround something of a downgrade in premium meal capacity as the premium economy product rolled out across Delta's fleet.
In essence, Premium Select débuted on newer aircraft but as later aircraft were refit the airline encountered galley space issues and ended up following a different model where Premium Select was served something much closer to the main cabin meal's doggie-dish dinner model, as RGN contributor Jason Rabinowitz recently experienced. Pandemic sourcing, provisioning and safety measures also added complexity.
As a result, Delta is trying to add more of a premium feel and to differentiate it from the Main Cabin, while still being able to produce it on aircraft with lower galley capacity. 
"Customers will be served their main courses on bagasse plates made from sugarcane plant fiber, with linen tableware and napkins, silver flatware and glassware," Delta says. 
Calling these "plates" feels like a stretch — they are high-sided and have the look and feel of takeaway food trays, and they will be served via a new trapezoidal tray.
Printed menus, which RGN reviewed, are a nice touch. Helpfully, each menu also offers a QR code that links to a fuller menu, changing monthly.
The fuller menu also includes details of the drinks service, which is smart: for passengers not used to the Premium Select service, knowing what is available is helpful.
Indeed, promises Delta, "they'll enjoy more dedicated service touchpoints throughout their flight, like a special 'bubbles and bites' moment, with sparkling wine, water and a special treat shortly after takeoff, as well as a premium snack basket."
Meals, says the airline, will include a "braised beef short rib with fingerling potatoes and dijon green peppercorn jus; Impossible Meatballs with polenta, pomodorini sauce and broccolini; honey harissa chicken thighs with jollof rice and stewed greens; and for dessert, mango mousse with mango passion fruit compote."
The menu card RGN reviewed for Atlanta-Seoul Incheon comprised a choice of herb roasted chicken, four cheese ravioli or beef bulgogi, while the online version included a Chicken Country Captain, Chicken Bulgogi, and a vegetarian option of Georgia Grown vegetables. (In this case we can perhaps forgive "chicken or chicken", because both the southern style stew and Korean bulgogi sound delicious.) Dessert was an ice cream cup.
New amenity kits — smaller, more vertical version of the socially responsible Someone Somewhere kits in Delta One, which are lovely — round out the offer.
By and large, the move is a positive one, and one that fixes a consistency and positioning problem for Delta in a unique way.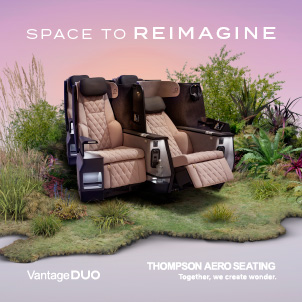 A key question is the response to these bagasse food trays, from a sustainability point of view. Clearly, aviation's sustainability priority is and must be reducing weight on board the aircraft, and these trays are definitely lighter than china. But are they premium enough for Premium Select differentiation? 
Many airlines are considering the topic as they look to set sustainability goals. Adding the context of how to "show sustainable" may be enlightening, since some more sustainable items in our lives come at a cost and value premium, while others can feel greenwashingly cheapened in the name of sustainability.
Delta's menus don't highlight the sustainability of the bagasse, which in terms of look and feel is rather closer to the experience of a cardboard snack box than a premium cabin might expect. Is there something Delta can do with these to make them feel more premium, to colour or cobrand them to highlight their sustainability, or even just a mention on the menus about them to demonstrate that it's not just a cost-cutting exercise?
Related Articles:
Featured image credited to Delta Air Lines