First class is dead; long live first class. This apparent contradiction is at the heart of a particularly fascinating niche in the airline passenger experience: how can airlines continue to offer a super-premium product for their very best (and spendiest) customers without investing time and money in extra onboard space, an entirely separate cabin or a completely different seating product?
One set of answers from Rockwell Collins is an evolution of the wildly popular outward-facing herringbone Super Diamond product.
The next generation of the evolved seating product, which Rockwell Collins vice president for sales and marketing Mark Vaughan showed off to Runway Girl Network at this year's Aircraft Interiors Expo, is called Elements, and brings both a new aesthetic, a new premium market — and of course the near-obligatory option for doors — to the Super Diamond family.
The basic premise is to create a front row hard product option for first class, whether separated by cabin dividers or suite doors, without losing any space from the footprint of the business class cabin.
Inside these business-plus, first-minus seats sit upgraded materials, a good bit of extra space, larger inflight entertainment screens, more stowage, and the opportunity to create additional soft product provisions.
Thinking about the visual cues Rockwell Collins is giving to the industry, the Elements front row seat sections both feature a set of warming, palettes showing off a variety of greys, browns, beiges and creams, as well as a bamboo-style inlay on one of the sets. Wireless charging is clearly marked, and is just as clearly a trend that airlines are getting behind.
You might note the curved business class monitors in the purple-moodlit front row seat. This, Rockwell's Mark Vaughan says, is to press the inflight entertainment side of the industry to get thinking properly about how it plans to integrate larger, curved, home entertainment system type monitors that are common in domestic settings but have yet to make their mark on the inflight entertainment world.
Three key enablers create a context in which Rockwell can offer these new first-minus, business-plus cabins for Elements.
The first is that the bulkhead seat in most herringbone layouts is already advantageous thanks to the lack of passenger in front. (That's also the case in a number of staggered seats, as seen in Malaysia Airlines' implementation of the Thompson Vantage XL seat in its Airbus A350 first class product.) This means in some instances more legroom, and in quite a few cases a set of airline booking logic that preserves these seats for the highest-status frequent flyers for as long as possible, usually until the flight is released to airport control.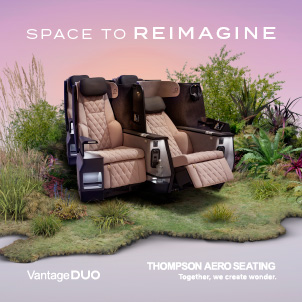 The second enabler is the explosive growth of suite doors in the business class market. Whereas in previous years it would have been a trifle awkward for business class passengers to be watching the first class section of the cabin being served better Champagne, different meals, and so on, if everyone has their own set of doors then there's a lot less looking.
And the third is the realisation on the part of airlines, seatmakers and product designers that it is increasingly hard to offer a first class product on anything but a flagship aircraft: as an example, take Korean Air's latest first class product, the Rockwell Collins Apex seat that it also uses in business, although it oddly interrupts the stagger that is part of the compelling reason to take these seats.
Despite recent flagship products, it's hard to escape the feeling that we're nearing the end of the performance for first class as we know it. These new products may allow it one final swan song before business class, waiting in the wings, becomes the PaxEx headliner.
Image Gallery:
Related Articles: