JetBlue is the launch customer for Thompson's Vantage Solo inward-facing herringbone doored mini-suites — and a business-plus extra-seat front row product called Mint Studio — which the airline will use to serve its first transatlantic routes.
The new seats "will launch on JetBlue's highly anticipated London flights this summer, and a 16-seat layout will debut on a limited number of flights between New York and Los Angeles in 2021," says the airline, which will presumably be using the Airbus A321LR version of the A321neo family it has on order.
It's interesting to note the decision to maintain the début of this transatlantic cabin at 24 seats in the COVID-driven economic context, while also planning a 16-seat cabin domestically.
Twelve rows of Thompson Aero Seating's Vantage Solo business class seating stretch a long way down the aircraft to a cabin divider, behind which a hint of orange suggests the airline's extra-legroom seating. Airbus representatives could not immediately confirm to Runway Girl Network whether one, both or neither of the overwing exits in the Airbus Cabin Flex configuration are active doors.
The front rows are a business-plus product that JetBlue is branding as Mint Studio, on which more shortly.
The "regular" Mint suite features inwards-facing herringbone seating offering direct aisle access and slide-forward doors and a 17" Thales AVANT inflight entertainment screen. Wireless charging is also featured, presumably in the triangular window-adjacent side table assembly. An aisle-side table features the swing-out tray table and a phone/tablet notch.
Design-wise, the suites (and indeed the studios) feature privacy dividers covered in flannel and vegan leather on the seats and headrests. Tapis' sales director, Matthew Nicholls, tells RGN that "the flannel and the vegan leather is our Tapisuede Flannel and our 'vegan' Ultraleather Promessa AV." Table patterns are a medium wood effect, while concrete-effect lamps and gradiated doors give a modern feel to the cabin.
JetBlue has been working with the twenty-teens' bed-in-a-box mattress innovators Tuft & Needle for when the new Mint turns into bed mode, with the company's proprietary adaptive foam and a breathable cover. In addition, there's a "convertible blanket with a built-in foot pocket, a memory foam lined pillow with a pillowcase" plus sleep kit.
This would have been a smart branding partnership for the challenger airline even before COVID-19, but with the impact of the pandemic likely to reduce appetite for the luxury aspects of business class travel — for travellers on business, in any case — focussing on sleep as branding is an especially astute move as travel restarts.
Returning to the front row, we find a pair of the new Mint Studios, designed with Acumen with Thompson's AVIC stablemate AIM Altitude. These make the most of not having to tuck in the head and shoulders of a passenger in front by adding a side-on sofa along the window in its place.
This provides a massive amount of room, including for a companion to eat, work or just hang out during the flight, and makes for an extra-wide, if oddly shaped, bed.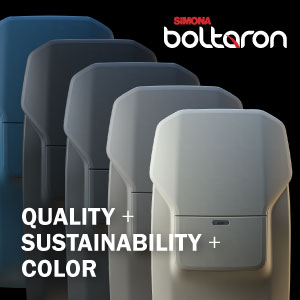 (Jetblue says this is "the largest lie-flat bed of any U.S. carrier", but it's a triangular shape that adds width on one side from shoulder to knee, making it perhaps most useful for side-sleepers.)
It will be interesting to see if JetBlue decides to roll out the Mint Studio branding to its original Mint cabin as well, not least because the airline says that the new business-plus cabin is "inspired by the popularity of the four private suites in its current Mint configuration".
No details of the rest of the aircraft are forthcoming, but it is interesting to note that JetBlue is provisioning a second forward lavatory immediately behind doors one on the left-hand side of the aircraft, giving a 12 passengers-per-lavatory ratio for Mint.
On the right-hand-side sits a full-depth galley with four-wide trolley stowage and galley inserts to the ceiling.
There's also an integrated front-row storage monument above the feet of the Mint Studio passengers, but it's not immediately clear whether this is for crew or passenger use.
All in all, the cabin and the seats look phenomenal: modern, clean, spacious, comfortable, well-designed and above all very, very JetBlue.
Related Articles:
Featured image credited to JetBlue