Air France's latest business class, a doored outward-facing herringbone minisuite from the Safran Seats Cirrus family — with a front-row large business-plus-style suite — is arriving on 12 of the airline's Boeing 777-300ER aircraft from this September.
While there is little novelty here, there's much to like in the cabin, although the overall questions remain around how this fits into a fairly disparate set of products fleetwide, how well the large expanses of white and blue will stand up, and just how much more one could do with the colour palette.
Let's start with the positives. The curved lines of the 48 seats from the Safran Cirrus platform — given the fixed screens, we presume Cirrus NG, although the design language is somewhat different to what we've seen — are attractive and look pleasantly spacious on the 777's wide cabin.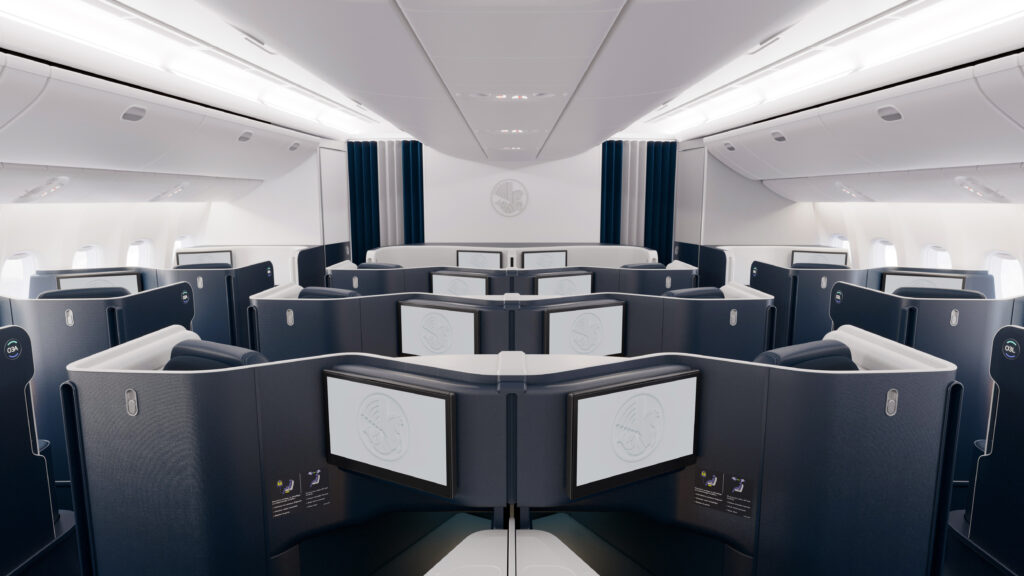 The structure of the central divider space, with the storage cubbies that curve away, allows for what the airline calls a "convivial space": the ability to chat easily with someone you're travelling with. This is a marked improvement on previous herringbone layouts where passengers are facing each other but have to peer around or stretch over a large centre console to talk.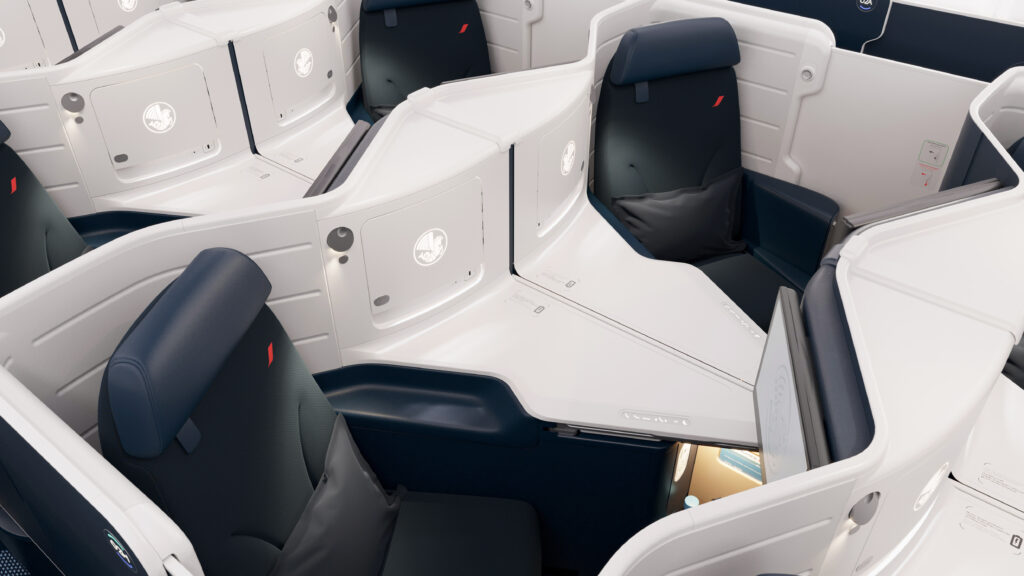 While the cabin looks very white when gazing upon the seats from ahead, most passengers will be looking at it from behind while seated, and the textured blue thermoplastic is a good choice here.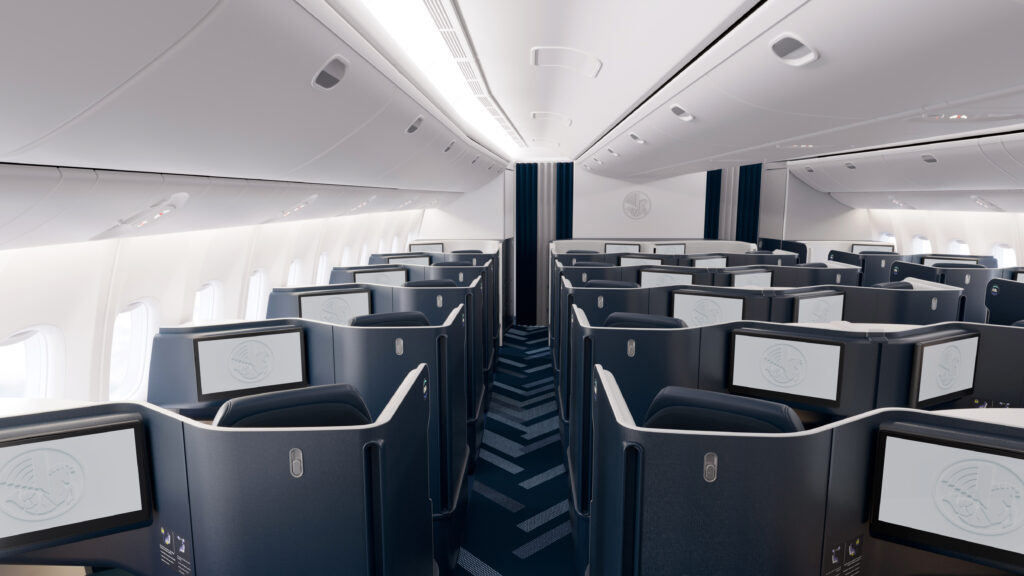 All seats face away from the aisle, so there is nothing groundbreaking in terms of the actual product, which also offers a sturdy-looking door. (This is an evolution rather than a revolution compared with the previous premium longhaul outward-facing herringbone product — as opposed to the denser Safran Optima and Stelia Elysium seats Air France uses on its leisure and former-colony routes.)
There are key visible differences between the front row and the rest: outfitted in white rather than navy, with a differently positioned screen and a massive ottoman taking the space of the overlap at the front of the cabin, this looks like a potential business-plus product might be on the way.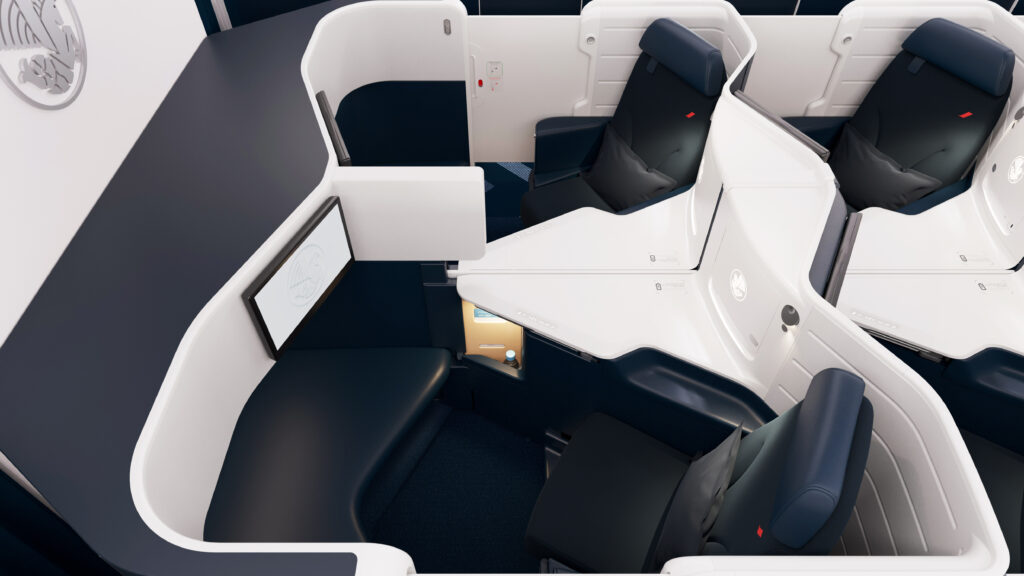 The small details of the cabin are also pleasing.
The angled lighter blue stripes of the carpet stand out attractively, while the storage cubby door's lit winged seahorse (which in French is nicknamed the 'shrimp') is charming and good branding.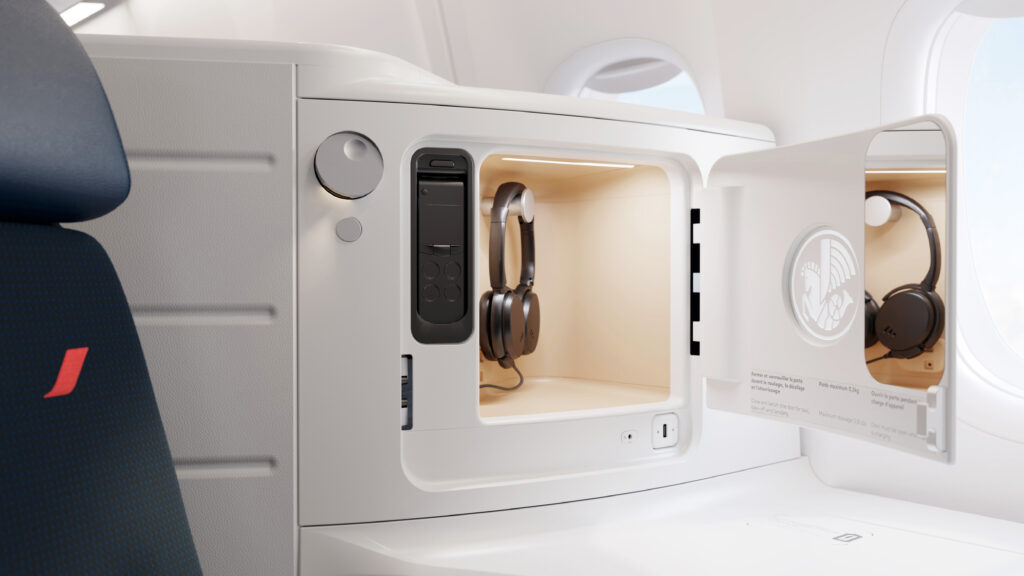 The triple-indented lines in the seatback shroud are a pleasing yet simple way to break up what could be an expanse of a single material, although your author does wonder whether this will be a dust magnet.
Tech positives include a 17.3-inch 4K screen with Bluetooth for headphones, wireless charging, USB A + C, and AC power.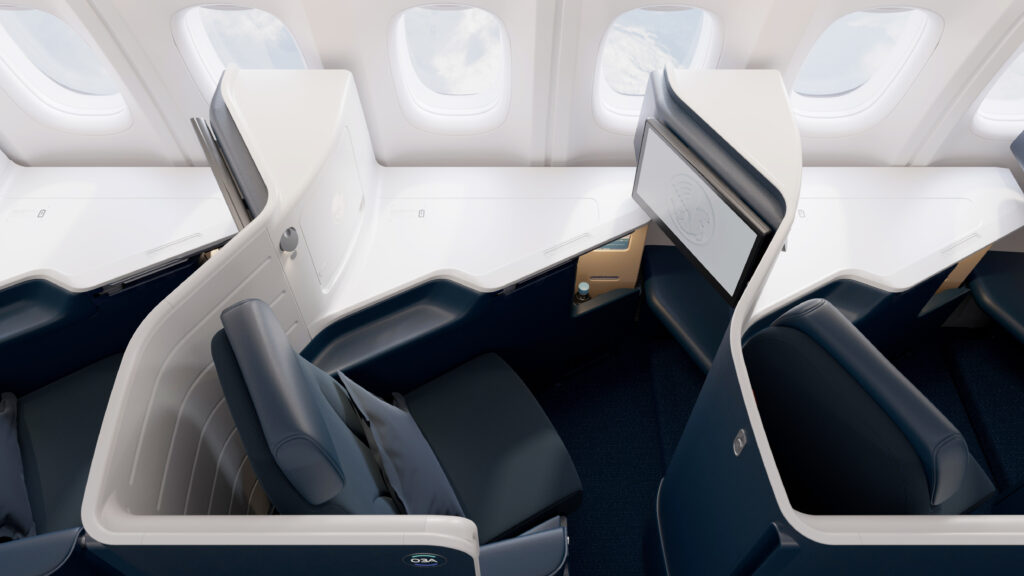 From this vantage point, the main design issue is that it all just looks a little bit boring.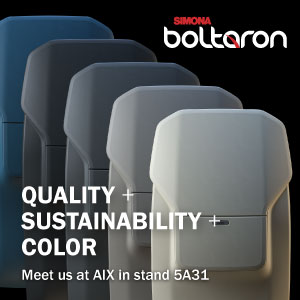 Yes, blue and white are in the Air France brand and in the French flag, but it's such an aviation default that it feels like a missed opportunity from a country with design flair. Avant garde this is not.
If it were not for the little ribbon motif on the seatback, one could be on almost any airline from any continent in the last twenty years.
From a detail perspective, one has to wonder just how well those large expanses of white will hold up when it comes to dirt, dust, scuffs and other marks, not least because Air France is not exactly renowned when it comes to keeping things clean.
And it is a brave airline that defines a business class seat with so much precision matching of colour and material, particularly one built by Safran, which acquired Zodiac, a firm that did not exactly cover itself with glory when it came to this sort of precise, detail-oriented work in the past.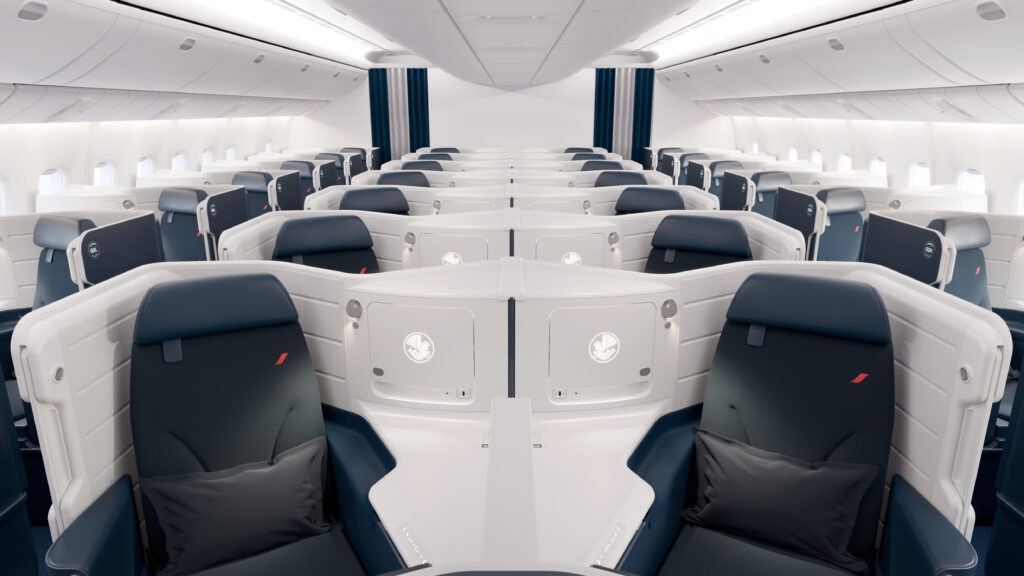 Related Articles:
All images credited to Air France