After experiencing SkyTeam alliance member Delta Air Lines' flagship product from New York JFK to Paris, and traversing France aboard partner Air France's Airbus narrowbodies, it was time to head home on Air France's flagship product to New York.
Air France operates several different Boeing 777-300ER interior configurations, but this flight was operated by the airline's most premium-heavy aircraft, featuring four seats in the La Prémiere-branded first class section and a whopping 58 business class seats.
While Delta's digital messaging before flying out of New York was strong and mostly helpful, that was not the case with this Air France flight booked on a Delta codeshare. Delta prompted me to upload proof of a negative COVID-19 test as required to enter the United States, but that data was never communicated on the backend to Air France, and Delta's own app was functionally useless for this trip, forcing me to download the Air France app. Because of this snafu, I was unable to fully checkin or retrieve my connecting flight's boarding pass.
I was, however, able to dig up a link to Air France's version of the document check portal. But even though I provided my test information nearly 24 hours before my flight, I didn't receive a confirmation until I was on the jet bridge of my originating flight. Not helpful at all. I expected better for two very closely integrated airlines.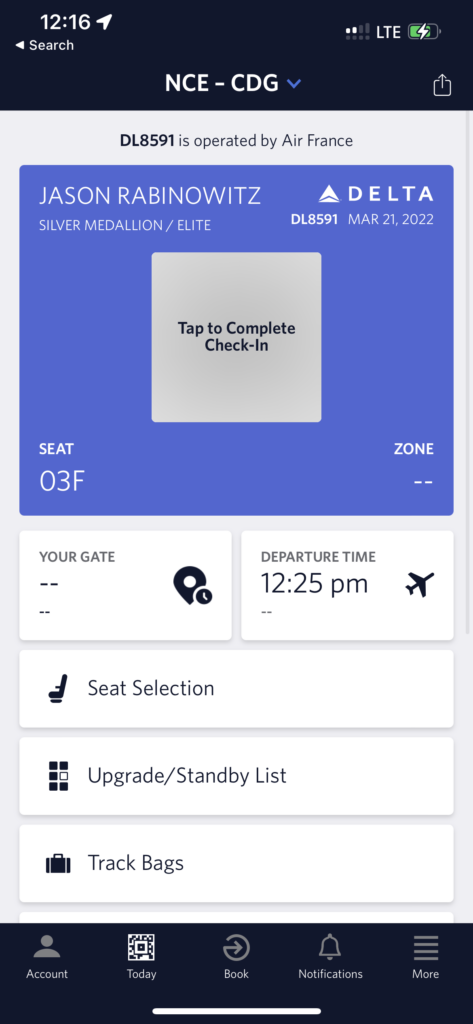 Boarding in Paris' beautiful and expansive terminal 2E K pier was relatively calm and orderly. Thankfully, we were held short of the jet bridge, as it was easily over 100 degrees Fahrenheit due to the stunning all-glass construction and bright sunny day.
My business class seat, the popular Cirrus product made by Safran Seats, was located in the forward mini-cabin, with just four rows of seats in a 1-2-1 configuration.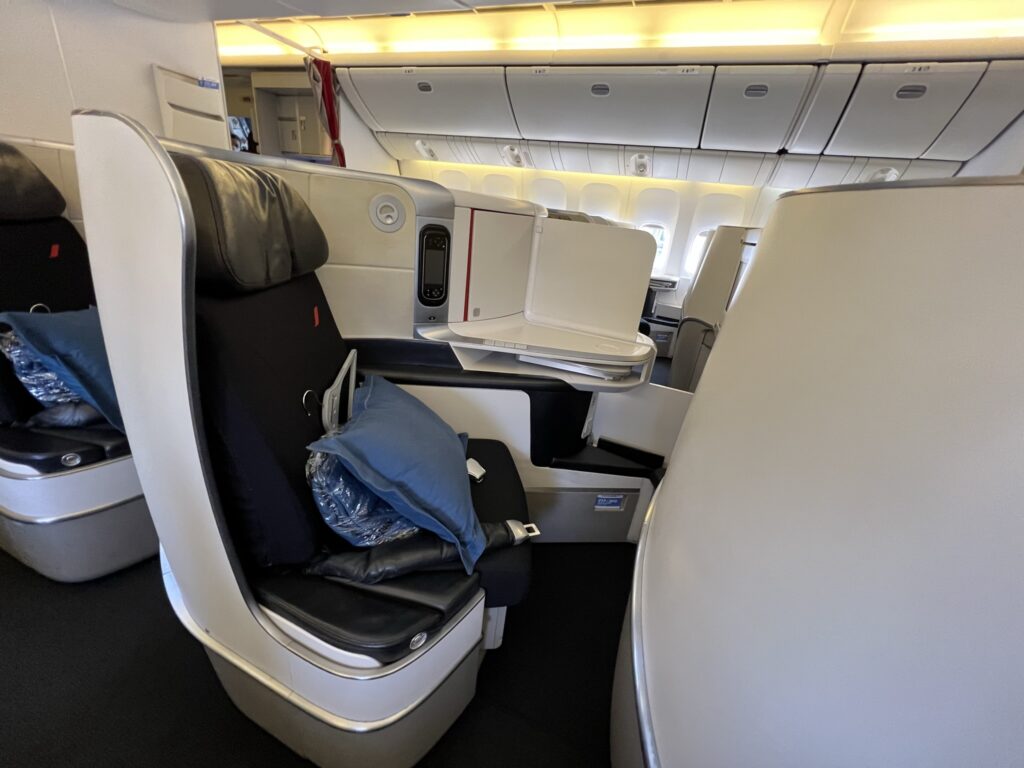 I found a thick pillow and blanket along with a hanger waiting for me on my seat, with a small bottle of water tucked next to the AC and USB power outlets.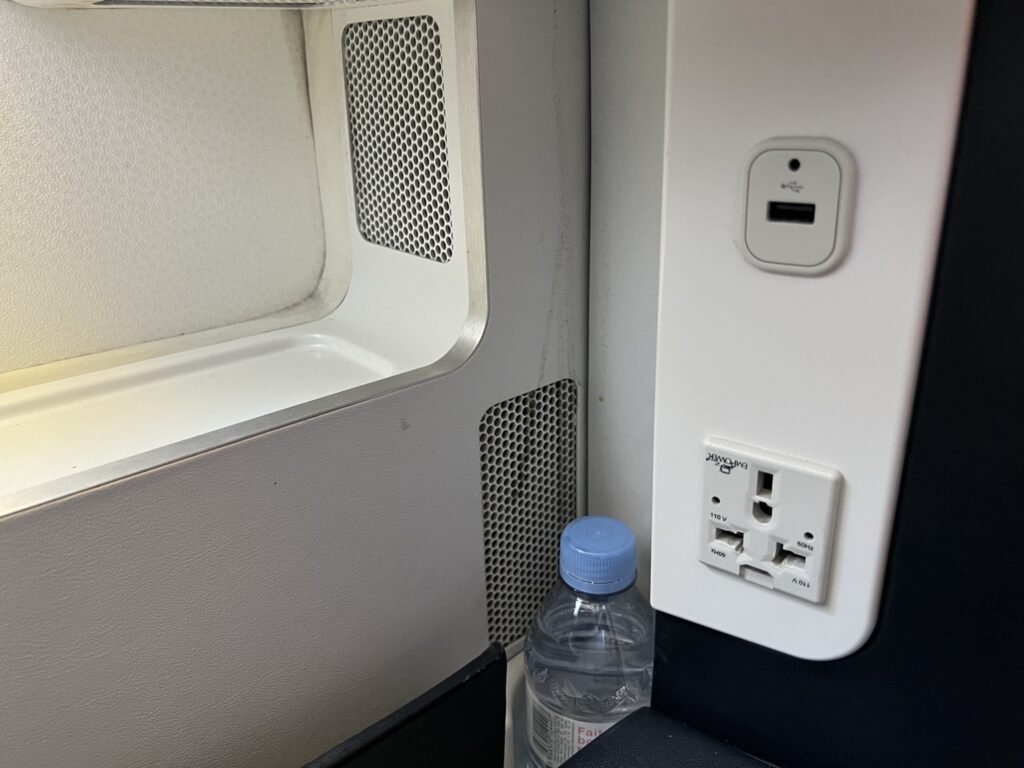 I was soon greeted by the lead flight attendant and handed a small amenity kit and a sealed envelope containing a face mask and a few sanitization items.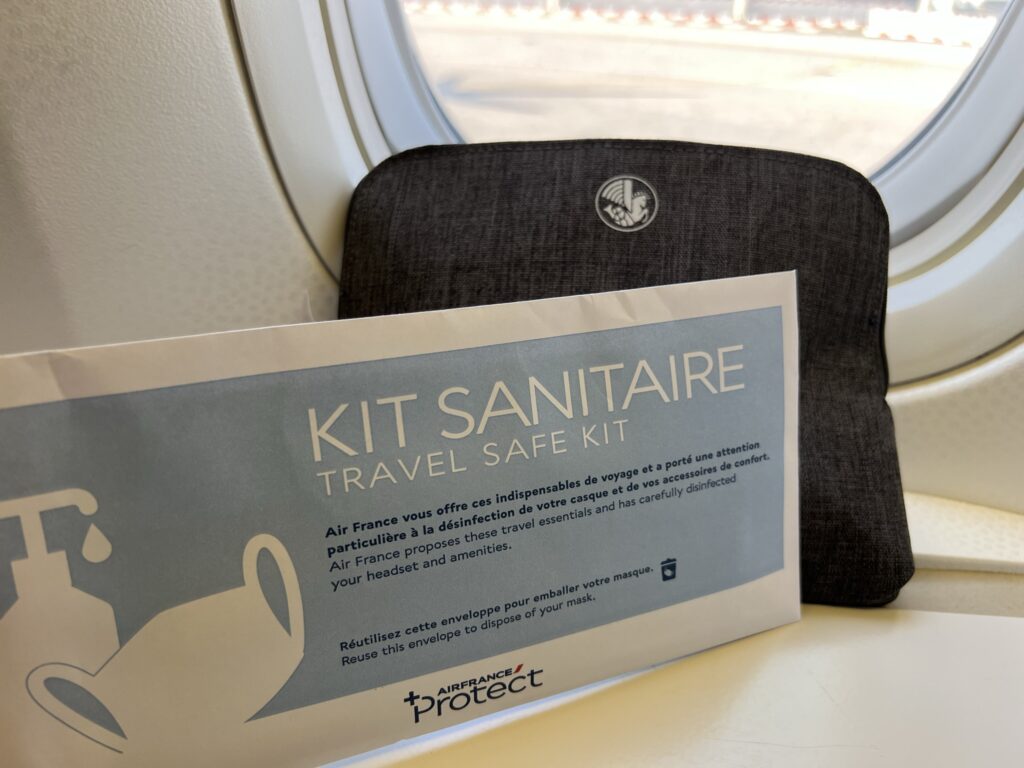 We also received the all-important pre-departure beverage.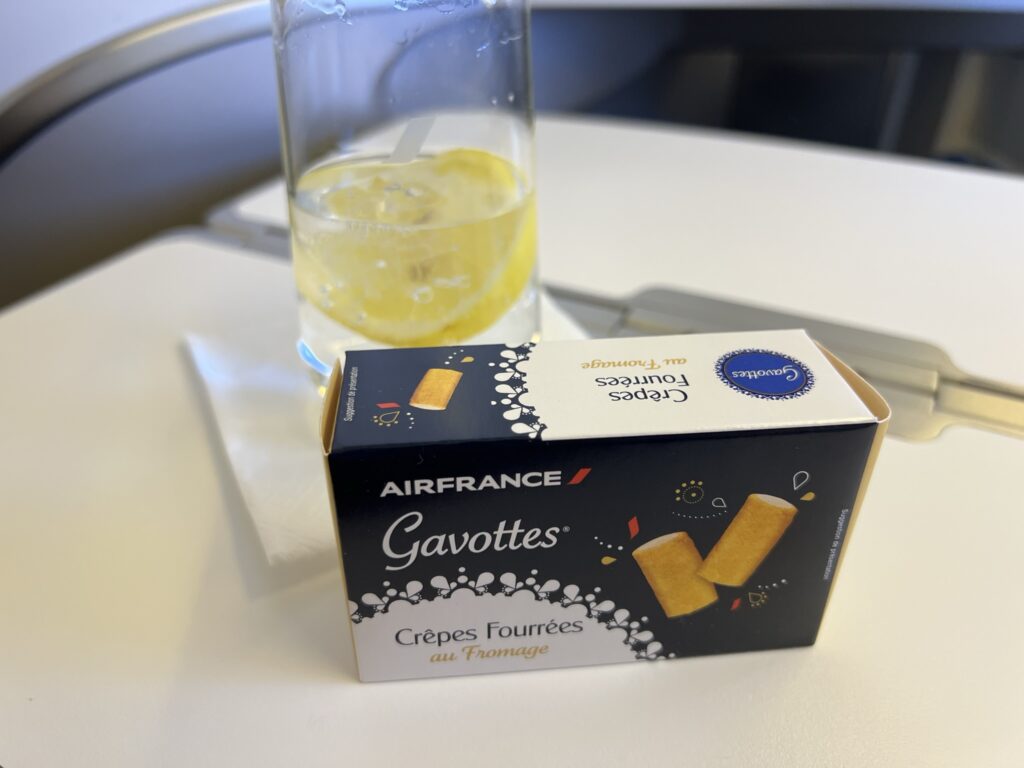 After a succinct but attention grabbing safety video we were on our way to New York.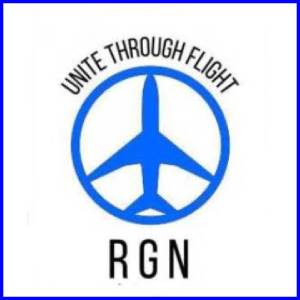 I took a few minutes to browse Air France's entertainment selection and found plenty of content I wanted to watch on the large screen. The selection wasn't as fully featured as on Delta's A330neo, but it was more than sufficient.
The carrier provided noise canceling headphones. Sadly, the headphones were pretty weak, providing minimal cancellation effect and a somewhat tinny sound. Air France ensures that a secondary headphone jack is accessible so that passengers can plug in their own set, which is what I did.
There were a few instances where only one or two movies in a larger series were available, but overall the selection was better than average. I preferred to navigate through the IFE system on the big touchscreen rather than the smaller touchscreen remote control.
The remote mostly just mirrored what was on the larger screen, but it did offer quick access to playback controls and could run the moving map independently, which is a great feature.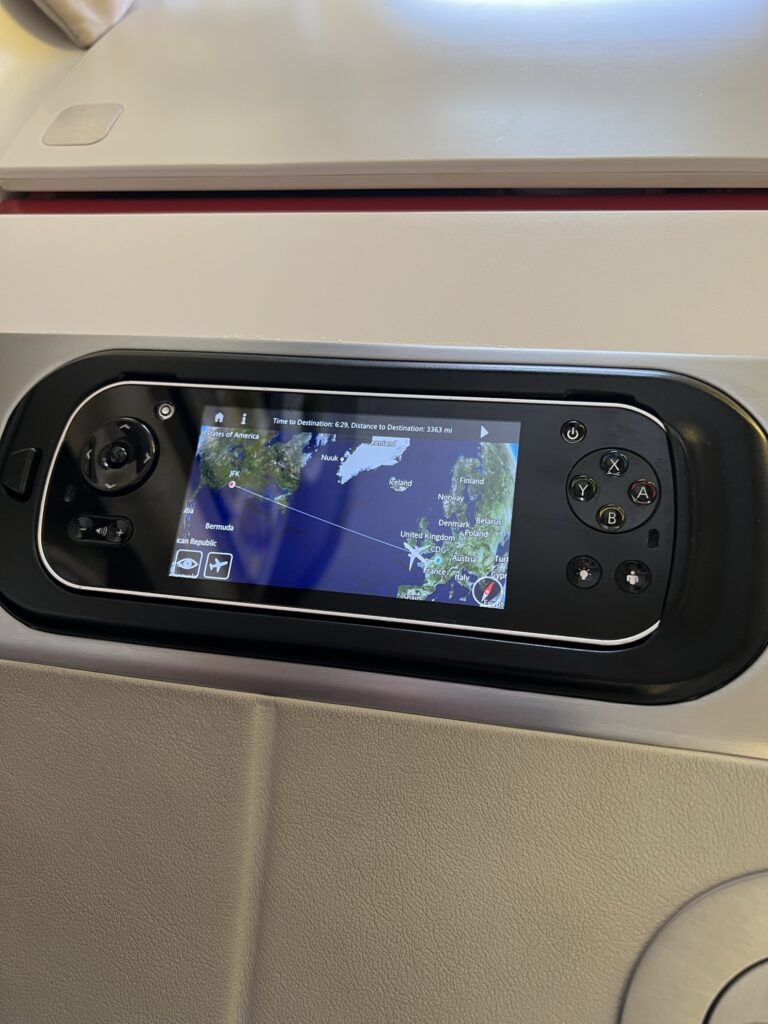 Wi-Fi was also available, via what is understood to be Intelsat 2Ku (formerly Gogo). Pricing ranged from a free messaging plan up to full flight streaming connectivity for EUR 30. The free messaging service was a bit sluggish but was reliable for the entire flight.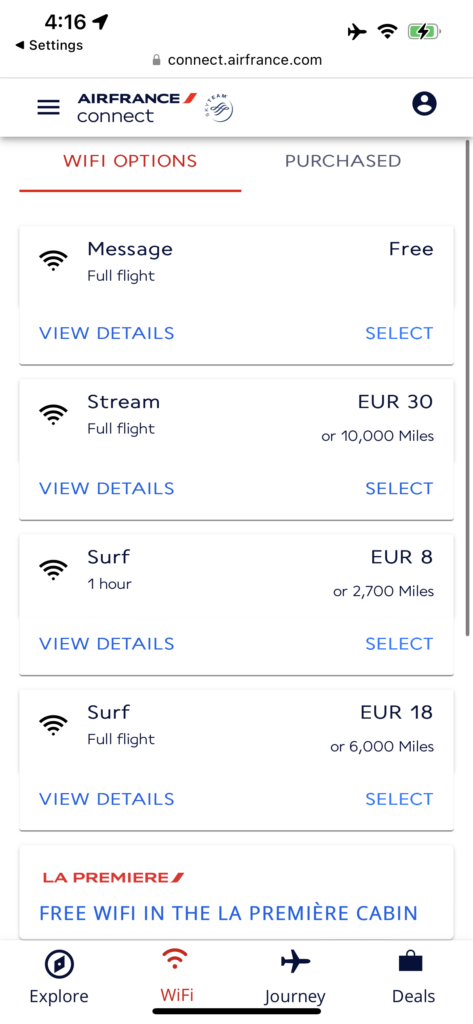 Unlike my earlier Delta flight, the pre-ordering of meals was not facilitated. A full menu was distributed. While the menu was several pages long, it only provided general information about meals and drinks, and lacked sufficient details.
For example, my chicken dish was only noted as coming with pan-fried apples, but it was actually served on a small bed of pasta and asparagus. The drink menu suffered the same lack of detail, listing only "gin," "vodka," and "bitter" without actually specifying the brands.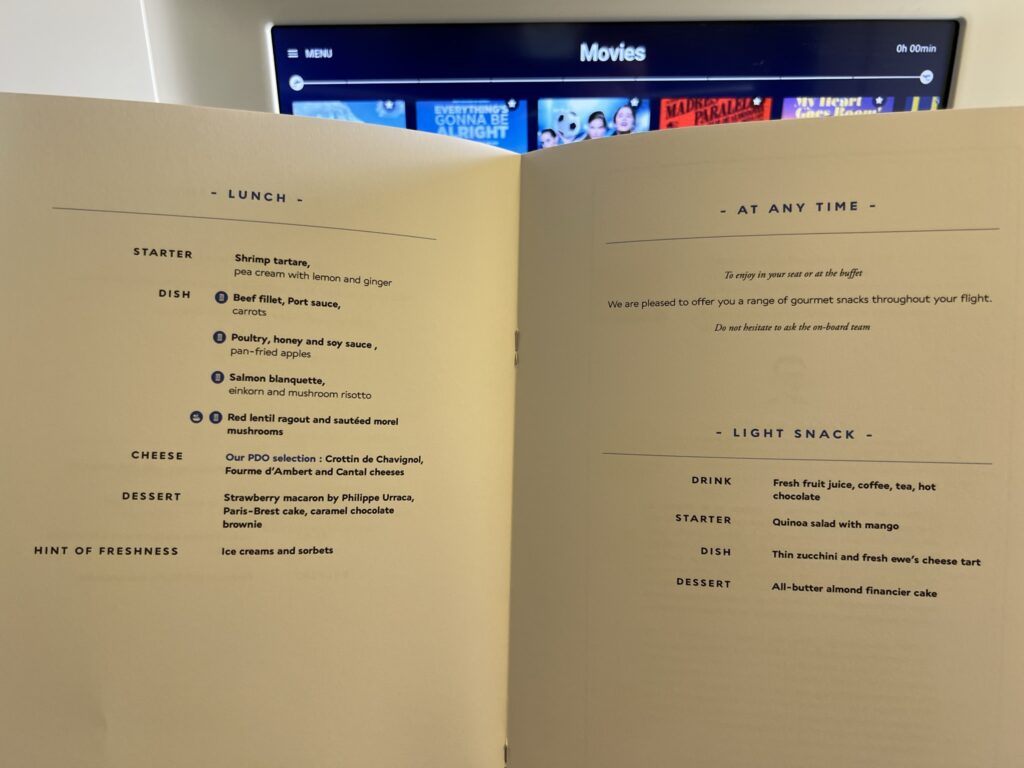 The main meal was served as a properly plated multi-course meal, something that has been eliminated by many airlines throughout the pandemic.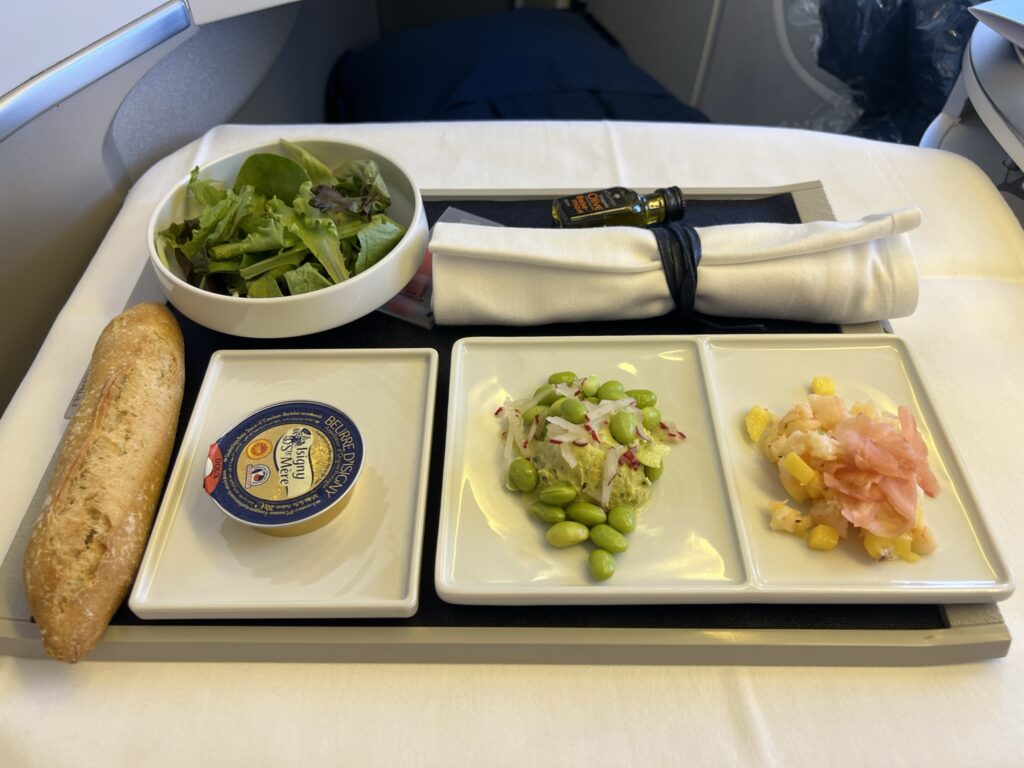 All of the courses were quite good, with the chicken dish being the best, juiciest chicken I have probably ever consumed in the sky.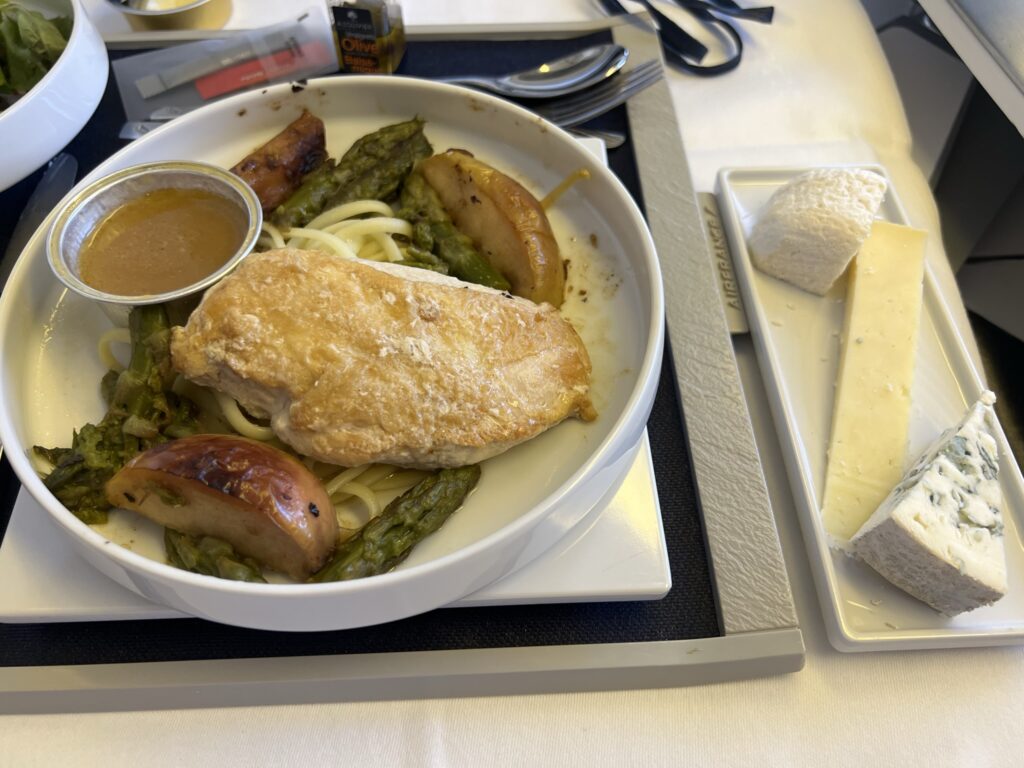 The only change I would make would be to have the pre-arrival zucchini and cheese tart warmed up before serving.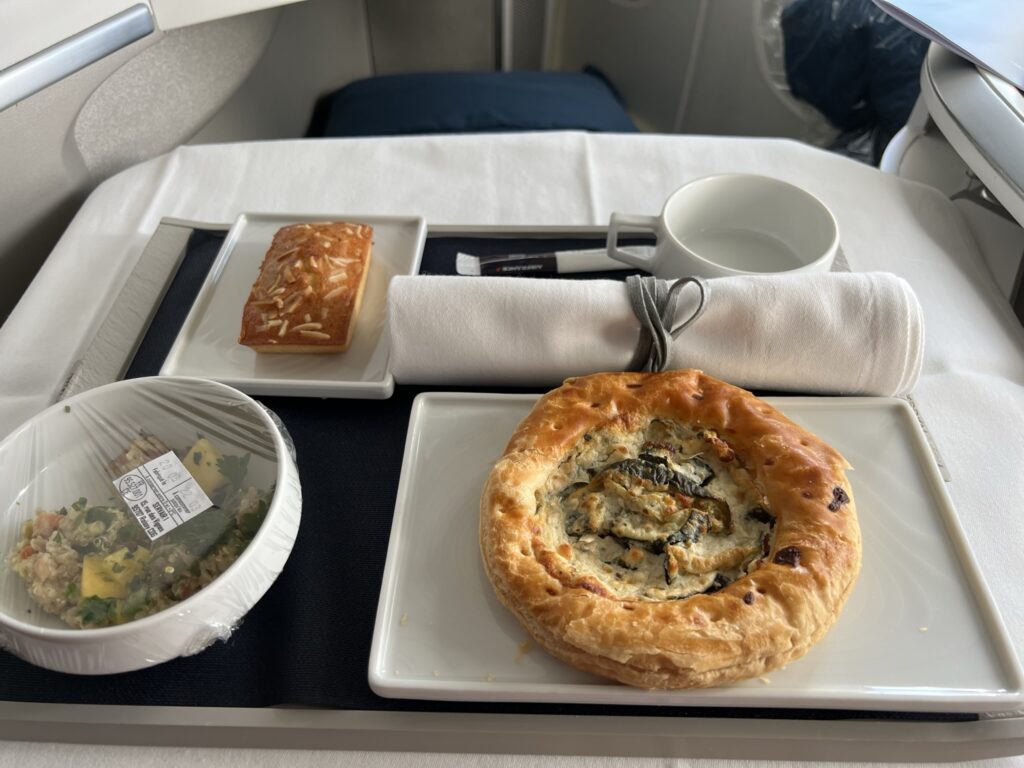 As this was a daytime flight I didn't attempt to get any sleep, but Air France's reverse herringbone seat provided a larger footwell than Delta's A330neo suite.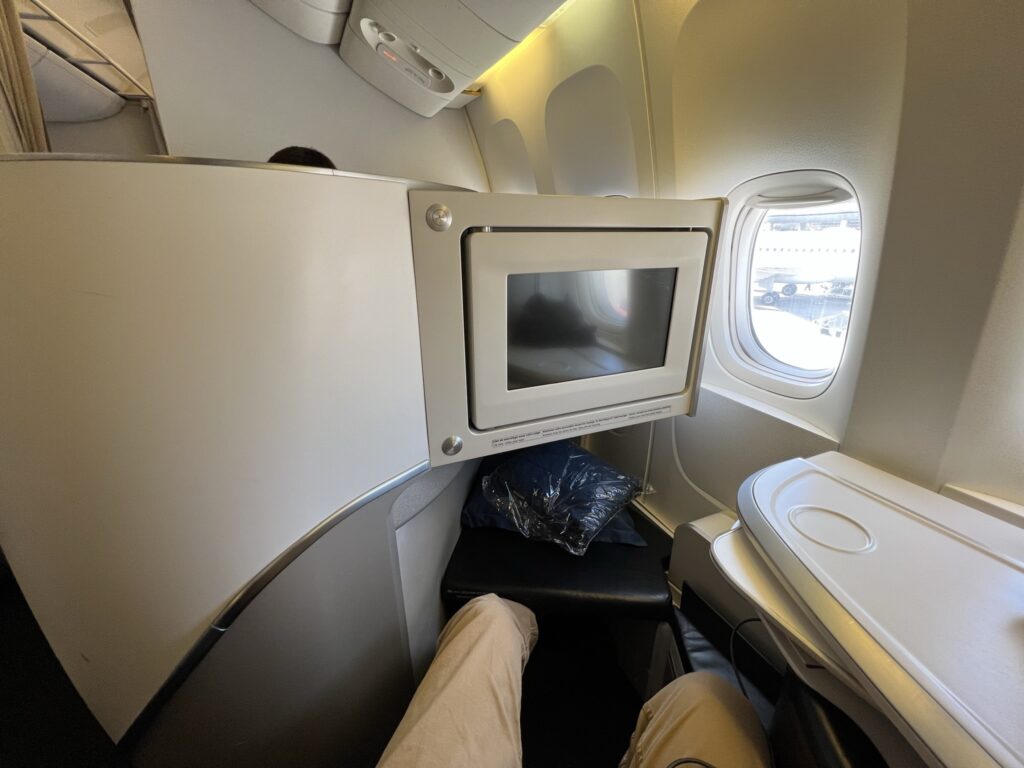 With that said, the Air France seat lacked the fine movement control that Delta's seat offers; controls for the latter change the level of recline and forward position of the seat.
The seat had plenty of flat surface area and a little storage area to hold my various travel items.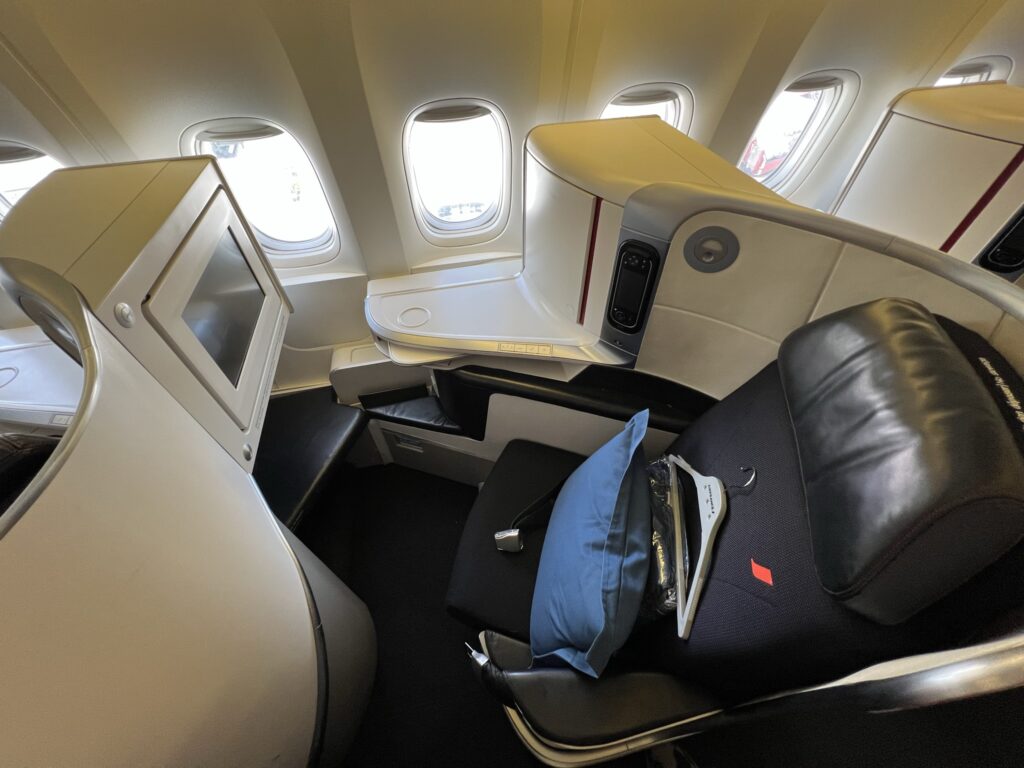 If I were to book this trip again I would probably do so in reverse, opting for the roomier Air France seat on the overnight flight and Delta's suite on the daytime return for the added movies on offer.
I was not left wanting on Air France, though, and overall the experience was among the best I have had in business class in recent years.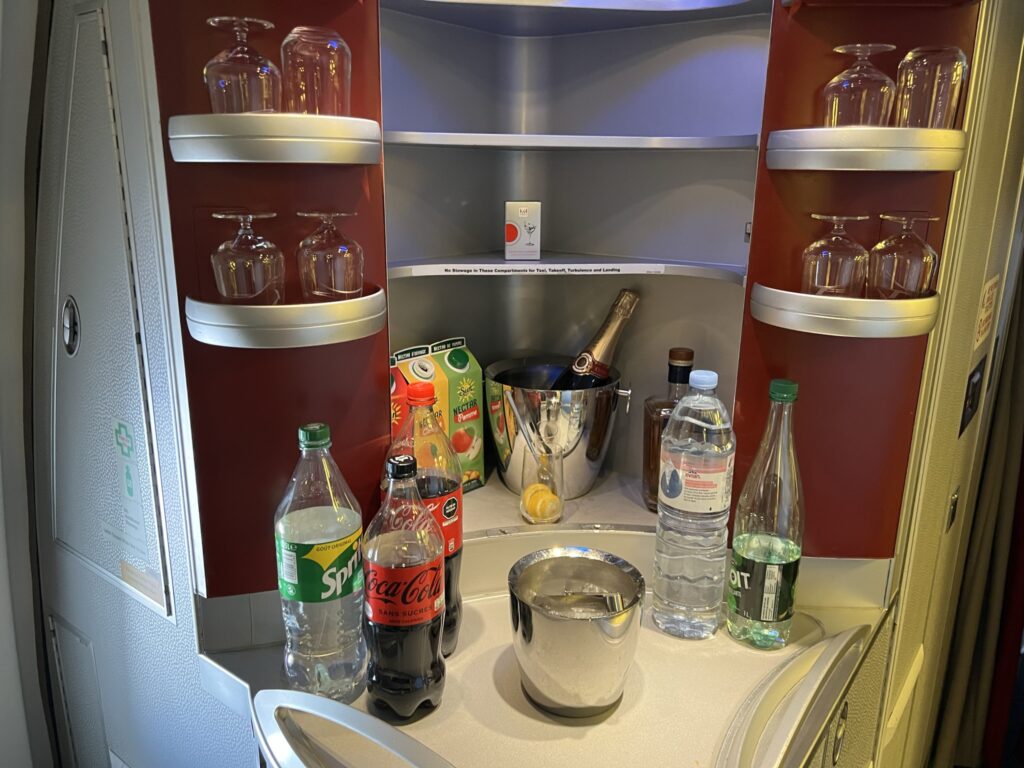 Related Articles:
All images credited to the author, Jason Rabinowitz