This is the first in a series of interviews with the movers and shakers behind herringbone seats, at a time when RGN would normally be roaming the halls of the Aircraft Interiors Expo in Hamburg.
What's the most successful business class seat in recent times? With the arrival of new products for new aircraft like the A321XLR, and updated versions still arriving on newly delivered widebodies, it has to be the "reverse" herringbone.
The first of these, débuting in 2008-09 on US Airways' Airbus A330 fleet, was Cirrus, from the then Sicma, later Zodiac Aerospace, and still sold by Safran Seats. With the original Cirrus, all seats point away from the aisle. The single seats have window views whilst there is more opportunity to socialise with a travelling companion in the centre seats.
Runway Girl Network sat down with Ben Orson, then at JPA Design, and separately with Safran Seats' executive vice president of strategy and innovation Quentin Munier and vice president of marketing Jean-Christophe Gaudeau, to learn more about how the seat came about and how it has evolved since.
"One of the great beauties of Cirrus is that it can be a very simple proposition within a particular airframe and across multiple airframes, which is great from [a] manufacturing point of view, and great for people like Cathay who had it on the A330 all the way up to the 777. Fundamentally, their passengers get the same product, which makes all kinds of things much easier," Orson says.
"The only real drawback to the arrangement is that you have that kind of tapered toe box, although later, that was an area where we figured out how to do that relatively well, relatively quickly," he notes.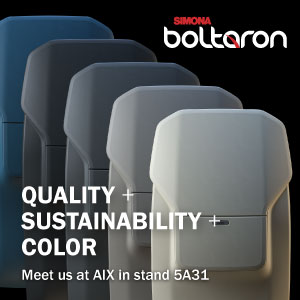 Orson, then at JPA Design, explains that the brief "was to get a density comparable to something like Skylounge, if not better, but to improve on the passenger experience, and so we tried our hardest to do that. We had a whole raft of concepts initially. The one that stood out — really very early on — from those was was the reverse herringbone."
Orson admits freely that the original Virgin Atlantic Upper Class Suite from 2003 posed a key question that the team was hoping to answer: why was the original business class herringbone flatbed pointing into the aisle and not away from it?
"For what it's worth," Orson says of the Virgin seat, "I think it's — if not the [top] — certainly one of the top three great pieces of aircraft interior design. I think it deserves immense credit, it really does."
At Safran, Cirrus has evolved into Cirrus NG, as seen on Virgin Atlantic's latest A350s, and Versa, which is presently being offered for sale, and is part of Safran's wider plans to simplify seat mechanisms across products.
In perspective, it's fair to say that Cirrus' initial wild success was not carried through into later implementations, which suffered from manufacturing defects.
"In each of the iterations that you referred to, there were some good things, and some not so good things," Safran's Gaudeau says in response to RGN's questions. "We recognise that, and — we've touched on that in some earlier exchanges in the past — we've put a lot of efforts in the recent days to really capture every single requirement, including ergonomic requirements in our seats, [and] clearly formalise that in our design, process, and documentation."
Munier suggests that styling and cosmetic considerations over ergonomics led to the Virgin Cirrus NG table problem. Part of the problem was that, for complex modern business class seats, he says, "you have so many requirements that you cannot rely purely on people, you need to rely on process supported by people."
"Since then, what we've done is robustify our process of developments, doing some requirements management," Munier explains. "Anything that is relevant and important is cross checked as part of the predevelopment and as part of the development."
Safran is also looking towards the forthcoming round of regulatory changes, which are expected to codify more precisely — and in some ways simplify — the certification requirements for seats, reducing risk and complexity.
Reflecting on the decade-plus of experience with outward-facing herringbones, Ben Orson underlines the fact that these are now mature form factors, in the same way as mobile phones have largely coalesced around the iPhone slate style. Incremental changes to the design are often physically invisible to the end user, but can improve the overall product dramatically.
"That kind of refinement is just as valuable," Orson says. "One of the things I've learned to understand — in my design career, you only get for a given area a kind of window of opportunity to do something really, really standout-amazing. For the other time, it's about refinement, and making it better."
Related Articles:
Featured image credited to Zodiac (Safran)