What do British Airways, Frontier Airlines, KLM and TAP Air Portugal have in common? No, this isn't the setup to a #PaxEx punchline — it's a rather unexpected group of airlines that all have one thing in common: they've been outfitting their all-economy-seat narrowbody aircraft with more fully featured seats up front and more basic slimlines down back.
It's an evolution of the middle-seat-free Eurobusiness concept, used by most European airlines to make premium travellers (largely those connecting via their hubs, but also some who want lounge access, extra luggage and more space onboard) feel like they're not entirely being taken advantage of on the shorthaul.
BA has offered this for years: its current A320 family aircraft, for example, offer Collins Aerospace Pinnacle seats with small tables that fold down beneath the seat in the rows that the carrier wants to be able to offer as Club Europe, with the widely used but idiosyncratically named Recaro SL3510 slimlines that were part of the 2017 9000-seat IAG order down back.
Previously, this shorthaul fleet was all-Pinnacle, and before that BA offered convertible laterally winching seats that made the 2-2 of Club Europe actually offer wider seats than in economy.
Frontier, meanwhile, takes an ancillary revenue approach to its seats up front. The airline offers Stretch seating, with the same basic Acro seat model as down back but with a substantial and visible difference of 5-7" extra legroom, full-sized tray tables, recline and more cushioning. The airline markets it as "full comfort recline", "first to get inflight service" and "laptop friendly", alongside the usual "extra legroom" and "early off the aircraft".
Most recently, KLM ordered 57 shipsets of Recaro's current SL3710 and BL3710 line for combined installation on its Embraer E-Jet and Boeing 737-800 fleets. The SL3710 is the more basic model that Recaro describes as combining "a lightweight design and durable parts to create a comfortable seat with a reduced total cost of ownership for airlines". The BL3710, meanwhile, is "ergonomically optimized for comfort" and "designed for short and medium-haul flights", offering "a six-way adjustable headrest and additional back support", the seatmaker says.
Which options KLM takes when outfitting these seats, particularly the BL3710 up front, will be very interesting. Recaro has been offering zones of flexible customisation on its seats for some time, and this is an opportunity for KLM to really differentiate its business class from economy — and from the competition.
It's also an opportunity to offer a more premium economy option on the shorthaul. That would include the market seeking more onboard features like AC or USB power outlets, or enough pitch to use a laptop or large tablet comfortably to get some work done on board.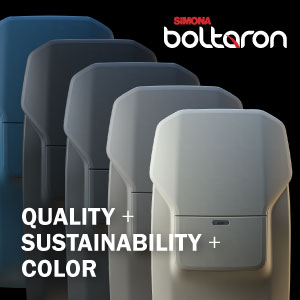 But it's also useful for travellers who are connecting in a premium economy or extra-legroom economy cabin aboard KLM or partner airlines over Amsterdam, who are usually poorly served by ending up back in regular economy for their connection, With the expected boom in premium economy demand as the world restarts after COVID-19, this could be particularly important.
And, of course, it's an opportunity to reward loyal frequent travellers — whose dollars, pounds or euros will be even more welcomed by airlines in the near future — for their custom, whether by holding back seats for them to select or automatically assigning them to "precious metal" cardholders.
It will be fascinating to see how many other airlines follow this trend, and in what way. Will it be more of a "reskinning" option like Frontier does, with the same basic seat model but customised? Or will they go KLM and order two different seats to be installed on the same aircraft? Or is there even a third way in the middle?
Related Articles:
Featured image credited to Recaro