Months before Boeing's partnership with Spanish firm Immfly led to the late-November launch of a new wireless IFE and digital services platform called Boeing Digital Direct, Immfly's content and advertising units were separately carving out their own identity.
Located in Andorra la Vella, the capital of Andorra in the Pyrenees mountains between France and Spain, QuiverTree Media on 19 October 2020 announced its formal launch as a specialist aviation media business and content service provider (CSP), following a pre-launch phase as a spinoff of Immfly.
QuiverTree is clear about its value proposition. "By integrating content, advertising and OTT services, QuiverTree Media unlocks the inflight medium's full potential. We create new benefits and efficiencies across the entire CSP value chain previously unavailable to airlines," says company chairman Chris Bouwer, who is presently the most visible face of QuiverTree, but is joined by as-yet-unpublicized investors with backgrounds in IFE, connectivity, software and media.
Notably, the firm says it sees itself as uniquely positioned to integrate a large variety of OTT streaming media platforms to create myriad onboard experiences "with an amplified range of distinctive content".
QuiverTree's entry to the market is timely, as a growing faction of industry stakeholders and observers now envisage a future where passengers will be able to access their OTT streaming providers over Internet-connected seatback screens, as well as their own devices. That specific type of scenario requires aircraft to be fitted with inflight connectivity systems that can avail of massive amounts of satellite capacity or nextgen air-to-ground services.
Another route is for OTT providers to bring their libraries (or a portion thereof) to servers on board aircraft – as Netflix has teased – if they can do so without threading on content licensing and broadcast rights. And indeed, it appears that QuiverTree is taking the cached content approach for its OTT service integration. For instance, its website says the firm has partnered with Audible to bring the best in digital spoken-word entertainment on board.
"This integration boosts visibility of the subscription channel across Europe. Passengers can choose from binge-worthy audiobooks, exclusive podcasts, bite-sized audio content and genre-bending Audible Originals. For captivating storytelling we make Audible a part of your flight," states QuiverTree. It also says its services "cater for all onboard environments, regardless of inflight Internet availability".
Regarding QuiverTree's decision to enter the market amid the COVID crisis, the company acknowledges that airlines have been particularly hard hit by the pandemic. "QuiverTree Media offers airlines the opportunity to benefit from high-quality content, with an updated, more efficient cost structure adapted to a new era where airlines need to optimize their budgets," says Vincent Tomasoni, who identifies as Immfly's VP of operations on LinkedIn.
"QuiverTree Media enables airlines to continue enjoying quality content propositions with an expanded range of fresh and innovative genres providing greater flexibility to reduce cost," he says. "Concurrently, QuiverTree Media has specialist resources dedicated to enabling the airline to benefit from new strategies to monetize digital and physical media assets. Airlines welcome the additional income generated from advertising."
QuiverTree faces strong competition in the CSP space, including from Global Eagle, Inflight Dublin, Spafax, Stellar Entertainment, West Entertainment and others. Among them, Global Eagle has been vocal about the challenges faced by CSPs during the COVID-19 crisis, as financially-struggling airlines have sought to offer a "minimal viable" IFE product.
"With respect to competing," says  Tomasoni, "QuiverTree Media brings a new approach to the market with its ability to supply and manage the widest range of content modules: from the standard catalogs to the most advanced integrations. In addition to enabling a multitude of global and local brands to extend their reach, at QuiverTree we produce exclusive originals including modules and unique audiovisual content to bring the freshest range of content straight to the passenger. Working with more than 200 studios and distributors, leading OTT platforms, and countless apps globally, we pair optimal quality with the fitting airline strategy."
Asked by Runway Girl Network if QuiverTree is now totally separate from Immfly, and if it will continue to work with Immfly on various projects, Tomasoni, says: "QuiverTree Media was created as an independent media company where Immfly became one of the clients. Beyond distributing content to all Immfly clients and commercializing their media assets, QuiverTree Media now offers its services to all airlines, regardless of Immfly, looking to improve their content offering, reduce costs and unlock new advertising income.
"This evolution was largely driven by the market looking for increased specialization. It was a natural progression enabling a company to stand independently offering a strong, unique proposition which builds on strong experience in content acquisition from Hollywood majors and studios worldwide, combined with an emphasis on innovation, OTT platform integration, and cutting edge ad format commercialization."
Personalized, targeted advertising has changed the face of online advertising on the ground, and is expected to enable airlines to meaningfully monetize their in-seat and wireless entertainment and connectivity systems and content in the coming years. So QuiverTree's messaging is certainly on point.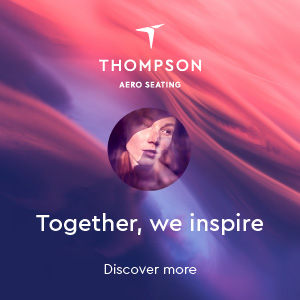 While QuiverTree is offering its services to all airlines, the relationships already forged with carriers on account of Immfly's wireless IFE platform relationships offer a solid springboard for QuiverTree. The company notes that it already serves a fleet of over 500 aircraft. Clients include Spanish regional Air Nostrum, prominent Turkish low-cost carrier Pegasus and Star Alliance member Ethiopian Airlines, which are all Immfly customers.
Tomasoni tells Runway Girl Network that QuiverTree is focused on the European market but that it also recently forged agreements with customers in Asia and LATAM.
When the teaming of Boeing and Immfly led to the launch of Boeing Digital Direct last month, Tomasoni called it an "amazing announcement for Immfly and QuiverTree Media" on LinkedIn, a statement that seems to suggest QuiverTree may benefit as customers for Boeing Digital Direct are secured.
Conveniently for any new clients, QuiverTree says it offers end-to-end post production technical services with editing, encoding and transcoding, subtitling, dubbing, metadata processing and special ad hoc integrations to streamline the content cycle process.
Featured image credited to QuiverTree Media