Inmarsat's new plan to add a congestion-relieving layer of terrestrial 5G at busy airport hubs and areas with combined aviation and maritime needs could set in motion new partnerships in North America and around the world as the London-headquartered firm looks to execute on its hybrid vision for inflight connectivity and other mobility applications.
At the end of July, the satellite operator surprised many in industry with the announcement that it will launch a "communications network of the future" — a multi-orbit network that will bring together its existing near global GX Ka-band GEO satellites with terrestrial 5G and what is envisaged as being a small constellation of LEO satellites, as part of an integrated, high-performance solution called Orchestra.
Obtaining the spectrum rights and licenses required to make Orchestra a reality will be among the obvious challenges facing Inmarsat, though management stressed to RGN that it is not at all concerned about regulatory hurdles. Forging key partnerships might help to ease the way.
"[It's] possible a terrestrial overlay in North America might make sense. We don't need it today; tomorrow you might," Inmarsat Aviation president Philip Balaam told RGN when asked about how the Inmarsat/Hughes high-capacity Ka-based GX+ North America solution fits into Orchestra. Notably, he added:
Partnerships would be something we'd look at not just in the US, but more broadly. Strategically, you've always got that question: "how do I get there quickly and in a cost-efficient manner?" Partnering is one of the options.
Balaam said the number of IFC sessions on aircraft supported by Inmarsat service, including via its hybrid ATG/S-band European Aviation Network, has increased "very significantly", and that there has been "a very tangible shift in passenger expectations" as air travel recovers from the COVID-19 crisis.
As passenger demand increases in the future especially at hubs – "around Dallas, Chicago, pick a very, very busy airport in North America and there are lots of them" – those 5G terrestrial nodes planned for Orchestra might make sense even with a high-capacity Ka GEO IFC solution like GX+ North America on offer in the region, he suggested.
Though Balaam did not name any potential partners in the US, it seems fair to highlight that Gogo Business Aviation and SmartSky Networks have laid the groundwork to have that sort of discussion if Inmarsat were to come calling. Both companies have suggested that hybrid ATG/satellite networks have a role to play in future aero communications.
From this personal vantage point, one also wonders if SkyFive might also be well positioned to play an assistive role. SkyFive acquired Nokia's ATG assets in 2019, after Nokia served as a key technology partner on Inmarsat's EAN. Since then, in addition to supporting the EAN, SkyFive has been working to offer regional-focused ATG connectivity along similar lines to the EAN, but without the satellite component. Its guiding principle is to cooperate with incumbent telecommunications companies, and it appears to be making some headway in various regions.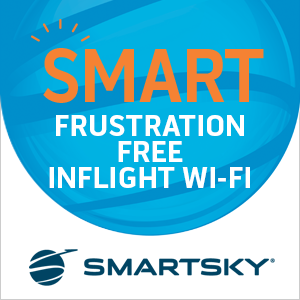 To be clear, Orchestra's 5G layer isn't about bringing a standalone ATG solution to airlines or indeed replacing the EAN, but rather augmenting GX in those areas where it's needed, such as around congested airport hubs. Orchestra would require new antenna hardware to talk to the towers.
"I don't know if they would see us as a competitor," Balaam said of SkyFive when pressed by RGN about the topic. "We're providing inflight connectivity today. We're going to be providing inflight connectivity tomorrow. Nothing has changed, but we're expanding the network with a future looking roadmap.
"Again, for us, it's an organic extension of what we do. Tomorrow and next year, our network will have a bunch of terrestrial nodes and at some stage in the future, it may have a LEO overlay, it may or may not. The magic is not in the individual components. The magic is bringing them together."
That slight hedge on the LEO overlay is interesting and explains why Inmarsat's initial focus is on the terrestrial 5G layer with a total five-year investment of roughly $100 million.
Balaam noted: "[W]e don't have to put a billion on the table up front years and years ahead of time to deliver what we want to deliver. We have a global network. Terrestrial components will come pretty quickly and if we need to do LEO, we can, but we don't have to put money on the table now." Inmarsat reckons it will be able to accomplish a LEO overlay with just 150-175 LEO satellites, if demand dictates.
If demand goes "gangbusters", and Inmarsat needs to move more quickly on the LEO front, it would be "a nice problem to be in", said the Inmarsat executive. Either way, he suggested, the firm is in a far better position than having spent $3 billion on a LEO network without knowing where its first customer is coming from.
Those are fighting words, of course, in the satellite space, and come at a time when several satellite operators are positioning their current or future LEO satellites as appropriate for aero, with OneWeb among the furthest along in terms of constellation buildout.
Telesat director, product and commercial Manik Vinnakota recently told RGN that the optical, laser-linked global coverage that will be provided out of the gate by Telesat's Lightspeed network offers "the nextgen features that others are talking about" for their second generation systems.
Vinnakota didn't mention OneWeb specifically, but Inmarsat's Balaam was a tad more direct about what he presently perceives as the capabilities of OneWeb's first-generation constellation saying, "I don't think OneWeb, the little I know, it doesn't seem to be a particularly appropriate solution for demanding mobility customers like airlines or governments or critical maritime applications. The architecture of the system doesn't lend itself to that. Maybe a second generation would work, but let's see if the first generation works first."
It is true that OneWeb's next generation of satellites are expected to bring further evolution for the aero market. According to VP mobility services Ben Griffin (a former Inmarsat executive), the nextgen satellites will be "better for all of the OneWeb community in terms of capacity and perhaps different payloads on the spacecraft themselves".
Speaking broadly again, Balaam warned that "not everyone will survive the valley of death" when certain LEO operators are expected to deliver a return on capital.
Related Articles:
Featured image credited to Inmarsat