Airlines and business jet operators will have access to even more Ka-band satellite capacity to support high-speed inflight connectivity for passengers, namely over the Arctic, now that Inmarsat has inked a contract to introduce two new payloads for its Global Xpress (GX) network in partnership with Space Norway and its subsidiary Space Norway HEOSAT. The new payloads, GX10A & 10B, are scheduled to launch in 2022, and will be the first satellites in the GX network to be placed into Highly Elliptical Orbit.
Today's announcement comes just five weeks after Inmarsat confirmed an order for three GX satellites – dubbed GX 7, 8, and 9 – using Airbus Defence & Space's Onesat platform.
These will complement Inmarsat's forthcoming Inmarsat-6 satellites – which will launch with GX payloads – and its current four-satellite GX constellation, enabling the London-headquartered satellite operator to offer remarkable coverage for airline customers of its GX Aviation connectivity service, and for the business aviation community, which has already installed GX-powered Jet ConneX service on more than 500 business aircraft.
"In the past month alone, we have announced five significant new payloads, raising the bar for industry investment and marking an unprecedented step-change in inflight mobile broadband capabilities for airlines and business aviation," said Inmarsat Aviation president Philip Balaam in a statement.
Inmarsat's airline customers include Lufthansa, Qatar Airways, Air New Zealand, Singapore Airlines, AirAsia, Norwegian, Avianca, Austrian Airlines, Eurowings, Citilink, Garuda and Philippine Airlines. Early this week, the company announced SAS as a new customer, saying the Scandinavian carrier will have GX hardware linefitted at Airbus to its new A350 widebodies.
The SAS deal is a bit of a coup for Inmarsat, especially given SAS management's high praise of Inmarsat rival Viasat on its short-haul flights in Europe, as well as the availability of Viasat's hybrid Ku/Ka system which can support international service, and indeed SAS' own experience with the Panasonic Ku connectivity system.
Intriguingly, the GX inflight connectivity deal was done with SAS even before Inmarsat announced its plans for the GX 7, 8, and 9 satellites, revealed Balaam in an interview yesterday with Runway Girl Network. "The deal was closed before we announced," he said. And being a virtually global network was a deciding factor.
With GX10A and 10B in the mix, Inmarsat will be able to deliver enhanced capacity for aircraft flying in higher elevations and across the Arctic.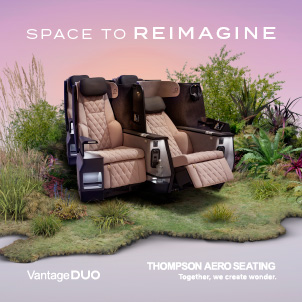 Arctic coverage will be good news for SAS, and other carriers flying polar routes – an area that is presently not covered.
In an apparent dig at Viasat and the lag until its near global ViaSat-3 constellation is available, Balaam told RGN: "I think the message from SAS, from this particular deal, is the story is starting to wear thin, and it's one thing to pretend you've got coverage or that maybe one day you'll possibly potentially have it, it's quite another to have it, to be able to demonstrate it, and have very demanding and happy customers using it, to be investing in it and developing it. I think the message from SAS is, words are words but they don't actually pay the bills."
Inmarsat, meanwhile, assures that GX10A & 10B will be compatible with current and future terminals, ensuring that existing and new customers "will reap the benefits from this latest extension to the network". The satellites will also support Inmarsat's maritime and government customers.
Related Articles: