Qatar Airways' surprise decision in November 2019 to hand a 70-aircraft strong inflight connectivity and live TV deal to Gogo Commercial Aviation set tongues wagging in the passenger experience (PaxEx) sphere. What convinced Qatar and its notoriously unpredictable leader, His Excellency Mr. Akbar Al Baker, to select Gogo 2Ku for the Doha-based carrier's Boeing 787-9s, 787-8s and Airbus A380s, after having launched Inmarsat Global Xpress Ka-band IFC on its Airbus A350s, and equipped GX kit to some 777 twinjets post-delivery?
Was the move motivated by price or performance, or did Inmarsat's prior lack of GX linefit offerability at Boeing — now remedied — factor into the equation? Perhaps we'll never know because Qatar Airways, in a blow to Gogo's new owner, Intelsat, has handed the 787-9 work to Inmarsat as part of a GX order covering 80 aircraft: 30 787-9s, including seven already in operation; plus 50 Boeing 737 MAX 10s. Neale Faulkner, VP, EMEA at Inmarsat Aviation, confirms to Runway Girl Network that: "Inmarsat is the sole supplier for inflight connectivity across their fleet right now", having also already fitted 110 aircraft with GX.
Today's announcement seems to be as much about live television as it is about connectivity. Qatar is preparing to host the 2022 FIFA World Cup in November, with a huge influx of tourists set to travel by air into Doha's Hamad International Airport. "With a fully connected fleet, Qatar Airways passengers will be able to stay up-to-date with match scores, watch video replays and even livestream games from 30,000 feet, enhancing their onboard experience," says Inmarsat in a published statement.
Faulkner tells RGN that Inmarsat has gone "above the normal call of duty" to deliver a stellar TV product, but when pressed to describe the technology — IPTV or other — he declined to get into the specifics, saying: "[W]e don't want to preempt communications from Qatar" but, suffice it to say, that "passengers on GX-connected aircraft will be able to watch the live TV games." Qatar provides one hour of free access to its 'Super Wi-Fi' branded connectivity, powered by GX, with the option to purchase full access for the remainder of each flight.
"Over the years, Qatar Airways has pioneered a range of game-changing innovations as part of our exceptional five-star passenger experience. This, in turn, has resulted in the international air transport rating organisation Skytrax naming us 'Airline of the Year' an unprecedented six times. The launch of our Super Wi-Fi, powered by Inmarsat's GX Aviation, is a prime example. We were amongst the first airlines in the world to adopt this technology and remain the largest operator of GX-equipped aircraft in the Middle East and North Africa," says Al Baker.
So let's get into the nitty gritty. Inmarsat GX hardware partner Safran Passenger Innovations was responsible for supplying the terminal and supporting installations on the seven 787-9s. The solution was retrofitted and activated on the seven 787-9s in less than five months from contract award, notes Inmarsat, in a testament to the speed at which the company has been able to execute on its commitment.
Qatar's remaining 23 on-order 787-9s will be delivered to the carrier linefit with GX, i.e. the system will be installed at the Boeing factory before being delivered to the carrier, confirms Faulkner. The 737-10s will also be delivered linefit with GX, starting from 2025.
At present, Qatar's 787-8s don't have broadband high-speed connectivity; rather, they offer a light connectivity solution from Thales, powered by Inmarsat's SwiftBroadband L-band satellite service. It remains to be seen when or even if these birds will be fitted with high-speed connectivity, and if yes, by whom.
Faulkner notes that the 787-8s have been flying the best part of a decade but says he cannot speak to the carrier's strategy. (Separately, Qatar in 2021 announced it was upgrading the legacy Thales TopSeries inflight entertainment systems on its Boeing 787-8 twinjets with the latest generation Thales AVANT system.)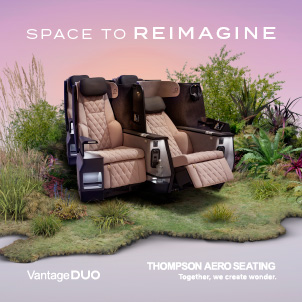 More broadly, however, Inmarsat is positive about its prospects for potentially supporting IFC on more aircraft in Qatar's fleet. Asked, for instance, about fitting the A380s, he says: "Of course, this is a partnership and relationship getting stronger. I would like to think that we could discuss rolling out GX to additional fleets as well that currently don't benefit from connectivity, like the A380s. At the moment this is just about the 787-9s and the MAXs" (on top of the A350s and 777s already fitted with GX.)
"It has been more than four years since Qatar Airways became the launch customer for Inmarsat's GX Aviation in the Middle East and North Africa and, during that time, millions of passengers have enjoyed access to its Super Wi-Fi service. We are delighted to expand our important partnership even further," says Niels Steenstrup, now president of Inmarsat Aviation after Philippe Carette exited the firm, as first reported by RGN.
"Qatar Airways' decision to select GX Aviation is testament to its continued satisfaction with our global, consistent, and reliable connectivity, as well as the positive feedback it has received from passengers. It has been a pleasure working with the airline on this rollout."
The carrier also has a bevy of 777X aircraft on order. Though it did not mention Qatar's 777Xs specifically, Inmarsat previously told RGN that it aims for GX to be "the world's first inflight connectivity solution to be linefit installed" on the new widebody type.
Related Articles:
Featured image, taken inside a Qatar 787-9 at the Farnborough Airshow, credited to John Walton